Halloween is a great time of year to put your DIY skills to the test! Get inspiration from the experts—The Children's Museum Guild Witches—with these 10 tips for costumes you can make at home! Then don your scary gear for The Children's Museum Guild's Annual Haunted House!

1. Ugly, Black Spider: A simple black hoodie can easily turn into a spider with buttons and yellow felt for eyes and stuff black pantyhose for legs
2. Smartie Pants: Glue smarties candy to sweat pants.
3. Bag of Trash: Fill a trash bag with paper, poke legs and arms through the bag, draw a twist tie on poster board, cut it out and staple it around the top of the bag to look like it goes around the neck. Take care to make sure it cannot tighten around the neck for safety reasons.
4. Crazy Scientist: Buy a white lab coat (available at your local uniform store) and put spider, or any kind of embellishment, on the cut with glue. Add a pocket protector with worms coming out and some crazy hair from your local party store.
5. Corn dog: Wrap burlap around your body, cut a hole for your face. Take the inside tube of a wrapping paper role to use for the stick. Staple it so that it sticks out over your head.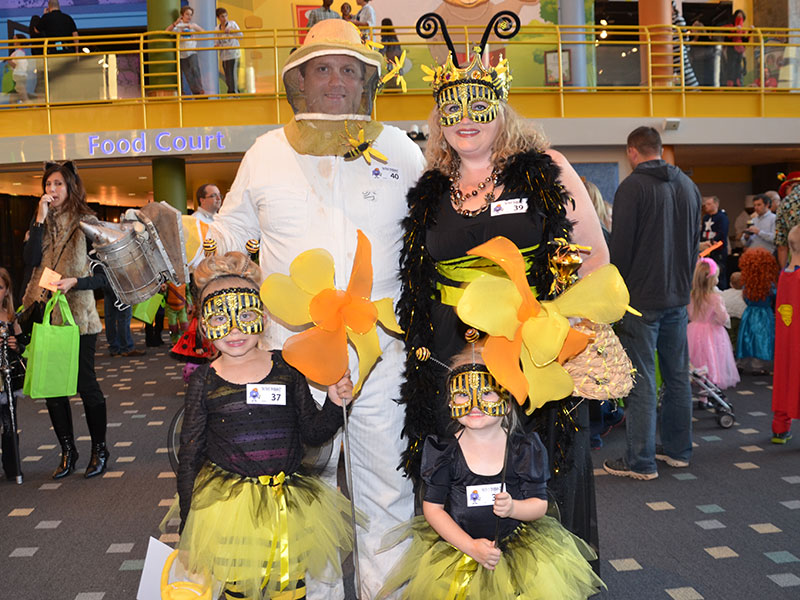 6. Bumblebee: All black clothing. Use yellow duct tape to make the stripes on the back. Take a dark colored head band and black pipe cleaners to make antennas.
7. Grease Pink Ladies: Pink cardigan sweater or zip up sweat shirt, black pants/leggings, black t shirt. You can pair this with a colorful wig and scarf.
8. Gnome: To make the hat, roll a piece of red velvet or felt into a triangular shaped hat. Spray paint your hair white. For the outfit, you will need brown pants, a vest and white shirt
9. Puppies in a Box: Turn a box upside down and cut out leg holes. Return box upright and fill the box half way with waded up newspapers as filler. Place various puppy stuffed animals are the top. Can hang the box over the shoulder with suspenders
10. Tub of Popcorn: Take two tri-fold presentation boards and tape them with red duct tape to make a square. You will also use this duct tape to make the stripes on the outside of the tub. Take two PVC pipes, cut to the lengths of the 2 sides, and tape them along the right and left hand sides of the boards. Take and old t shirt and glue it to the inside top of the square—this will allow you to "wear the tub". Create popped popcorn with pieces of cotton batting that have been spray painted yellow and hot glued to top of t shirt.
SAFETY FIRST! Always be mindful of potential choking hazards and that costume elements don't constrict the range of motion. Please make sure all costumes have a clear field of vision so your trick-or-treater stays safe and incorporate bright colors or glow in the dark paint to make them more visible after the sun goes down.
This post is sponsored by NextGear Capital.