The Access Pass program is lucky to have a variety of participating attractions offering something for every age and for all different interests. With "Children's" in the name, it's clear that attractions like The Children's Museum of Indianapolis and the Terre Haute Children's Museum have plenty to offer the younger crowd. But, you might not know that all of the other Access Pass attractions also have activities and exhibits for preschoolers, toddlers and babies.
In our COVID world, be sure to double check each attraction's website or social media channels before visiting to see if each of these exhibits and activities are open.
Conner Prairie
Conner Prairie offers Discovery Station, designed for youth up to age 9. Here you can create, climb, explore, play, and pretend! Children develop their critical thinking skills and have big-time fun at the same time. There's even a special area just for infants. Whether climbing the forest-themed play area, dressing up like a favorite critter, or building a puzzle, this is the perfect place for families all year long.
The Makesmith Workshop is appropriate for ages 3 and older. In this space, youth use tools to create projects using woodworking techniques, metal arts, and textiles. The Animal Encounters Barn is also fun for the youngest guests. In this space, guests can interact with heritage breeds and learn about how they differ from other farm animals.
Eiteljorg
At the Eiteljorg, visitors under the age of six can create in the art studio and engage with the gallery interactives. The R.B. Annis Western Family experience is a hands-on play area ideal for younger kids and includes a quiet space with nursing area for parents.
Indiana Historical Society
At the Indiana Historical Society, many preschoolers enjoy the touchscreens in Destination Indiana, as well as the paper-mending activity and digital microscopes in the W. Brooks and Wanda Y. Fortune History Lab. During the holiday season, younger children also enjoy the lights and spectacle of Festival of Trees.
Indiana Repertory Theatre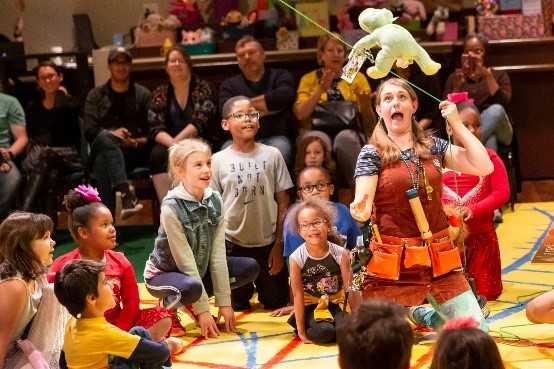 Exploring Stages from the Indiana Repertory Theatre brings the wonder of theater to the youngest guests. This program is specifically designed for ages three through eight and includes pre- and post-show activities. Each production includes "storytime seating" where the kids sit on the carpet and view the show up close.
Indiana State Museum
Opened in 2020, Firefly Landing at Indiana State Museum is a spot for families with children ages six and younger to experience interactive story time, sensory tables, and hands-on activities. The R.B. Annis Naturalist's Lab is another fun, hands-on exhibit where kids can explore different types of animals, plant life, and rocks.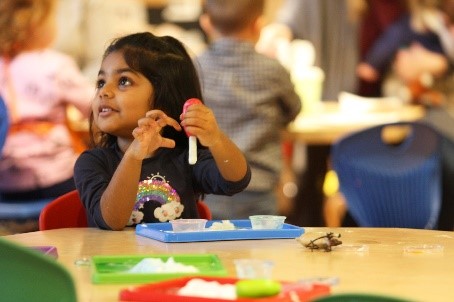 Indianapolis Motor Speedway Museum
Younger visitors to the Indianapolis Motor Speedway Museum can create cool racing works of art at the coloring stations. They'll also enjoy pretending to drive a real Indy race car while parents snap lots of cute pictures.
NCAA Hall of Champions
While the majority of the space was created with older kids in mind, younger visitors can still take part in the interactives on the second floor at the NCAA Hall of Champions. They can shoot basketballs in the gym, kick virtual soccer balls, and see and touch different types of sports equipment.
Newfields
Let the little ones burn off some energy exploring the Virginia B. Fairbanks Art and Nature Park on the Newfields campus. They can climb on the sculptures, take a walk around the lake, and watch the birds at the birdfeeder. Throughout the year, Newfields offers kid-friendly programming like art activities, movie nights, and more.
Rhythm! Discovery Center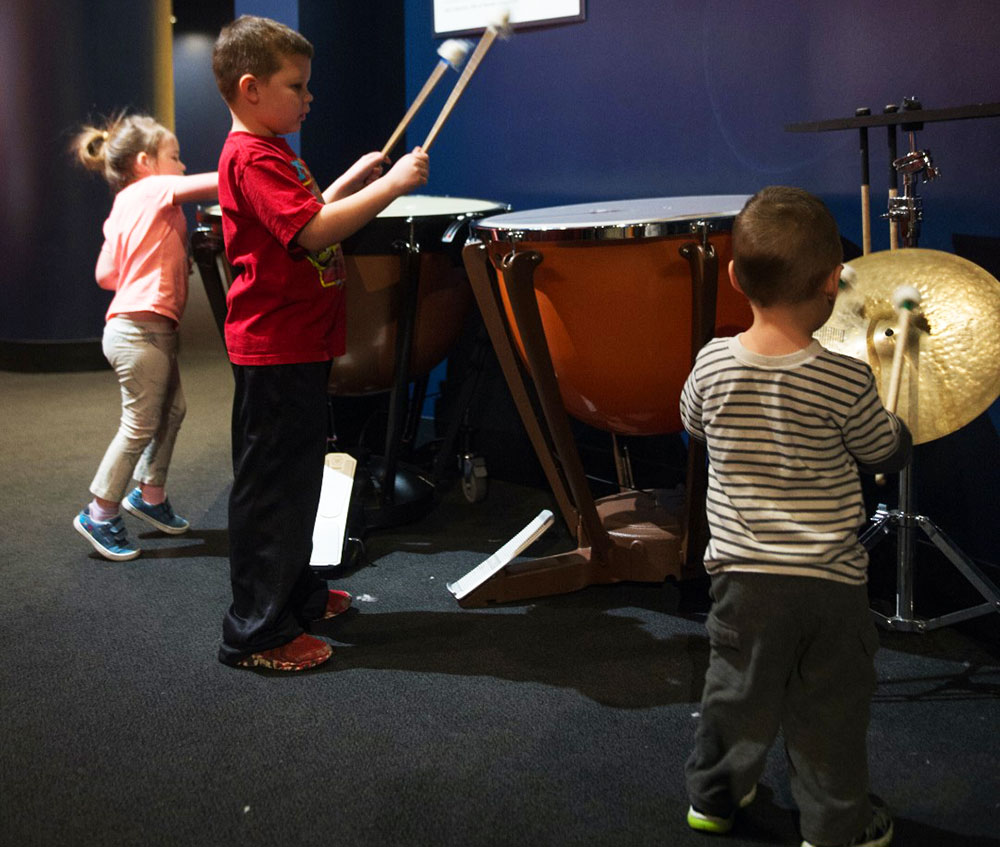 Each exhibit at the Rhythm! Discovery Center pairs interactive instruments with objects on display. The exhibit "Groove Space" features hands-on instruments for all to play including the youngest visitors.
The Children's Museum of Indianapolis
All of the exhibits at The Children's Museum of Indianapolis have components made for young kids. Built for the 5 and under crowd, Playscape® is fun, interactive, and educational. It features water tables, climbing structures, and separate area for babies. Younger kids also love All Aboard, where they can climb in the real Rueben Wells locomotive, and Corteva Agriscience ScienceWorks with a water table, real animals, and lots of hands-on activities.
Terre Haute Children's Museum
The Terre Haute Children's Museum specializes in little ones with a ton of fun exhibits for babies, toddlers, and preschoolers. Exhibits ideal for this age group include AIRways, Rev It Up! Racecar, Dig It!, Water Works, Ag-Citing, Build It!, Ready, Vet, Go! and The Kitchen. The Toddler Zone with safe and fun play house, climbing structure, padded floors and a variety of age-appropriate books and toys is another favorite spot. Terre Haute Children's Museum also has special programming for the youngest visitors, including Tot Time, a science-based program for ages 2-5 and Baby Explorer for ages 0-2.
WonderLab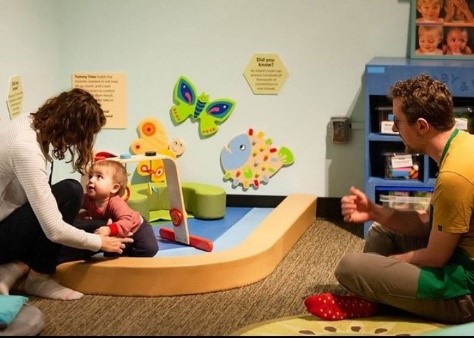 Great for kids of all ages, WonderLab has several engaging and fun exhibits for the littlest guests. Science Sprouts Place was designed with infants and toddlers in mind and encourages exploration, curiosity, and learning through age-appropriate activities. This area is surrounded by a low fence, which makes is easier for parents to see their older kids as they explore the other parts of the museum. The Sprouts Lab lets kids 0-3 experiment and test in a mess-friendly zone.