Can we PLEASE have some candy-free options for Halloween?!
We know...we know!
Halloween is all about candy. But most times, too much candy doesn't make us feel great. So, The Children's Museum Guild's witches searched for easy, fun, exciting, silly, and—wait for it—healthier Halloween snacks for everyone to enjoy throughout this spooky season. Grown-ups and kids can have a fun time bringing some of these awesome ideas to life....or death. Buhahaha!
Holy Guacamole!
Look at all the Halloween fun that you can have with this yummy dip! Did you know that guacamole originated in Mexico more than 700 years ago? The Aztecs discovered that mixing avocados, tomatoes, chiles, and salt made the perfect power snack. Now you can power up with a guacamole snack before you begin your Halloween adventures. Try making it into creepy bats or a freaky Frankenstein!
Creepy Gucamole Bats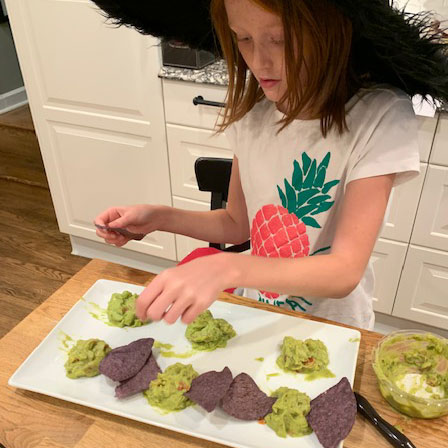 Ingredients
Store-bought guacamole—or you could make your own with your own recipe or just mash avocado, onion, garlic and lime juice together
Blue corn tortilla chips
2 red Fruit Roll-ups
Black olives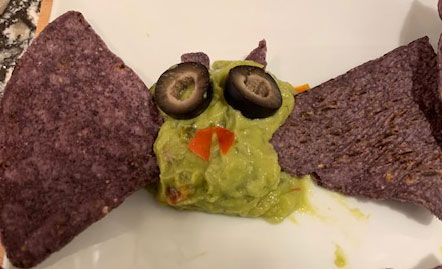 Procedure
Scoop the guacamole on to a plate or platter with an ice cream scoop.
Find good triangle-shaped blue corn tortilla chips in your bag and place them on the guacamole as bat wings.
Break corners off of the remaining chips to create the bat ears.
Slice olives to create the bat eyes.  
Cut the corners off of the red fruit roll-ups; then cut those triangles in half to crate the bat fangs.
Frankenstein's Monster Dip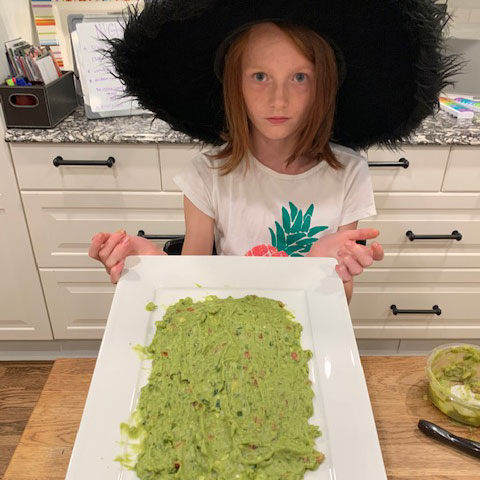 Ingredients
Store-bought guacamole—or you could make your own with your own recipe or just mash avocado, onion, garlic and lime juice together
Blue corn tortilla chips
Black olives
Refried beans
Sour cream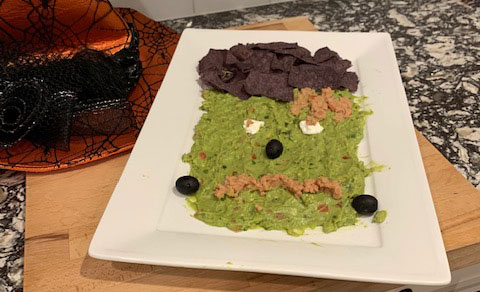 Procedure
Spread the guacamole on to a platter in a rectangle shape.
Add blue corn tortilla chips for the top of Frank's head/his hair.
Finish making your Frankenstien: Use whole olives for a nose and his head attachments. Use sour cream and refried beans for eyes. Use the refried beans for scars. You can pipe the beans and sour cream in to piping bags if you have those on hand. Or just use your hands and have some fun like we did!  
Fruit Instead of candy? Waaahh!
No, don't cry!
You'll really change your tune when you see the cool things that fruits can do for Halloween! Clementines become pumpkins and bananas become ghosts, as if a powerful spell has been cast upon them. See how these sliced apples, peanut butter, strawberries, and nuts become silly little mouth monsters? And, you could always substitute your butters and make those teeth out of marshmallows if you have nut allergies.
Clementine Pumpkins and Banana Ghosts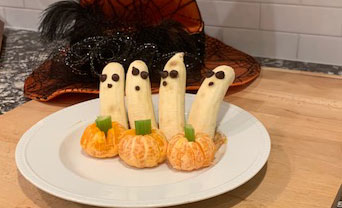 Ingredients
Clementines
Celery stalk
Bananas
Peanut butter
Chocolate chips—regular and mini
Procedure
Cut the bananas in half.
Put a little piece of peanut butter on the flat part of the banana and stick to your plate/platter, standing up with the point up.
Place the chocolate chips on the bananas as eyes and a mouth. Note: If you find that this is too tough with the bananas standing up, you can always add the chocolate chips before you stand them up on the plate.
Peel the clementines. Cut the celery stalks into stem shapes. Place stalks in hole on top of the clementine.
Viola!
Apple Monsters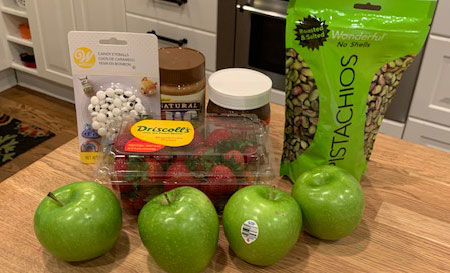 Ingredients
Green apples, quartered
Peanut butter/hazelnut spread/sunflower butter/cashew butter
Pistacios
Strawberries
Googly Eyes (purchased in baking section at Kroger)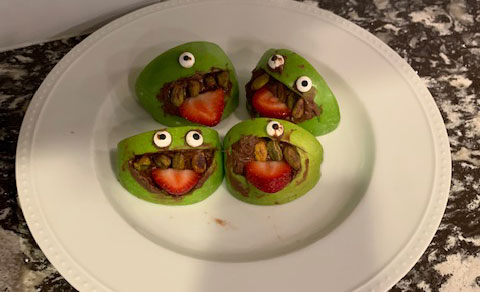 Procedure
Cut the middles out of each quarter of the apple to create a mouth. Don't worry about perfection as you are filling this gap with your "butter", so if you cut too deep you can always cover it up and no one will know!  
Coat the inside of the cut gap with a filling of your butter.
Add the pistacios as monster teeth and adhere the eyes with a pinch of your butter!
Add the strawberries as a monster tounge and enjoy!
Now for the main event—it's dinner time! We found an awesome mysterious main dish for your goblins to gobble up! How about a nice vegetarian option with these mini mummy pizzas. Or, throw some sausage or pepperoni in…there's an option for everyone, and they're as easy as worm pie to whip up together any October evening!
Mini Mummy Pizzas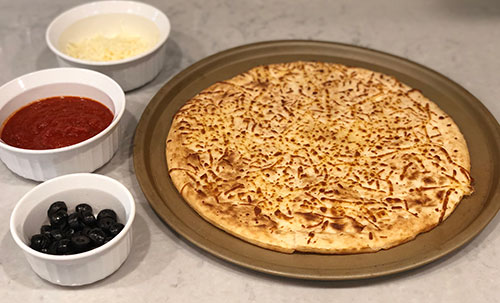 Ingreidents
Store-bought pizza curst
Pizza sauce
Black olives
Sliced or shredded mozzarella cheese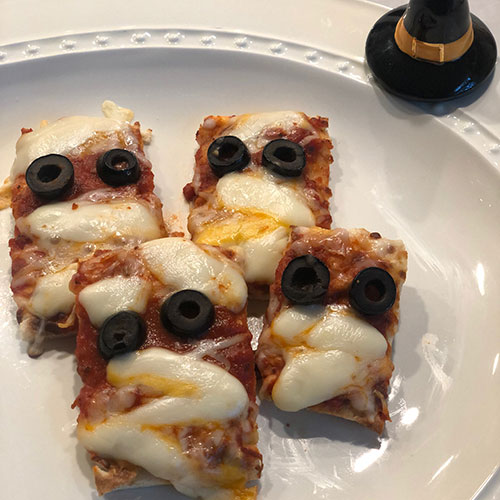 Procedure
Cut the pizza crust into rectangles.
Spoon the sauce on to the cut pizza crust.
Sprinkle or lay the cheese on bottom half of rectangle.
Add the sliced olives for your mummy eyes on the top of the rectangle.
Bake at 350 degrees until the cheese is melted and your mummies look good and gooey!
These fun, kid-friendly food projects will be perfect for all your kid-friendly Halloween nibblers! Give these fun, spooky, candy-free treats a shot! Include your friends and your family and have a blast making some of these creepy creations. Have fun, stay safe, and have a happy Halloween season. And don't forget your tickets to The Children's Museum Guild's Annual Haunted House at The Children's Museum!