"Lumos!"
We've cast the Wand-Lighting Spell and are shining the light on the Harry Potter objects on display around The Children's Museum. No need to conjure an Accios spell. You'll find everything right here in this video.
Did you catch all of that?
Here's some highlights of the Harry Potter related items shown in the video (and where to find them at the museum)*:
Expecto Patronum Harry Potter figure
You can find this 8-inch action figure with Harry Potter toys and collectibles from the 2000s in the American Pop exhibit.
Howler letter
This movie prop, addressed to "Ronald Weasley Hogwarts School of Witchcraft & Wizardry" was used in the 2002 film Harry Potter and the Chamber of Secrets. It's currently on display in American POP.
Weasley "Flying" Car
The Weasley family's Flying Ford Anglia is instrumental in Harry Potter and the Chamber of Secrets. A toy version of this "flying" car can be found in American POP. No, the toy doesn't really fly. And it doesn't have an invisibility booster. But it's fun to imagine it's capable of such things!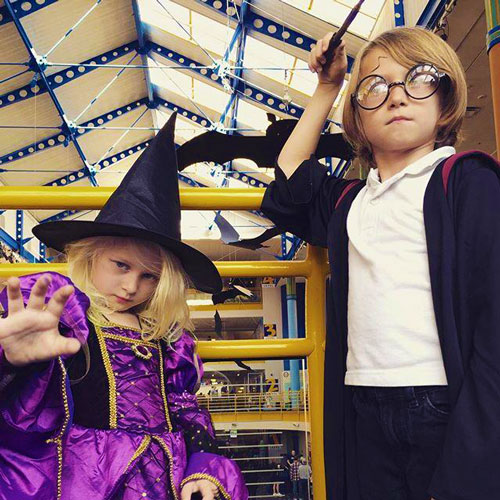 Gryffindor house robe
House robes "Must be worn at all times in the Great Hall, Study Hall, and LIbrary." This robe, can be found in a Harry Potter display case on Level 4.
Firebolt broom
The Firebolt quidditch broom was a state-of-the-art piece of equipment, the fastest broomstick of its time. You'll find it in the Harry Potter display case on Level 4.
Harry Potter's Hogwarts acceptance letter
This movie prop, addressed to "Mr. H. Potter," can be seen on-screen in the 2001 film Harry Potter and the Sorcerer's Stone. You can read the letter for yourself when you see it on Level 4 of The Children's Museum.
Harry Potter LEGO sets
Since 2001, LEGO fans and Harry Potter fans have been able to build their own world of witchcraft and wizardry with Harry Potter LEGO sets. You'll find six of these completed sets in American POP. You'll find another competed set in the display case on Level 4.
10 points to...the museum's Collections Team for all of these magical items !
Wizards and witches, you don't want to miss seeing these iconic Harry Potter objects. Buy your tickets today!
Even muggles can come. After all, The Children's Museum is for everyone.
---
*Please note: some items listed in this post could be rotated off-display without notice. If you are planning a visit to The Children's Museum in order to see a specific item, please contact our Customer Service Center at 800-820-6214.