I'm Kelsey Hambleton, and though I've very recently been made the Old National Bank Mid-North Promise Program Manager, I've been with the Mid-North Promise Program for almost three years now. In my time working within this unique program, I've been lucky enough to witness many successes, but nothing compares to the resilience our program celebrated in June of this year.
Celebrating success
Every June, the Mid-North Promise Program hosts June Celebration, which is an opportunity to honor our scholarship recipients and graduates. This year's theme was appropriately called Rise Up. We recognized five college graduates, four certificate program graduates, and seven high school graduates. Our high school graduates will be attending colleges like Butler University, Indiana State University, and IUPUI. We were also able to award scholarships to 10 new scholarship recipients, two workforce certificate scholarship recipients, and 15 renewal scholarship recipients, totaling over $62,500 in funding. Last year, due to the COVID-19 pandemic, our celebration was hosted entirely virtually. While that event was certainly a bright spot during a difficult year, we missed the in-person connection we were used to.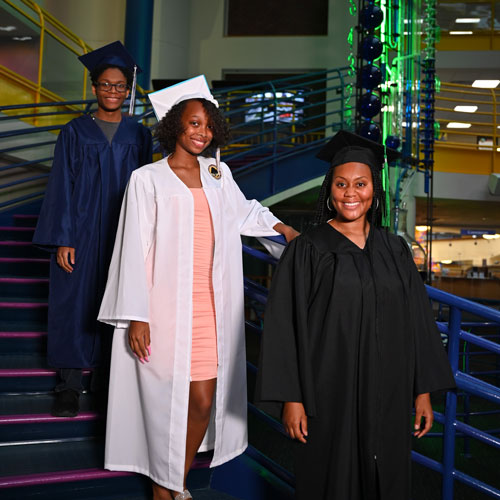 Celebrating community
In 2021, we held a limited-space hybrid event at The Children's Museum. It was the first time I had been in the same room with participants in 16 months. I was filled with emotion, and felt my eyes tear up watching our group come back together after so much. I know I was not alone in those feelings- our Program Participant Speaker, Sha-Nel Henderson, opened her speech with this:
"It is such an honor to be in the presence of you all in person. It has been a year I would say since we've been able to gather, especially as the Mid-North Promise Program family."
It reminds me that presence has a magical quality.
You can learn more about Sha-Nel's story and her experience with the Mid-North Promise Program. Check out this news feature from Rafael Sánchez on WRTV.
Celebrating resilience
The Mid-North Promise Program is a college and career success program for individuals living in the six neighborhoods surrounding The Children's Museum that provides scholarships for youth and adults. I am grateful to get to be a part of a program that really values people, and while I am impressed with the way Mid-North Promise Program participants continue to Rise Up, I cannot say I am surprised.
If you are interested in learning more about the Old National Bank Mid-North Promise Program, please email us at promiseinfo@childrensmuseum.org .