What's the secret to making the Riley Children's Health Sports Legends Experience® such a legendary place? You could say that it's the 12 sports areas that give children and their grown-ups the opportunity to run, jump, pass, kick, hit, shoot, putt, and race in a variety of sports experiences. You could say that it gives children and their grown-ups the opportunity to try out a new sport without any pressure to become an instant all-star. You could say that it's the presence of statues dedicated to Sports Legends like Tamika Catchings, Slick Leonard, and Reggie Wayne in the Old National Bank Sports Legends Avenue of Champions. If you said any of these, you'd be correct.
Kind of.
These are all great things. They're part of what makes the sports experience such an exemplary place. But what really elevates the Riley Children's Health Sports Legends Experience®? It's really not a secret at all. It's our amazing coaches! They're the heartbeat of what we do in our Riley Sports Experience.

Coaches on Opening Day in 2019.
We recently spoke with two of our seasonal coaches—Brian Edwards and Elizabeth Gee—and asked them to pull back the curtain and share what makes being a coach such a fulfilling job.
Meet two seasonal coaches in the Riley Children's Health Sports Legends Experience®
Brian Edwards has begun his second season with the Riley Children's Health Sports Legends ExperienceⓇ. He attended Marian University on a bowling scholarship and graduated with a degree in Physical Education. He is from the Indianapolis area and visited The Children's Museum frequently while growing up.
Elizabeth Gee began working as a coach in the Riley Children's Health Sports Legends ExperienceⓇ in August 2020. She graduated from Ball State University with a degree in Theater. She's from Southern Indiana and grew up visiting The Children's Museum on class field trips. "I visited The Children's Museum so much as a kid, and now I get to work there...it's just so cool!"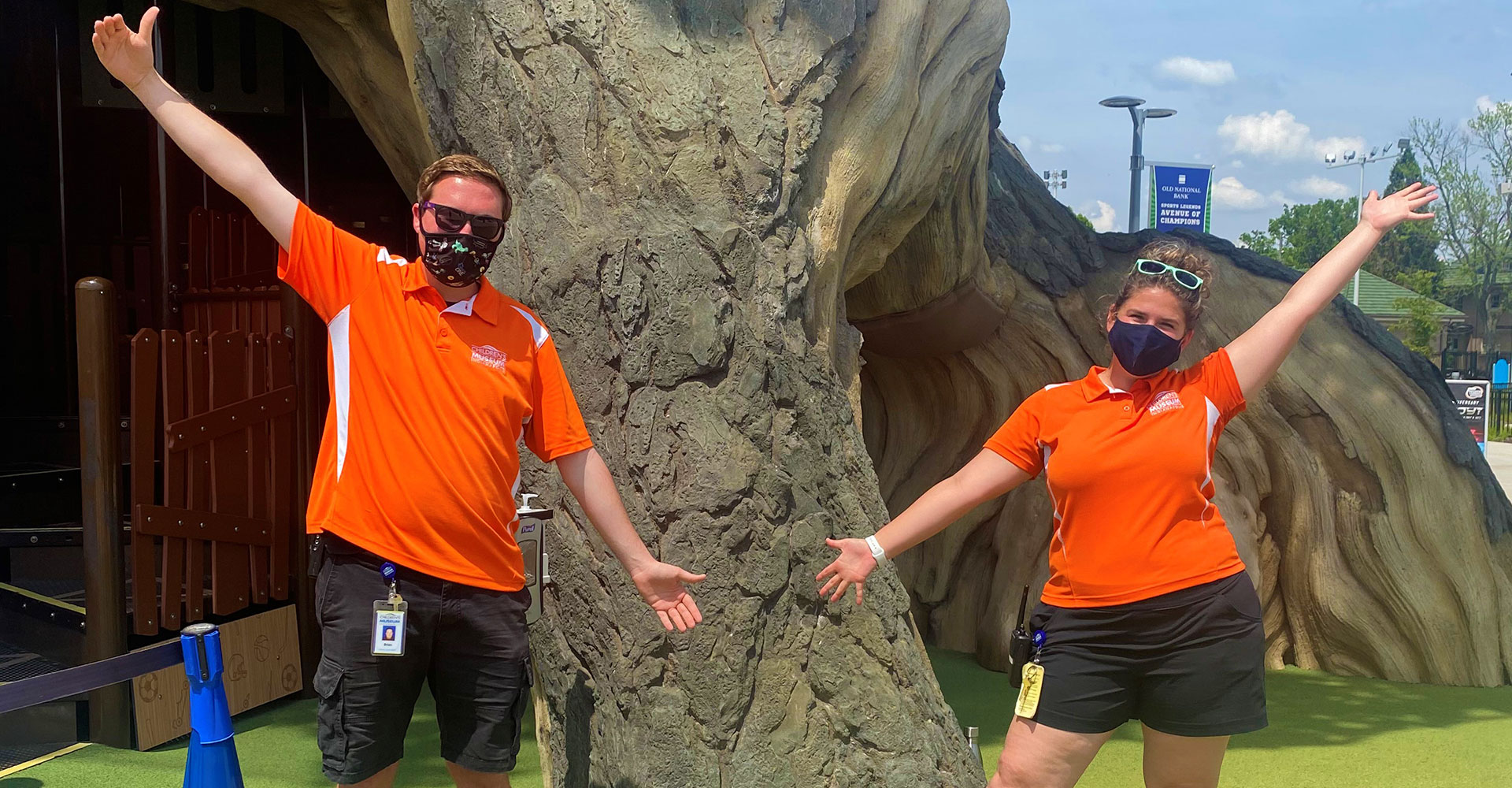 Tell us about your job as a seasonal coach.
Brian:
A coach serves as a host in the different sporting spaces that we offer. If we're not busy, I get to work closely with families and help them and their children get better at a sport. Like with basketball, I help them make jump shots or teach them how to shoot a layup.
Throughout the day, I'll go to every sport that's offered, spending between 30 minutes and an hour at each sport before I rotate to my next area. I also help run the Hammerin' Hank Aaron Legendary Challenge and I have also begun to help with the Oscar Robertson Legendary Challenge.
Elizabeth:
We make sure everyone is participating in their sports in a fun and safe way. We rotate throughout the day to the different sports areas. We hand out equipment and remind everyone to please help keep everything clean.
If we see someone struggling with something or trying to learn a new sport, we can encourage them and say something like "Hey! Maybe try it this way," or "Here, let me help you out!" Our job is to ensure people have a fun and safe time while learning about sports, playing sports, or trying out a new sport.
Why did you apply to be a seasonal coach?
Elizabeth:
I applied for this job coming out of quarantine, which was a really hard time for everybody. As a Theater major, my whole industry had shut down. I found out about this job through a mutual friend and almost didn't apply because, while I played sports as a child, theater has been my focus since high school. I'm glad that didn't stop me!
Brian:
I was a Physical Education major. I really liked the idea of being able to play sports with our guests every single day. There aren't many jobs where you get to say that you're getting paid to play sports.
What's your favorite sport?
Brian:
I played travel baseball in high school and have many great memories from that experience. But I also went to college on a bowling scholarship, so bowling is pretty high up there, too.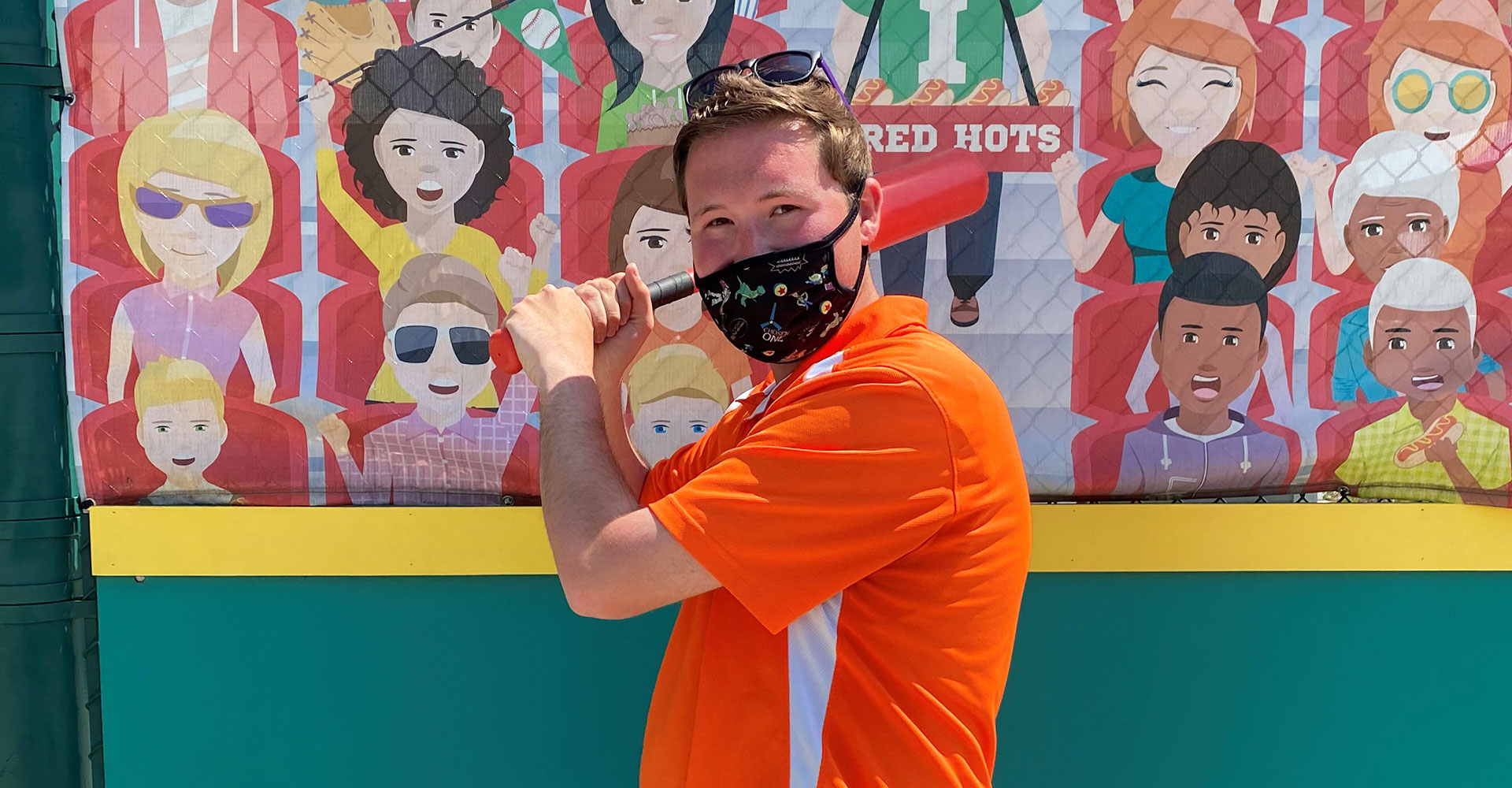 Elizabeth:
Football. My brothers grew up playing football. They kind of forced me to play and taught me how to throw a football. I also went to all of their football games. I follow football the most.
What's your favorite exhibit at The Children's Museum (that's not part of the sports experience)?
Elizabeth:
The Power of Children®
Brian:
Beyond Spaceship Earth. The NASA space stuff is really cool!
What is a favorite coaching memory?
Brian:
I really enjoy running the baseball program and seeing the kids improve in such a short time. It's always really cool to see how happy they are when they hit the ball far!
That's my favorite part about this job—watching a kid do something awesome and see how excited they are, and then celebrating that moment with them.
Elizabeth:
I was hosting soccer when a little boy came up to me with his mom. He said, "I've never played soccer. What do I do?" So I got to show him some basic soccer moves—how to dribble the ball and shoot for a goal." His mom came up to me and said "He normally doesn't like sports. But he's having so much fun!" When he was done playing, he came back to me and said, "I loved that! I think I'm going to try out for the soccer team now!"
It was such a precious moment. We have a lot of those moments every day when a kid comes in and tries a sport and says, "Wow! I actually loved that!" It inspires them. And that's why we're here.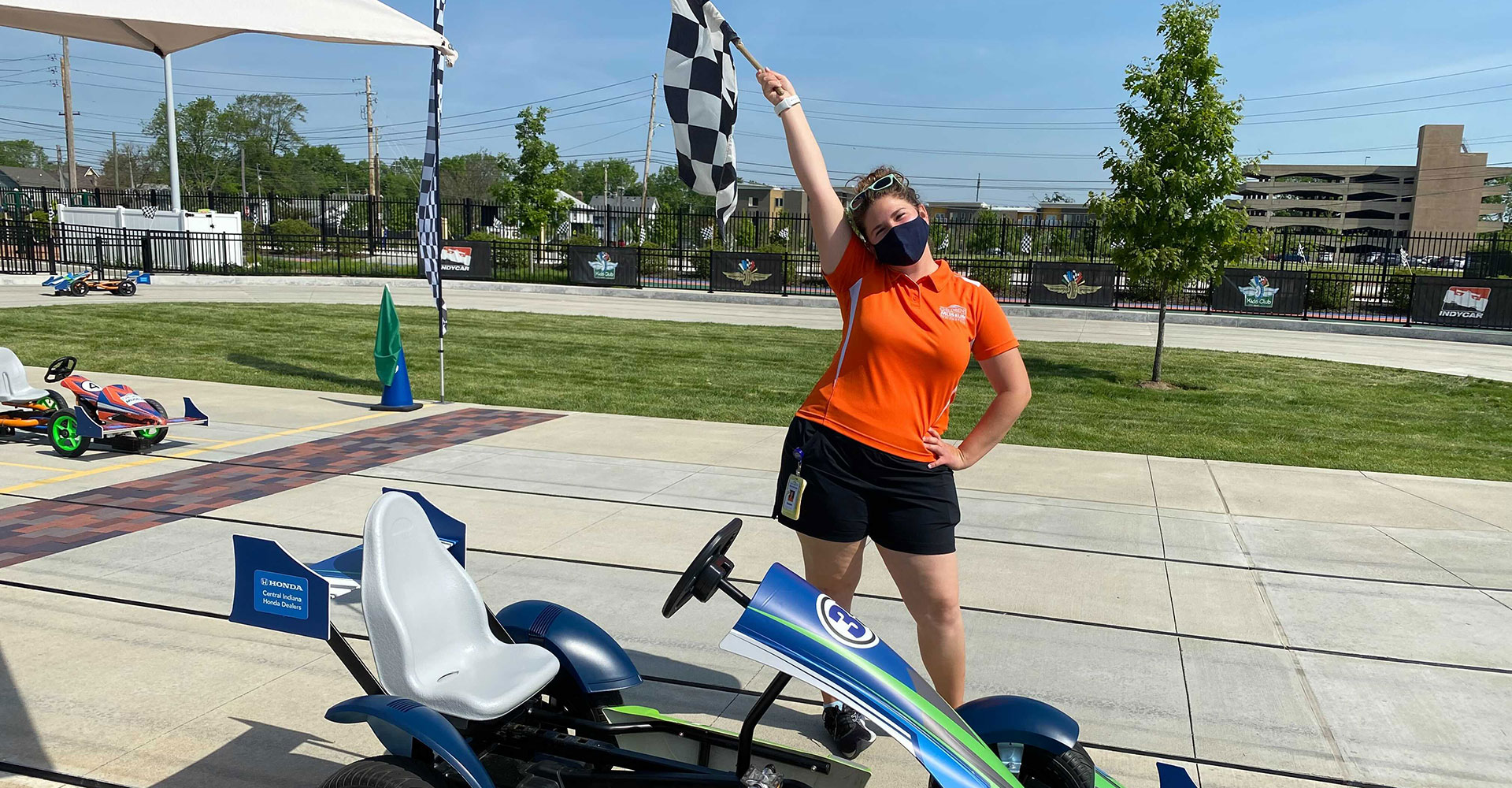 I can't tell you how many kids I meet who say, "I've never played this before." And I get to see them try a sport for the first time in an environment that is welcoming and affirming. That's what I love about this! You have all of the sports out here. There's no pressure to tryout for a team or anything. You just get to come, see what sports you like, and try something you've never tried! I really love getting to watch the kids experience sports for the first time. Or maybe it's a sport they already love. I really love the interaction with everyone.
What would you say to someone thinking of applying to become one of our seasonal coaches?
Elizabeth:
I enjoy sports, but I'm not an expert. But that didn't stop me from applying. Don't let it stop you, either.
I'm still using my theater experience. You have to be high-energy and enthusiastic when you're helping with the programming. And when you're coaching? You have to be in front of people. So I'm still using my knowledge of theater. And I'm learning new sports along the way. What I might lack in sports knowledge, I can make up in enthusiasm. I almost didn't apply for this job. I'm so glad I did. It really has changed my life.
Brian:
Be prepared to have a lot of fun. Be prepared to be tired because you're outside all day—being outside all day is really one of the perks of the job. Be ready to be up on your feet, active, and engaged with visitors all day. That's what makes this so fun!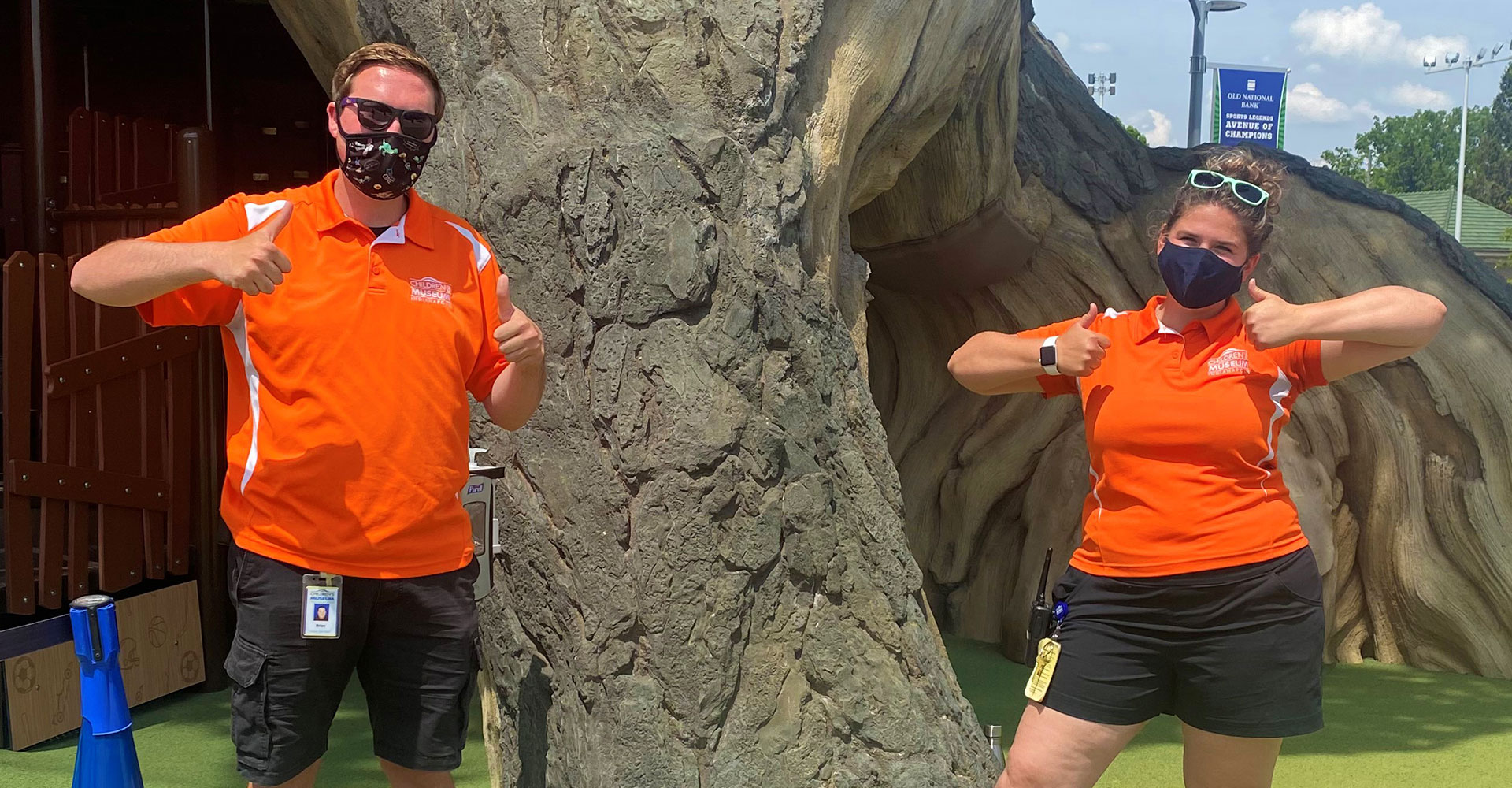 We're looking for more legendary coaches!
Whether you've played at a collegiate level or are just a fan of the game, we are looking to add more coaches to our team. Remember, they're the heartbeat of what we do in the Riley Children's Health Sports Legends Experience®. You could be the coaching MVP we're looking for. Hustle over to our job portal and submit your application today!