FOR IMMEDIATE RELEASE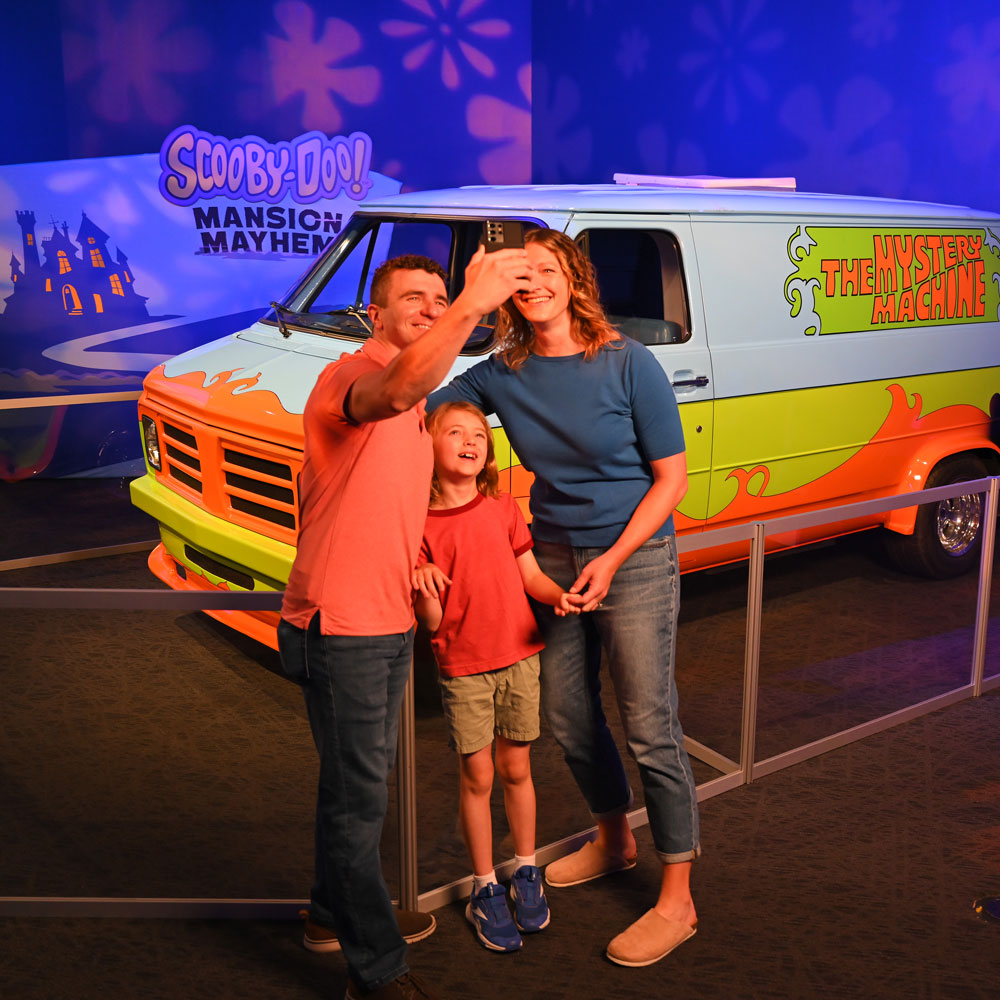 "Ruh-Roh" SCOOBY-DOO!™ and the gang invite families to solve a gem of a mystery at The Children's Museum of Indianapolis when SCOOBY-DOO!™ Mansion Mayhem exhibit opens June 4, 2022. This immersive experience, in partnership with Warner Bros. Themed Entertainment, allows families to join the members of Mystery Inc. to analyze clues and put their problem-solving skills to the test. Families and young detectives will work through the rooms of the mansion meeting different characters of the iconic TV show that has captivated fans for more than five decades. Unmask the jewel thief and discover secrets of the mansion.
In the Hall of Portraits, meet Daphne—the brave, fashion savvy member of the gang. Comb through moving eye portraits to discover the villain's hidden control panel that creates spooky illusions. In the Villain's Tinkering Workshop, work alongside Fred, the group's calm and collected leader, to build a trap for the villain. Green glowing clues appear to help along the way! Shaggy and his lovable canine pal SCOOBY-DOO!™ can be found in the kitchen of course, where families participate in the iconic ghost chase and create many more delicious memories. No mystery can be solved without the help of tech-savvy Velma in the library music room. Solve a musical puzzle on the organ and use the Clue Analyzer to get a visual of the villain.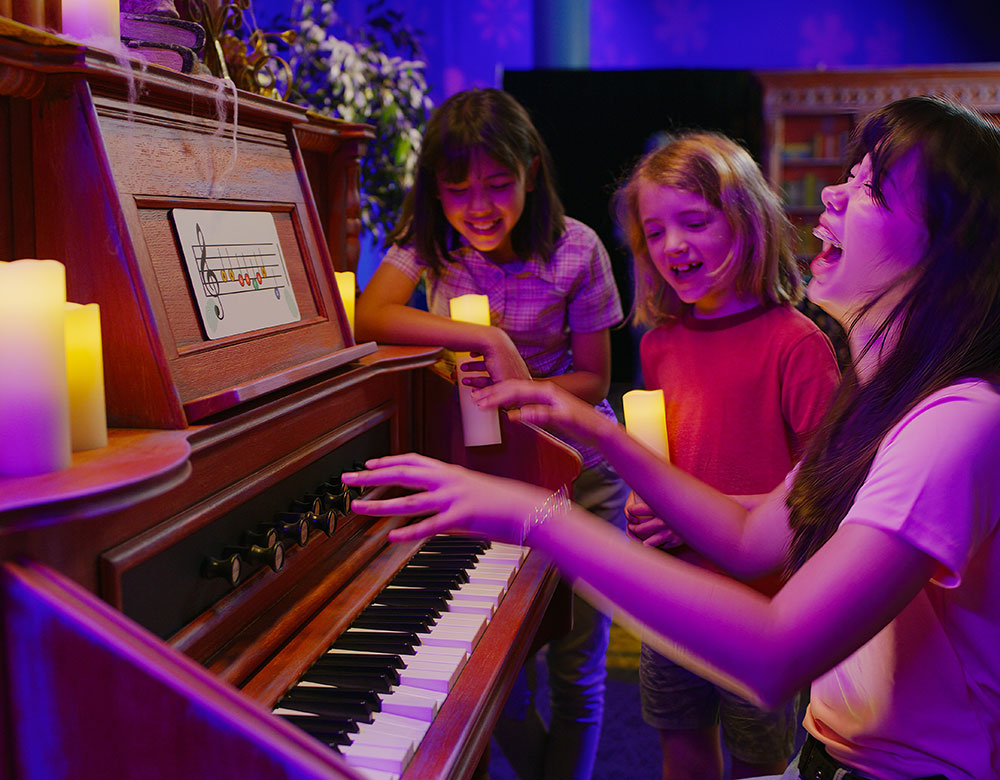 "We are excited to partner with Warner Bros. Themed Entertainment to create the multigenerational SCOOBY-DOO!™ exhibit. It highlights what we value at The Children's Museum. It is not only a fun challenge for our visitors, but it provides a unique educational experience," said Jennifer Pace Robinson, president and CEO, The Children's Museum of Indianapolis. 'SCOOBY-DOO!™ and Mystery Inc. teach families and children that with teamwork, courage, and ingenuity, even the toughest mysteries can be solved."
Be sure to gather the family around for a photo op that all generations will enjoy–a photo with The Mystery Machine! The Mystery Machine, on loan from Warner Bros. Archives, was one of four that were initially made for the live-action movies SCOOBY-DOO (2002) and SCOOBY-DOO 2: MONSTERS UNLEASED (2004).
SCOOBY-DOO and all related characters and elements © & ™ Hanna-Barbera. (s22)
SCOOBY-DOO!™ Mansion Mayhem is presented by F.A. Wilhelm Construction. It is supported by Donatos Pizza and Delta Dental. The Children's Museum of Indianapolis is proud to partner with Riley Children's Health, Old National Bank and Ice Miller LLP.
About Warner Bros. Themed Entertainment
Warner Bros. Themed Entertainment (WBTE), part of Warner Bros. Discovery Global Brands and Experiences, is a worldwide leader in the creation, development, and licensing of location-based entertainment, live events, exhibits, and theme park experiences based on Warner Bros. Discovery's iconic characters, stories, and brands. WBTE is home to the groundbreaking global locations of The Wizarding World of Harry Potter, Warner Bros. World Abu Dhabi, WB Movie World Australia, and countless other experiences inspired by DC, Looney Tunes, Scooby, Game of Thrones, Friends, and more. With best-in-class partners, WBTE allows fans worldwide to physically immerse themselves inside their favorite brands and franchises.
About The Children's Museum of Indianapolis
The Children's Museum of Indianapolis is a nonprofit institution committed to creating extraordinary learning experiences across the arts, sciences, and humanities that have the power to transform the lives of children and families. For more information about The Children's Museum, visit www.childrensmuseum.org, follow us on Twitter @TCMIndy, Instagram@childrensmuseum, YouTube.com/IndyTCM, and Facebook.