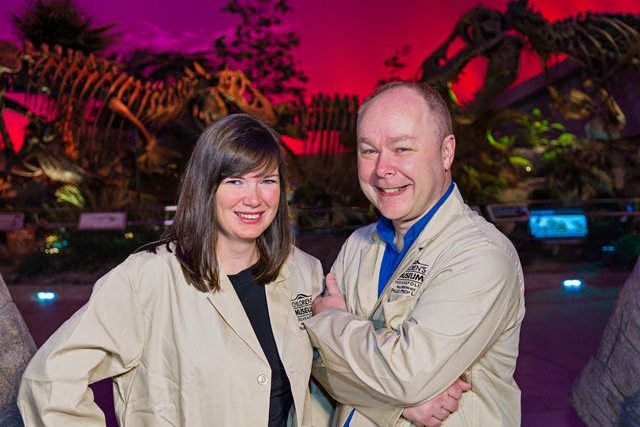 If you want to walk with dinosaurs, visit Dinosphere (an immersive environment in which visitors are surrounded by real and rare dinosaur fossils in a setting that looks like it's straight out of the Cretaceous Period some 65 million years ago). If you want to hear the wondrous creatures roar, listen to world-renowned paleontologists Dr. Phil Manning and Dr. Victoria Egerton tell their tale. The Children's Museum of Indianapolis is pleased to announce that the dynamic duo has just been named Extraordinary Scientists-in-Residence at the world's largest children's museum.
Manning and Egerton spin a tale that makes listeners feel like they are actually sitting around a Cretaceous watering hole watching the giant creatures approach. Consider the museum's Gorgosaurus, "It's such an interesting specimen," said Egerton. "Everything from the beautiful bone to its wonderful preservation. And the best part is, it tells an intriguing story." Their colorful exchange is likely to change the opinion of those who might consider the fossil to be nothing more than a pile of bones into a real living, breathing, animal that was trying to get food and survive. "This was a 25-foot-long, bone-crushing predator that really would've had a face that only a mother could have loved because of her awful injuries with dripping blood and pus, and she was a little bit giddy because of the tumor that was in the hind portion of her brain that was affecting her stability. You've got a top-end predator that's a little bit squiffy, a little bit staggery; but my gosh, she'd have had some character," said Manning.
One story session with Manning and it's easy to understand why he has been chosen to host several National Geographic films regarding dinosaurs (two of those documentaries were filmed, in part, right here at The Children's Museum of Indianapolis). Manning is Professor of Paleontology at the College of Charleston in South Carolina and Professor of Natural History at the University of Manchester (UK). He and his team have worked extensively in South Dakota and Montana, but their field program also includes sites in South America, Europe, Asia, Africa, and Australia.
Dr. Victoria M. Egerton is a Research Fellow at the University of Manchester (UK) who specializes in paleobotany and teaches paleontology at the College of Charleston in South Carolina. She too has conducted extensive research and fieldwork in South America, Europe, the Caribbean, and North America.
Their duties at The Children's Museum will extend beyond sharing the fascinating stories of the museum's most prized fossils, including Dracorex hogwartsia, which celebrates its 10th anniversary at the museum this year. They will collaborate with the museum in many significant ways including leading specialized paleontology tours in the United States and abroad, helping The Children's Museum acquire specimens on loan from other institutions around the globe, providing access to state-of-the-art technology for studying fossils, and educating and interacting with museum visitors through special programming.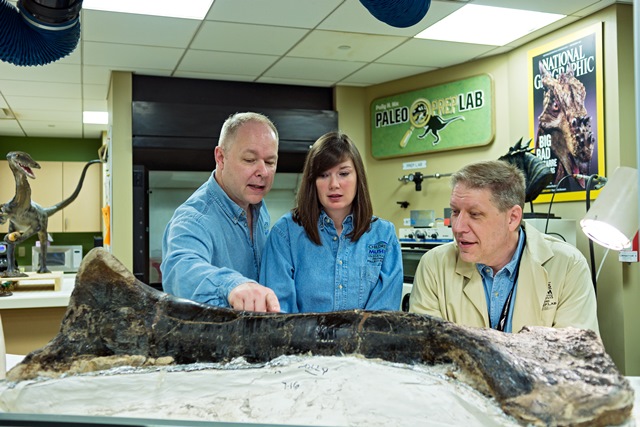 "Thanks to global experts and generous donors, the Museum has a world-class collection of unique and rare dinosaur fossils. We are thrilled to introduce our latest extraordinary scientists-in-residence—two fascinating paleontology experts," said Dr. Jeffrey H. Patchen, president and CEO, The Children's Museum of Indianapolis. "Drs. Manning and Egerton have traveled the world in search of clues to help tell stories of the battles fought and struggles survived by these ancient creatures. These renowned experts have shared their findings with the Queen of England and worldwide audiences through National Geographic documentaries. This special relationship will allow our staff to partner and collaborate with them as they research and document the science behind cutting-edge discoveries that we can share directly with children and families who visit The Children's Museum."
The two come from dramatically different backgrounds. Dr. Manning saw his first dinosaur face-to-face at the British Museum of Natural History when he was just 5 years old and he was hooked. When learning difficulties challenged him at school, his love of dinosaurs propelled him into a science career because of his ability to "read" bones and understand the stories behind them. He has now authored both children's and popular science books and is a regular contributor to public speaking programs around the world, promoting the public engagement of science.
Dr. Egerton grew up on the Mississippi Gulf Coast where there were no rocks, and she played with her grandmother's rock collection instead of dolls. "My whole inspiration has always been my grandmother, whom I never got to know because she died of Alzheimer's when I was quite young; but her story lived on through my father and my grandfather and her incredible life. I've been able to travel the world and work on the biggest dinosaurs and learn about the plants they ate. It's all been a giant adventure for me," she said. Egerton has published her research in high-impact journals while maintaining an active outreach program that has resulted in several high-profile science exhibits. She has become a strong voice for women in science.
The two now join the paleontology staff at The Children's Museum of Indianapolis to encourage family learning. "It is the world's biggest and best children's museum and it gives us a chance to actually engage," said Manning. "It's not a piecemeal approach to science that many scientists actually take. We want to totally immerse families into a world in which a few will leave thinking, 'I too can become a paleontologist,' and that's really, really helpful for science but, more importantly, it's enjoyable to do."
About The Children's Museum of Indianapolis

The Children's Museum of Indianapolis is a nonprofit institution committed to creating extraordinary learning experiences across the arts, sciences, and humanities that have the power to transform the lives of children and families. For more information about The Children's Museum, visit www.childrensmuseum.org, follow us on Twitter @TCMIndy, Facebook.com/childrensmuseum and YouTube.com/IndyTCM.