The Children's Museum's exhibit, Terra Cotta Warriors: The Emperor's Painted Army, open from May to November 2014, was a once in a lifetime chance for your family to learn about the REAL Terra Cotta Warriors in a hands-on experience created especially for children and families. Since the discovery of the Terra Cotta Warriors, teams of scientists have worked together to study, excavate, conserve and preserve these unique figures. Get caught up! Here are 10 amazing facts about the Terra Cotta Warriors...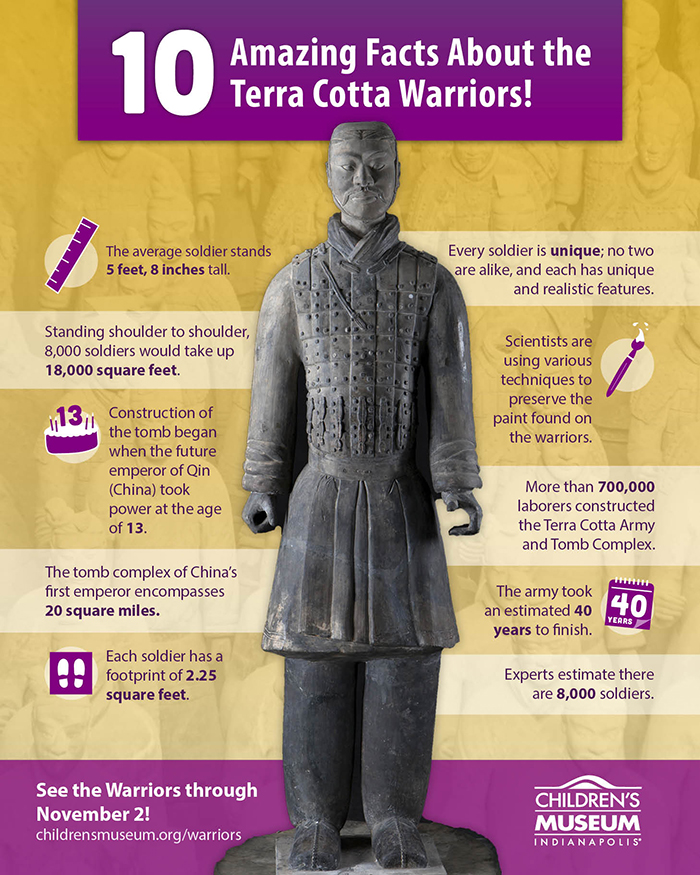 China's first emperor spent much of his life searching for immortality and built himself a tomb complex that encompassed 20 square miles.
Construction of the tomb began when the future Emperor of Qin (China) took power at the age of 13.
As part of the complex, more than 700,000 laborers constructed a life-size terra cotta army and tomb complex.
The army took an estimated 40 years to finish.
The clay soldiers remained untouched for more than 2000 years, until 1974, when they were unearthed by Chinese farmers.
Experts estimate there are more than 8,000 soldiers, 130 chariots, and 670 horses.
Recent digs have also uncovered terra cotta acrobats, musicians, and waterfowl.
Every soldier is unique, no two are alike and each has unique and realistic features.
Scientists are using various techniques to preserve the paint found on the warriors.
The greatest mystery is yet to be revealed: the Emperor's tomb, which has yet to be opened.
Didn't get enough of the Terra Cotta Warriors exhibit when it was here? Visit the National Geographic Treasures of the Earth exhibit and explore the discovery of the warriors firsthand through our recreation of this ancient mystery.