If you want to walk with dinosaurs, visit Dinosphere®. If you want to hear the wondrous creatures roar, listen to world-renowned paleontologists Dr. Phil Manning and Dr. Victoria Egerton, Elli Lilly and Company Extraordinary Scientist-in-Residence, tell their tale. The Children's Museum is pleased to announce that the dynamic duo has just been named Extraordinary Scientists-in-Residence at the world's largest children's museum! Learn more about this inspiring pair...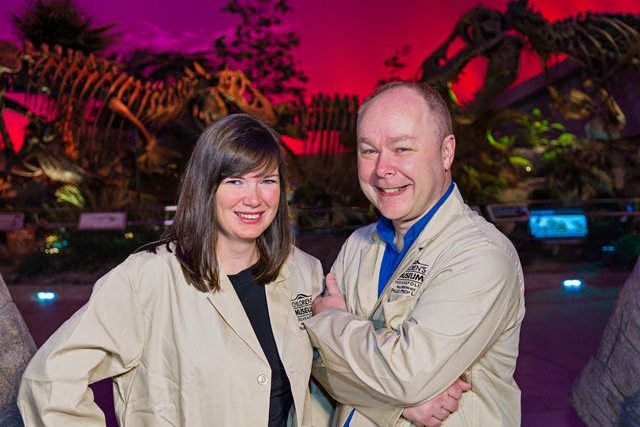 Dr. Manning and Dr. Egerton spin a tale that makes listeners feel like they're sitting around a Cretaceous watering hole watching the dinosaurs approach. Consider the museum's Gorgosaurus, "It's such an interesting specimen," said Egerton. "Everything from the beautiful bone to its wonderful preservation. And the best part is, it tells an intriguing story." Their colorful exchange will spark your imagination, transforming the fossils in front of you into a seemingly living, breathing animal that is trying to get food and survive. "This was a 25-foot-long, bone-crushing predator that really would've had a face that only a mother could have loved because of her awful injuries with dripping blood and pus, and she was a little bit giddy because of the tumor that was in the hind portion of her brain that was affecting her stability. You've got a top-end predator that's a little bit squiffy, a little bit staggery; but my gosh, she'd have had some character," said Manning.
Their duties at The Children's Museum will extend beyond sharing the fascinating stories of the museum's most prized fossils. They will also collaborate with the museum in leading specialized paleontology tours in the United States and abroad, helping The Children's Museum acquire specimens on loan from other institutions around the globe, providing access to state-of-the-art technology for studying fossils, and educating and interacting with museum visitors through special programming.
10 facts about Dr. Phil Manning
He serves as Professor of Paleontology at the College of Charleston in South Carolina and Professor of Natural History at the University of Manchester (UK).
Dr. Manning is also a Fellow of the Explorer's Club, New York City.
He's worked extensively in South Dakota and Montana, and also at sites in South America, Europe, Asia, Africa, and Australia.
He's played an active role in public outreach programs, contributing to open-days, lectures, workshops, fieldwork, and more.
His team's research has been accepted twice for exhibition at the annual Royal Society (London) Summer Science Exhibition, including a feature on The Children's Museum's Gorgosaurus last summer.
He has authored both children's and popular science books and is a regular contributor to public speaking programs around the world, promoting the public engagement of science.
"Pass-it-on" is the simple mantra that has driven Dr. Manning through his career, always working to invest in future generations.
He was chosen to host several National Geographic films regarding dinosaurs. Two of those documentaries were filmed, in part, right here at The Children's Museum!
Dr. Manning saw his first dinosaur face-to-face at the British Museum of Natural History when he was just 5 years old—and he was hooked.
His love of dinosaurs propelled him into a science career because of his ability to "read" bones and understand the stories behind them.
"This is a gateway for kids into science…This museum is perfectly aligned with inspiring kids, not just to become paleontologists, but to become the scientists of tomorrow. And if you can keep inspiring kids, I think it's one of the most important things a museum can do."
10 facts about Dr. Victoria Egerton
She's a Research Fellow at the University of Manchester (UK).
She specializes in paleobotany and teaches paleontology at the College of Charleston in South Carolina.
Dr. Egerton has held positions at universities and museums in both the USA and the UK.
She has conducted extensive research and fieldwork in South America, Europe, the Caribbean, and North America.
She grew up on the Mississippi Gulf Coast where there were no rocks, and she played with her grandmother's rock collection instead of dolls.
She's participated in several high-profile science exhibits, including The Royal Society (London) and the prestigious Times Cheltenham Science Festival.
She has published her research in several high-impact journals, all while maintaining an active outreach program.
Dr. Egerton has devoted a great deal of time to promoting science to marginalized audiences.
She has become a strong voice for Women in Science at the University of Manchester (UK).
She equally enjoys talking to a class of undergraduates or a group of excited 5-year-olds.
"My whole inspiration has always been my grandmother, whom I never got to know because she died of Alzheimer's when I was quite young; but her story lived on through my father and my grandfather and her incredible life. The most important thing for me is encouraging female scientists. Little girls can do anything, and they need to realize that."
Your family will have the chance to meet Dr. Manning and Dr. Egerton during special events throughout the year. Watch for announcements on social media, the online calendar, and in member eNews.