Have you ever wondered what the museum looked like when it first opened way back in 1925? If you visit Mini Masterpieces on Level 3, you can see a miniature room replica of the museum's first home! The museum was first housed in the Propylaeum's Carriage House located at 1410 N. Delaware Street. Though the museum never formally operated in the Carriage House, it allowed neighborhood children to stop by and look at its growing collection, which was formed from donations by area residents. The carriage house was also the first place to display the museum's first logo—a sea horse created by board trustee Kurt Vonnegut Sr.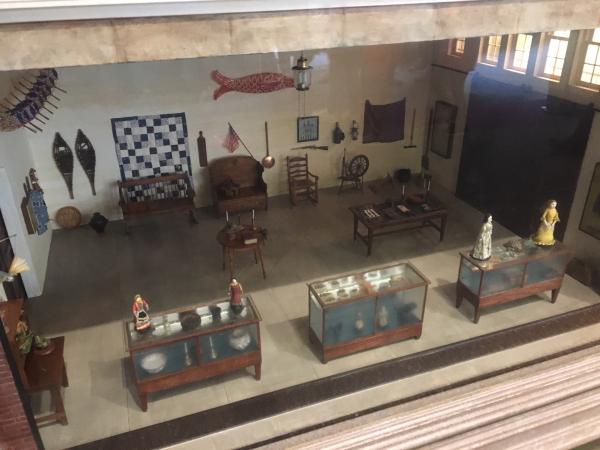 This miniature room was purchased for the museum by The Children's Museum Guild in honor of the retirement of former museum director President Mildred S. Compton. Eugene Kupjack, one of the best known miniaturists of the 20th century, created the miniature room, and it includes 90 artifacts from the Museum's collection. A frequent question we receive is "where are the objects?" Well, most of them are in storage! Sadly, none of them are currently on display, but we will share some highlights with you: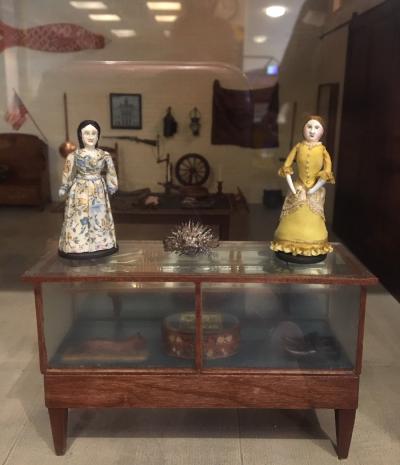 Porcupinefish—this little fish was the very first item in the Museum's collection! It was donated to the museum back in in 1925 by the Indianapolis Public Schools and it is housed in our Natural Science storage area. Read more on the story behind the Porcupinefish.
Settle—this is a walnut bench with arms, a high back and long enough to accommodate three or four people. It was created in 1797 and donated to the museum by Mrs. Carey, the founder of the museum. It is located in our Arts & Humanities storage area.
Native American beaded bag—this Plains Indian bag was also donated by Mrs. Carey and is currently on display at the Indianapolis Museum of Art.
Toasting rack—This Early American fireplace toaster was as unfamiliar to children in 1925 as their toasters are to kids today. It was donated by the children of A.R.D. Mayo.
Tiles—These tiles were found in a still warm lava stream 3 months after Mount Vesuvius erupted in Italy in 1906. They were donated by Miss Florence Fitch in 1925.
Learn even more in this blast-from-the-past This Week's WOW episode on our Mini Masterpieces!