By Ned Shaw, Children's Museum Creative Director
When I heard we were going to do an exhibit on classic fairy tales and adventure stories, I was pretty excited. Like many of us, I was raised on these stories. But it wasn't just the stories to me…it was the illustrations as well. I think we are all fascinated by the rich artwork in the books we read (or had read to us!) as we grew up. These storybooks shaped the way we see the world. I suppose television does that now…but it ain't the same!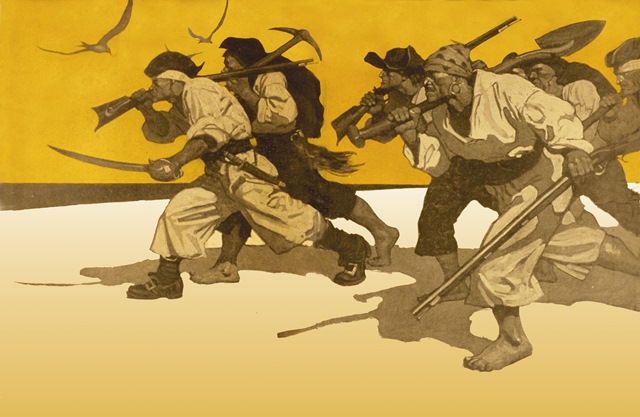 Books from the Golden Age
I became an illustrator as my profession when I came of age, as they say in the stories, and I made it my goal to seek out the oldest and best of these books. I scoured old, dusty bookstores run by bespectacled, bearded old men with wild hair, surrounded by stacks of yellowing books and papers. I was in search of fairies, elves, knights in armor, beautiful princesses, magicians, and genies. I came to know the names of the artistic giants of what is now called the Golden Age of children's book illustration (1890–1930). Maxfield Parrish, N.C. Wyeth, Jesse Wilcox Smith, Arthur Rackham, Warwick Goble, and Edmund Dulac led the field with their exquisite depiction of worlds we could only see through their eyes.
I was pleased to offer many of the books from my library, and their illustrations, to the exhibit team at the museum for the Pirates and Princesses: Storybook Adventures exhibit. Of course, there are few thrills to a collector bigger than having things in a big-time museum display!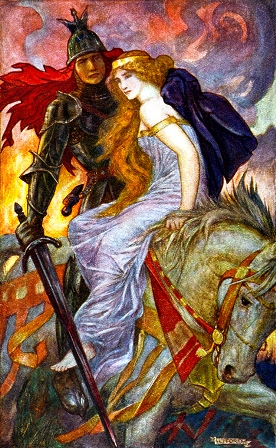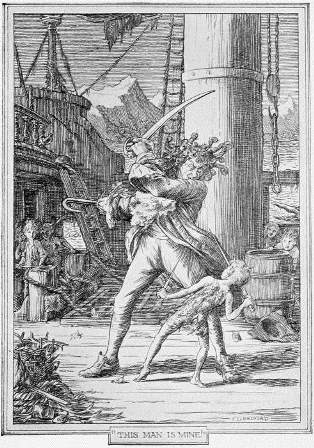 Back at the turn of the last century, around 1908, the earliest of these artists competed with each other by each publishing one "blockbuster" title a year, heavily illustrated with their paintings. Shakespeare, Sleeping Beauty, Tales of Cleopatra, Peter Pan, Lives of the Fairies, all were produced year by year by England's top book artists. Then they held lavish art openings, showing the original artwork. The well-to-do of British society attended, and collected, these fabulous works of art. The storybooks themselves were published with elaborate bindings in limited, signed editions, which were also sold at the galleries. Today, these very same books sell for upwards of $3,000 each!
In turn, these stories influenced several generations of artists and storytellers. When Walt Disney decided to make animated movies for young people, he turned to these same tales for inspiration, sometimes hiring the very same artists to contribute ideas and drawings to keep the feeling authentic to the traditions. Many people today think Disney wrote these stories, but in reality he was just a fan, like me! For example, the book on display in the wonderful exhibit case near the exhibit, Peter Pan and Wendy, was first published in 1911, long before Disney's Peter Pan from 1953.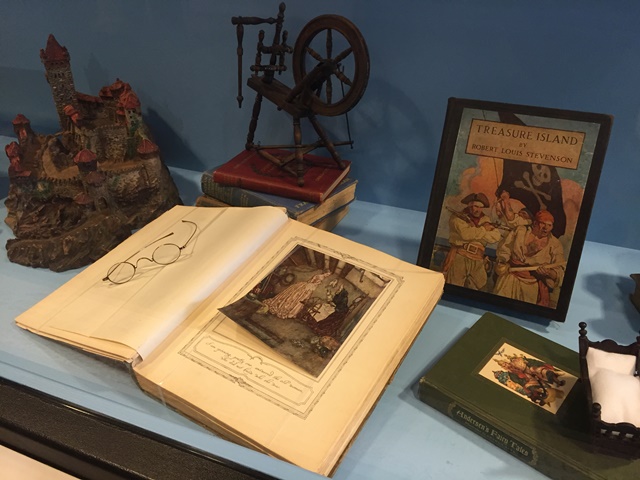 (My copy in the case is from the 1930s edition of the original. The illustration of Peter and Captain Hook is by F. D. Bedford.)
If this idea of collecting old books appeals to you, their proper name is antiquarian books. Bookdealers will all know the term, and show you their finest stock, usually locked inside a glass case. Soon you, too, will be "on the hunt" for rare and exciting titles, containing some of the finest artwork of Western civilization…at least that's what I think!