Opening Sept. 17-Oct. 30
Recommended for ages 10 and up
Emmett Till was just a child when he was kidnapped, tortured, and murdered by white supremacists in the Jim Crow South in 1955. They tried to cover it up. Emmett's mother, Mamie, insisted that the world know what they did to her son. She bravely shared her 14-year-old son's story with all who would listen—and fueled a movement that changed the nation. Much progress has been made since 1955; however, Mamie Till-Mobley's work is far from over. In order to continue her work in pursuit of justice, healing, and reconciliation, we must continue to tell this true story.
Emmett Till & Mamie Till-Mobley: Let the World See is a touring exhibit created in collaboration with the Emmett Till and Mamie Till-Mobley Institute, the Emmett Till Interpretive Center, the Till family, and The Children's Museum of Indianapolis. It tells the story of Emmett Till and his mother, Mamie Till-Mobley, challenging visitors to make a Ripple for Justice in their own communities.
Choose Your Day
Choose Your Tickets
View Cart
Would you like to upgrade your experience?
Exhibit Resources
Learning about Emmett's story can be a challenging experience and can bring on strong emotions, especially in children. Some guidance for younger visitors may be helpful. Use these guides and activities to help navigate the exhibit, process the experience, and take action.
Book Lists
Coming Soon!
Virtual Tour
Whether you can visit the exhibit in person or virtually, the true story of Emmett Till and Mamie Till-Mobley must continue to be told. Take a virtual tour of the exhibit, including in-depth videos and interviews, as we amplify the Till family's story. The exhibit tells five key stories:
Emmett's personal story
How the brave actions of Emmett's mom, Mamie Till-Mobley, fueled the Civil Rights Movement
How a community and family have worked to keep Emmett's memory alive
How the vandalized historical marker connects to us today
How we can commit to social justice in our own communities
After leaving The Children's Museum on Oct. 30, the exhibit will travel to six other venues across the U.S. before landing at its permanent location at the Emmett Till Interpretive Center in Mississippi.
More about Emmett's story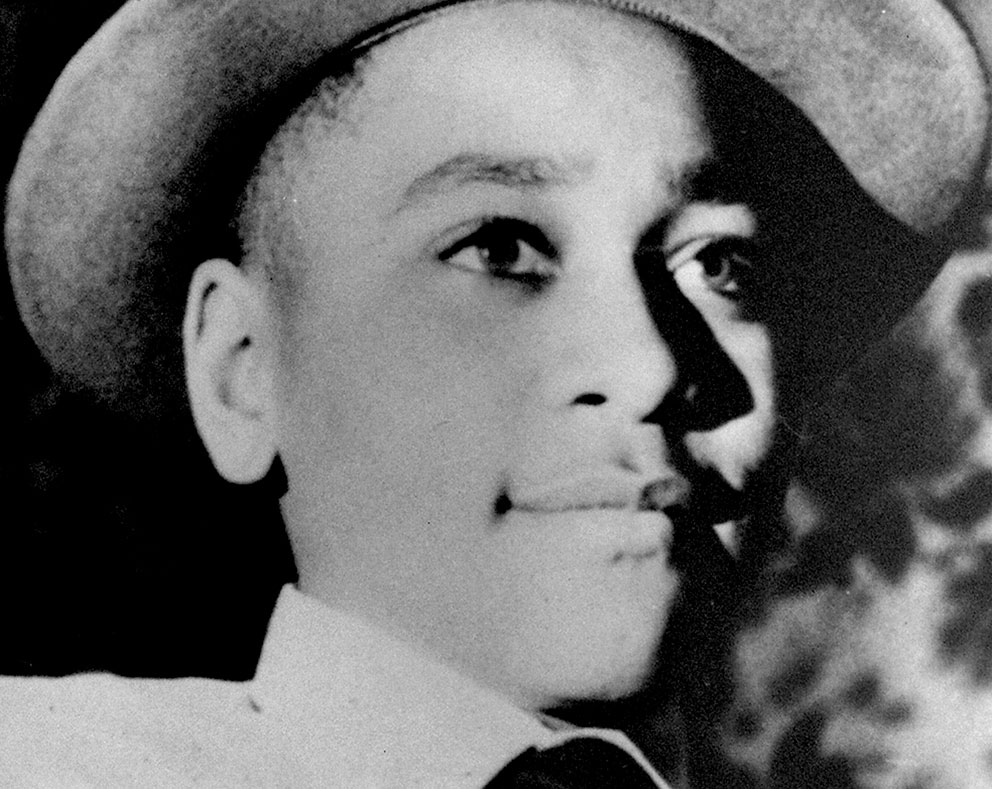 Background
Emmett Till, a Black 14-year-old from Chicago, was visiting family in Mississippi when he was kidnapped from his great-uncle's home and savagely beaten and murdered by a group of White men on August 28, 1955. His body was found three days later in the Tallahatchie River. His torture and murder were retaliation for whistling at a White woman in a grocery store. Two White men accused of brutally murdering Emmett were acquitted by an all-White jury in 67 minutes. For Emmett's funeral, his mother, Mamie Till-Mobley, insisted that the coffin containing his body be left open. Over 100,000 people viewed his body over three days serving as a catalyst to the Civil Rights Movement.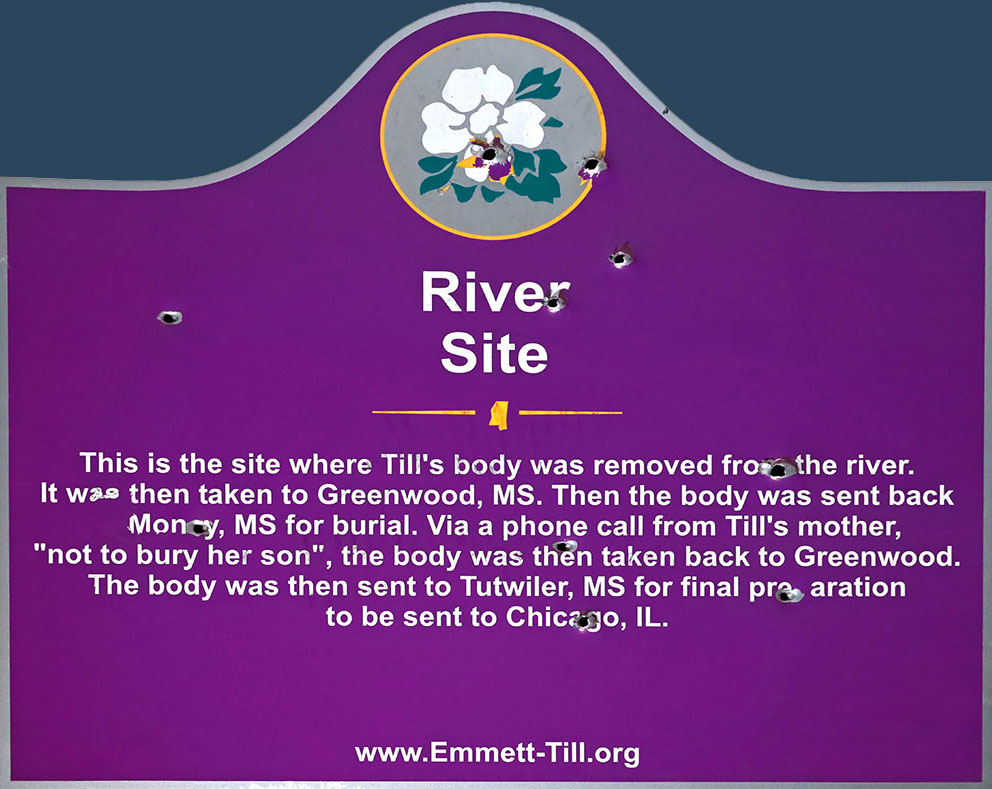 The Vandalized Sign
A key artifact included in the exhibit is a roadside plaque commemorating the site where Emmett's body may have been recovered from the Tallahatchie River. The sign featured in the exhibit made headlines after a group of students from the University of Mississippi posed in front of it with rifles and then posted their photo on Instagram in March of 2019. The signs at this particular spot have been repeatedly vandalized and have been replaced three times. The fourth sign installed to honor Emmett's life is a bulletproof sign equipped with security cameras and alarms.
This project was made possible in part by The National Endowment for the Humanities: Democracy demands wisdom, the Maddox Foundation in Hernando, MS, The Institute for Museum and Library Services [MH-249226-OMS-21], and The Historic Preservation Fund administered by the National Park Service, Department of the Interior [15.904]. The views, findings, conclusions or recommendations expressed in this website do not necessarily represent those of the National Endowment for the Humanities or the Institute of Museum and Library Services or Department of the Interior.