Experience sports like never before.
Invigorating, enticing, adrenaline-pumping, and legendary—with every single step. With 12 outdoor sports experiences and 3 indoor exhibits encompassing physical fitness and awe-inspiring sports history, you'll want to book a whole day for your family at the Riley Children's Health Sports Legends Experience®.
This new model of health and fitness is a permanent addition to The Children's Museum complex, making the museum bigger and better than ever before.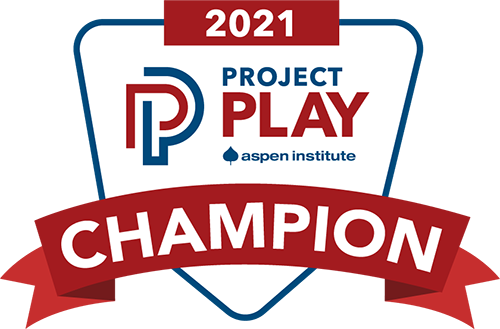 The
Riley Children's Health Sports Legends Experience
Ⓡ has been recognized by Aspen Institute as a 2021 Project Play Champion! We hare honored to be recognized as an organization that's taking new, meaningful and specific actions consistent with their strategies for youth sports.
The Riley Children's Health Sports Legends Experience is made possible through lead gift support from The Enid Goodrich Educational Initiatives Fund; Riley Children's at Indiana University Health; The Herbert Simon Family Foundation/Pacers Foundation/The Herbert and Bui Simon Foundation; Old National Bank; Lilly Endowment Inc.; Efroymson Family Fund; Henry and Christine Camferdam; The Children's Museum Guild; Elizabeth Bracken Wiese and J. Frederic Wiese Jr.; Indianapolis Colts; NCAA; Ice Miller LLP; Dr. and Mrs. George Rapp, Dr. and Mrs. John Rapp, and Mr. James and Dr. Patricia Rapp; White Oak Foundation (John and Sarah Lechleiter); Church Brothers Collision Repair; Central Indiana Honda Dealers; The LeRoy Neiman and Janet Byrne Neiman Foundation, Inc.; Jane and Steve Marmon; Gina and Jim Bremner Family; Indy Fuel; Subway; Sodexo; The Saturday Evening Post Society; National Art Museum of Sport; Kohler Co.; Katharine and Richard Kruse; Indianapolis Motor Speedway/Hulman George Family; Hans and Nila Steck; Indianapolis Indians; Boris and Marian Meditch; The Aletto Family; Seymour and Rheta Holt; Fern Roesch; Pepsi; Susan and Steve Haines; Dorothea and Philip Genetos; Sterrett Family Foundation; Shiel Sexton Company, Inc.; Randy and Janet Belden; Bruce and Jamie McCaw; Lewis/Stitle Families; Nicholas H. Noyes Jr. Memorial Foundation; Lacy Foundation; Jamie Merisotis and Colleen O'Brien; John and Kathy Ackerman; Caltrider Family; Susie and Jack Sogard; John H. Holliday; Donna Deer; The Pheffer Family; Mr. and Mrs. Barton L. Kaufman; Elizabeth and Chris Cooke Family; Mike and Kristin Sherman; Zender Family; Capital Group; Amanda and Jason Leet; The Jeffrey M. Hagerman Family; Jeffrey H. Patchen; Kathy and Don Dunbar; Mark and Jill Boyce; Emmis Communications; Jerry L. and Barbara J. Burris Foundation; Lisa and Scott Kraege; Sonja and Ezra Burdix; RJE Business Interiors; Maria Quintana; The David and Jane Held Family; Andrew and Karin Held Family; The Paula and Glenn Bloyd Family; USTA; Carol Carlson; Rachel and Andrew Lechleiter; Allison and Dan Lechleiter; Greg and Sara Morris; Sally and Jim Schacht; and Mr. and Mrs. William Weaver.