Discover ancient mysteries
Immerse yourself in three dramatic recreations: the tomb of Egyptian pharaoh Seti I, the burial site of China's Terra Cotta Warriors, and the Caribbean shipwreck of Captain Kidd.
Visit a working archaeology lab.
Reconstruct a Terra Cotta Warrior.
Decipher hieroglyphics to identify a royal mummy.
Take a simulated journey deep into an Egyptian tomb.
See artifacts used by Harrison Ford in the Indiana Jones movies.
Located on the Lower Level and Level 1.
Advance tickets encouraged!
National Geographic Treasures of the Earth is included with museum general admission and membership. Save up to 25% by when you buy at least two weeks in advance. For unlimited visits, become a member today!
Choose Your Day
Choose Your Tickets
View Cart
Would you like to upgrade your experience?
Unlock history clue by clue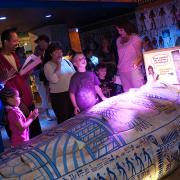 Seti's Tomb


Descend into a recreation of the longest, deepest, and most complete of any Egyptian tomb in the famed Valley of the Kings. Explore the intricate wall etchings, burial chamber, and mysterious tunnel. Help solve the mystery of who the mummy really was.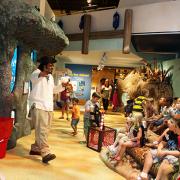 Kidd's Shipwreck
An ancient ship has been found off the coast of the Dominican Republic. Explore this recreated shipwreck in detail. Pore over old maps, excavate an underwater site, and look for clues. Could the ship belong to the notorious pirate, Captain William Kidd?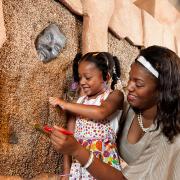 Terra Cotta Warriors
Stand face to face with recreations of an army of ancient Terra Cotta Warriors. Excavate and examine fragments, reconstruct a warrior, and piece together clues to solve the mysteries surrounding these beautiful figures.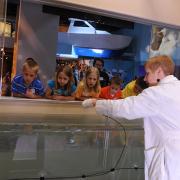 The Lab
Watch real archaeologists working on artifacts in our working archaeology lab.
National Geographic Treasures of the Earth is a partnership between The Children's Museum of Indianapolis, and the National Geographic Society, Dr. Zahi Hawass and Egypt's Supreme Council of Antiquities, China's Shanxii Provincial Institute for Archaeological Research and Xi'an Municipal Museum, and Indiana University Bloomington and its Department of Underwater Science.
The exhibit is made possible through generous support from the Eli Lilly and Company Foundation, The Enid Goodrich Fund for Educational Initiatives, R.B. Annis Educational Foundation, Marilyn and Jim Bartlett Family, and Virginia Tutterow.
We would like to help you prepare ahead of time for some of the sights and sounds you will experience at The Children's Museum. Here's what you can expect in this exhibit





You can find more information and tools on our Sensory Resources page.