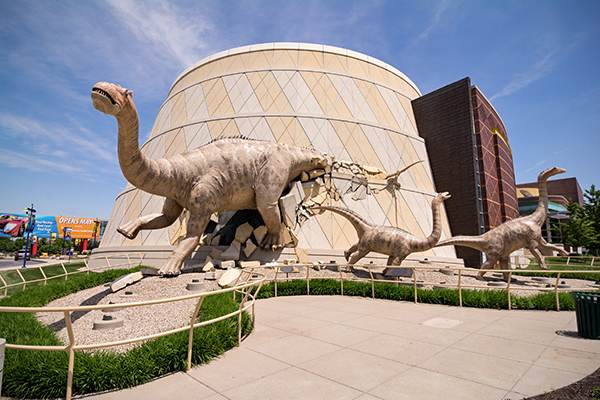 The Children's Museum of Indianapolis just received top honors in the USA TODAY / 10Best Reader's Choice poll!
For the last month, readers across the country have voted on their favorite museums in the nation and when the votes were counted, The Children's Museum of Indianapolis ranked #1 as the Best Museum for Families! Here's the final tally:
The Children's Museum of Indianapolis
Children's Museum of Houston
The Strong National Museum of Play, Rochester, NY
The Henry Ford, Dearborn, MI
Children's Museum of Pittsburgh
Please Touch Museum, Philadelphia
Museum of Science and Industry, Chicago, IL
Musical Instrument Museum, Phoenix, AZ
Franklin Institute of Science, Philadelphia
Natural History Museum of Los Angeles County
You can see and share the full list of winners at http://www.10best.com/awards/travel/best-museum-for-families-2017/. The winning museums represent the best family-friendly learning institutions and vacation destinations across the country and the world's largest children's museum couldn't be happier. "We are honored to receive this ranking, which reinforces our dedication to serving the learning needs of intergenerational families to return time and again to create even more precious memories," said Dr. Jeffrey H. Patchen. "The Children's Museum of Indianapolis continues to make it a priority to create authentic immersive environments to help children and families learn in and through the sciences, arts and humanities."
Nominees for all categories are chosen by a panel of relevant experts which include a combination of editors from USA TODAY; editors from 10Best.com; and relevant expert contributors. 10Best.com provides users with original, unbiased, and experiential travel content of top attractions, things to see and do, and restaurants for top destinations in the U.S. and around the world. The core of the site's uniqueness is its team of local travel experts: a well-traveled and well-educated group who are not only experts in their fields - and their cities - but discriminating in their tastes.
About The Children's Museum of Indianapolis
The Children's Museum of Indianapolis is a nonprofit institution committed to creating extraordinary learning experiences across the arts, sciences, and humanities that have the power to transform the lives of children and families. For more information about The Children's Museum, visit www.childrensmuseum.org, follow us on Twitter @TCMIndy, Facebook.com/childrensmuseum and YouTube.com/IndyTCM.