BarbieTM You Can Be AnythingTM: The Experience inspires young women and nurtures their limitless potential. Barbie is committed to shining a light on empowering role models past and present in an effort to inspire more girls. We would like to introduce you to some of the Barbie role models—extraordinary women from all walks of life who have been honored with a doll in their likeness.
Are you ready to meet an inspiring woman?
Ella Fitzgerald was one of the most popular female jazz artists in the United States. She was so talented, she was given the titles, "The First Lady of Song" and the "Queen of Jazz." Fitzgerald is famous for her scat singing, horn-like improvisation ability, and broad range. She could also imitate any instrument in the orchestra!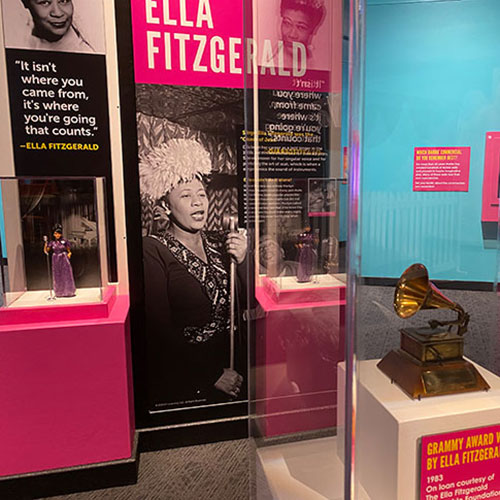 10 facts about Ella Fitzgerald
Ella Fitzgerald won the NAACP Image Award for Lifetime Achievement and the Presidential Medal of Freedom.
Marilyn Monroe helped Ella Fitzgerald expand her career by calling the owner of a popular nightclub in the 50's called Mocambo to get her to perform.
Ella Fitzgerald was the first African American female to win a GRAMMY Award. She has won a total of 13 GRAMMYs.
Ella Ftizgerald's last concert was at Carnegie Hall. It was also the 26th time she had performed there.
Unfortunately, Fitzgerald was diagnosed with diabetes, which led to further health problems—like losing both of her legs.
Ella Fitzgerald made her debut at the Apollo Theater, but she started out as a dancer. When she realized dancing had more competition, she opted to sing and won the competition.
In her career, Ella recorded over 200 albums and around 2,000 songs! This makes her one of the most recorded women in history!
Ella used her talent to help others in need by performing and supporting her foundation—The Ella Fitzgerald Charitable Foundation, which provides aid to children and families by fostering a love for music and reading.
In 1972, Fitzgerald, along with Carol Channing, became the first celebrity singer at the Super Bowl.
Ella's first breakthrough hit was a reworking of the children's rhyme "A-Tisket, A-Tasket" into a jazz song. To this day, it is still a jazz standard.
You can learn more about Ella and other female heroes at The Children Museum. BarbieTM You Can Be AnythingTM: The Experience is open through July 2022 and included with museum admission. Don't miss out on this all new exhibit inspiring young girls to see their limitless potential!
---
©2021 Mattel, Inc. All Rights Reserved.
®2021 E.F. Licensing, LLC. All Rights Reserved.
Supported by Franklin Pest Solutions and KinderCare Learning Centers