Barbie™ You Can Be Anything™: The Experience encourages girls to try out different careers and imagine what they could be when they grow up. The exhibit also shines the light on some Barbie® role models—women from the past and present from all walks of life who have been honored with a Barbie doll in their likeness. These role models continue to inspire young women and nurture their limitless potential. We've already shared stories about role models ELLA FITZGERALD® and Florence Nightingale on this blog. Are you ready to meet another inspiring woman?
Meet Laurie Hernandez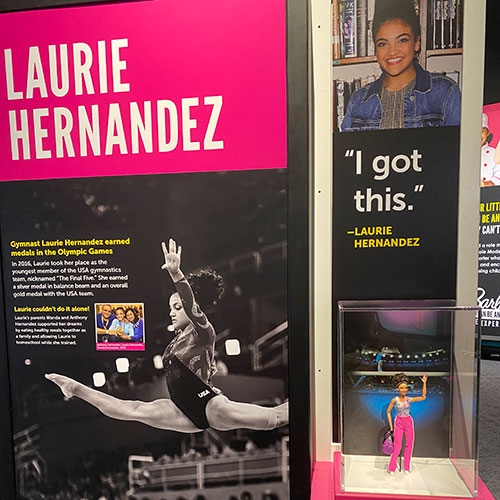 Lauren (Laurie) Hernandez is a Puerto Rican gymnast who competed for Team USA in the 2016 Olympics. She has been an inspiration for many young women—showing them that anything is possible!
10 facts about Laurie Hernandez
Hernandez was a part of the "Final Five" at the 2016 Summer Olympics where she won gold with Team USA.
Hernandez has been homeschooled since she was in third grade.
She began her gymnastics career at the age of five!
In 2014 Laurie had to take six months off due to injuries including a dislocated knee and a fractured wrist.
Laurie competed in the 2016 Olympics at only 16 years old! She was the youngest member of the "Final Five."
Hernandez competed on Dancing with the Stars for their 23 season and was the youngest contestant to win!
Laurie is the first US-born Hispanic gymnast to compete for Team USA since 1984.
Hernandez has written a book called I Got This: To Gold and Beyond about her story and the path to become a gold medal winning gymnast.
Laurie also released a children's book for younger readers called She's Got This.
Laurie is known as "The Human Emoji" because of her big smile and memorable facial expressions.
Come learn more about Laurie and other role models at The Children Museum! Barbie You Can Be Anything: The Experience is open through July 2022 and included with museum admission. Don't miss out on this all-new exhibit that inspires young girls to see their limitless potential!
---
©2021 Mattel, Inc. All Rights Reserved.
®2021 E.F. Licensing, LLC. All Rights Reserved.

Supported by Franklin Pest Solutions and KinderCare Learning Centers