It's the jolliest spectacle of the holidays…Santa dashes into The Children's Museum!
Santa's Big Arrival is right around the corner—Friday, Nov. 25, 2022—and we're here to prepare you for the hustle and bustle of this extraordinary holiday event. Before you make the trip, consider these tips:
Get here early
Santa is rolling up to the museum around 9 a.m., but you'll want to come early for pre-arrival festivities. Capacity is limited for Santa's Big Arrival, so purchase your admission tickets early!


Shop in The Museum Store
Finish your holiday shopping with this special After Thanksgiving Offer from The Museum Store —25% off everything in the store. This deal is available all weekend long.


Grab a holiday scarf
Show your holiday spirit with a free scarf thanks to our friends, the Indianapolis Colts (while supplies last)!


Dress up for the holidays
Get ready to celebrate in a winter wonderland by dressing up in your own holiday garb.


Spread holiday cheer in a sing-along
The Mistletoes love audience participation! Join them in singing The 12 Days of Jolly Days to ring in the holiday season.


Catch Santa arriving in a horse-drawn carriage
The best place to get a first look at Santa is when he arrives in a horse-drawn carriage right in front of the museum. Follow Tip #1 and make sure you have a clear view to watch the Big Guy arrive!


See The Snow Queen
Our live Lilly Theater production kicks off after Santa's arrival! Check our calendar for performance times. The show is free with museum admission. Capacity is limited. Plan on arriving in the lobby outside of Lilly Theater 20 minutes before the show starts so a staff member can usher your family group to your seats.


Enjoy a cup of FREE Hot Chocolate
You can warm yourself up with a delicious cup of hot cocoa outside as you wait for Santa to arrive.


Make memories that will last
We will have Jolly Days Final season photo props and picture frame holders for you to save your memories for years to come. Be sure to ask an Elf to help you take your family photo, or snag a selfie! Share them with us on social media using the hashtag #JollyDays.


Visit Jolly Days to meet some interesting characters
Jolly Days Winter Wonderland has so much to offer, including some lively characters. Beginning at 10 a.m., be on the lookout for special Jolly Days characters along the mezzanine and inside the exhibit. You may run into Patty Cakes the North Pole Chef, Zazzelz the Stand-Up Comic Elf, Andy the North Pole Zookeeper, Richard Persimmons, and others! When you see them, say hi. You never know what fun they'll be up to!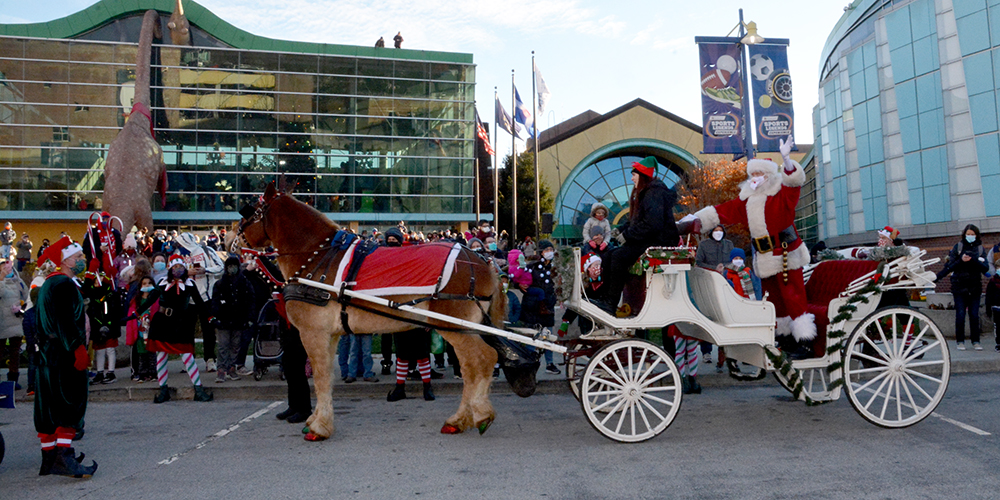 Happy holidays!
There you have it! Santa will be here all day to hear Christmas wishlists. If you don't make it to see Santa at the event, he'll be here the rest of the month and throughout December. Looking for more fun following Santa's Big Arrival? Check out ALL that we have in store this holiday season.