On Dec. 2, 2021, The Children's Museum is partnering with Riley Children's at Indiana University Health to host a free COVID-19 and flu vaccination clinic. Nationwide, more than 6.8 million children had tested positive by mid-November, and cases are starting to creep up again. With the recent approval of the COVID vaccine for children ages 5–11, family holiday plans, and the newly-discovered omicron variant, we know you have questions. To help you make informed decisions about your family's health, we gathered a team of Indiana medical experts for an online panel discussion. You can find a video of the conversation at the bottom of this post.
Dr. Elaine Cox—Chief Medical Officer at Riley Children's Health; Associate Professor of Medicine, IU School of Medicine, Infectious Disease Division
Dr. Virginia Caine—Director and Chief Medical Officer of the Marion County Public Health Department
Nir Menachemi, PhD, MPH—Chair of Health Policy and Management Department of the Indiana University Richard M. Fairbanks School of Public Health; Scientist at the Regenstrief Institute
You might recognize this powerhouse panel from a question and answer session we hosted on Facebook a few months ago. You can read about the five key takeaways from that discussion in this blog post. We are grateful that Dr. Cox, Dr. Caine, and Dr. Menachemi were able to join us again for another important conversation.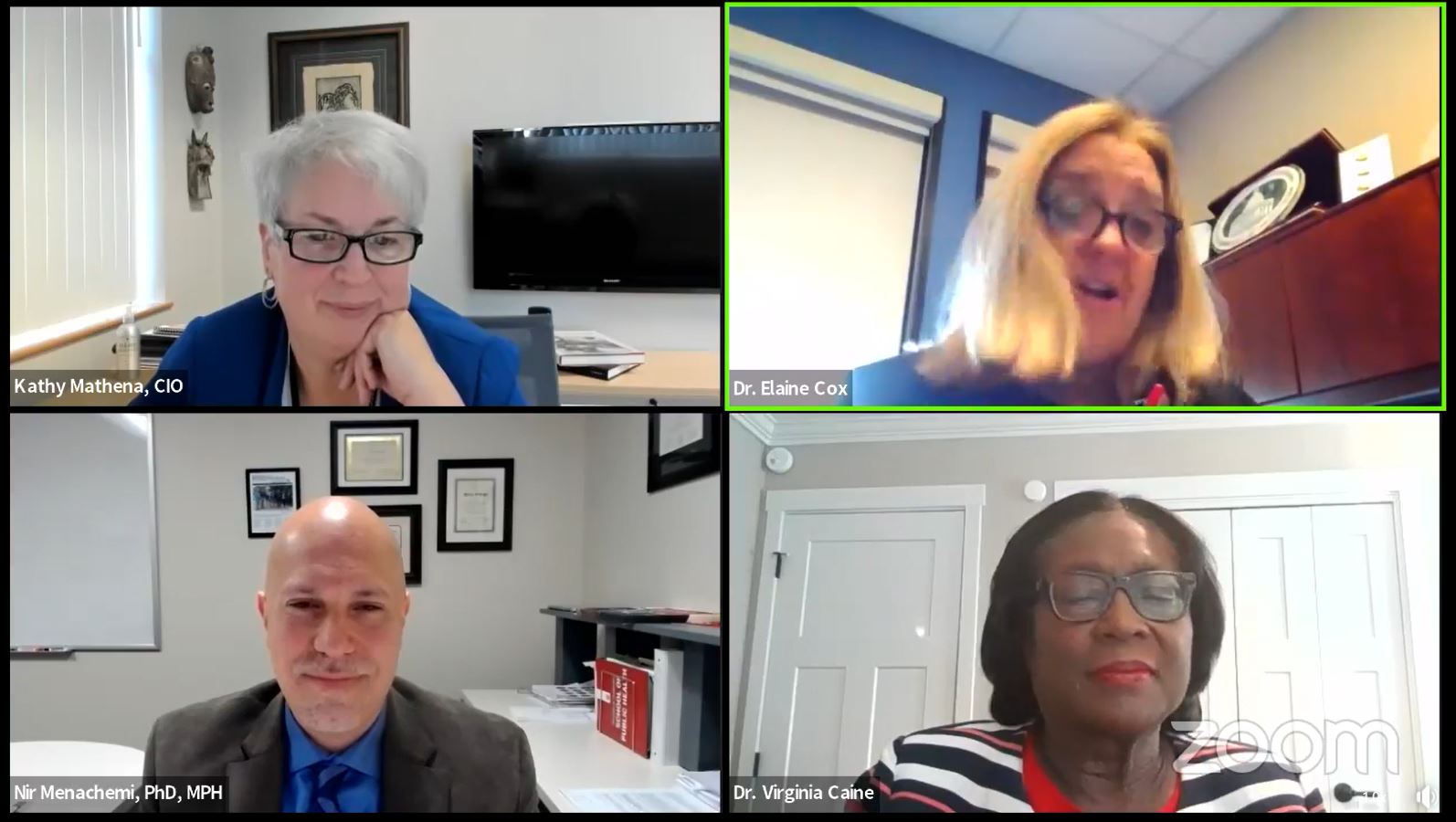 Here are three key takeaways from the Nov. 29, 2021 virtual Q & A with Hoosier health experts:
1. The COVID-19 vaccine is safe and effective for 5–11 year-olds.
Over 3,000 children participated in clinical trials of the COVID vaccine to make sure there's no significant danger compared to the vaccines children routinely receive. The approval process was significantly longer for this age group because experts wanted to make sure it was safe to give to them. Side effects to receiving the vaccine are generally the same as their other routine vaccines.
In some ways, this is the biggest vaccine trial that has ever been conducted. We have gathered overwhelmingly more data from across the world than we have gathered before any other drug or vaccine became available. So, in addition to the clinical trials with 5–11 year-old children, we also have millions of data points about the vaccine in younger teenagers. Plus, extrapolating data from the results in adults have also helped medical experts decide on the safety and effectiveness of the vaccine in younger children. According to Dr. Cox, this is a pretty common practice when determining whether a drug or vaccine is safe and effective for children.
In order for a drug or vaccine to get full approval for use in children, there has to be a certain level of participants followed for a certain amount of time. It has to meet these three criteria:
It's safe.
It works.
Data from following-up on the participants shows that it continues to be safe and continues to work.
While all three criteria have to be met in order to receive full approval, emergency approval can happen after the first two are met. COVID vaccines in children have been shown to be safe and effective. We'll know about #3 after some more long-term follow-up.
The COVID vaccine is 91% effective in children 5–11 years old. That means if you vaccinate 100 children, it will be effective in 91 of those children. "If you had a 91% chance of winning the lottery," Dr. Cox says, "you'd buy a ticket every week!"
2. Vaccines are like using seat belts and child car seats.
Vaccines are ultimately designed to protect you from dying from a disease. Secondarily, vaccines help keep you from getting so sick that you need to go to the hospital. Third on the list is to prevent infection. The COVID vaccine is really good at preventing deaths and hospitalizations. They're also very good—but not quite as good—at preventing infection.
From studying the immune system, we know that each time your body encounters a virus, it will remember it a little bit better. Your response gets stronger. Your immune system kind of files the information away for later. We've seen in both children and adults who had COVID and then got the vaccine later that it was very helpful in helping them get less sick each time they saw any strain of COVID. It's almost like its own booster effect.
We tend to expect all vaccines to work like they do with the measles—when you get vaccinated, you don't get infected. But COVID is different. The COVID vaccine prevents people from getting very sick and it also prevents deaths. But there's still a small chance a breakthrough can happen. That's when a vaccinated person becomes infected with the virus.
Why is that?
Vaccine-preventable viruses require getting into your blood and circulating through your body before you are infected. The COVID virus infects you as soon as you inhale it. While the vaccine gives your body the battle plan to fight off the virus, it doesn't mean you won't get infected. It just means that you'll clear it a lot faster if you do happen to get infected.
Because of the possibility of a breakthrough infection, masks are still an important arsenal in minimizing the spread of the virus. You could be asymptomatic and unknowingly and unwillingly spread COVID. Something as simple as talking puts respiratory droplets in the air. If you're infected, someone could inhale those droplets and become infected. When schools in Marion County, Indiana, reinstated mask requirements earlier this school year, there was a significant decrease in positivity. "The more (children) wear masks, the better off we'll be," Dr. Cox says. "I don't think (mask-wearing) is as traumatic as people feared it might be."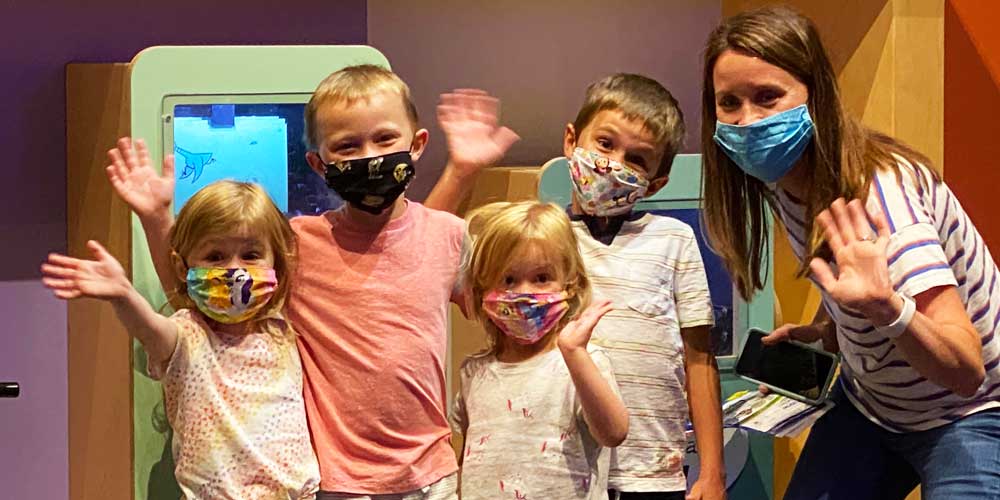 There will always be vulnerable people in our society—sometimes a person's immune system doesn't always allow them to build the antibodies in a sufficient number to protect them. That's why it's always important for everyone else to get vaccinated—so we decrease the amount of disease in our community and cocoon those people who either can't get the shot or whose body won't respond to the shot. It's how we help take care of our entire community.
Even though children have a low risk of having really bad outcomes from infection, the vaccine reduces that even more. There's virtually zero risk. Think about using car seats and seat belts. When your child rides in your car with you without a seat belt or car seat, there's a relatively small chance of your child getting seriously injured or dying. But why take that risk if you have the option of being as protective as possible? "I wouldn't drive without seat belting my kids," says Dr. Menachemi. For the same reason, "I wouldn't not vaccinate my children." It's not worth the risk.
3. Virus strains are like a family recipe that's passed down for generations.
As the virus continues to infect more people around the globe, we have more and more chances for the virus to change. It's a lot like a family recipe that gets passed down from generation to generation. Every time someone else makes the recipe, it's a little bit different. It's still the same recipe, but the oven might not heat as evenly as the oven that was originally used, a different brand of ingredient might be used, or someone might make a simple modification. Every time the recipe is made by someone else, there's the potential for it to be just a little bit different from the original. Sometimes those changes aren't even noticeable. Other times, it can make a big difference.
As the virus replicates over hundreds of thousands (and sometimes millions) of times, there are some times when the virus changes a little bit—just like the old family recipe. Most of the time, nothing seems to happen when the virus changes. Occasionally, though, one of the changes can be something that makes the virus potentially worse. When this happens, it becomes a "variant of concern."
News has recently come out that a new variant—the omicron variant—is a variant of concern. With the omicron variant, there's a slight change to the virus that might make it more infectious and might make it more lethal. It takes three to four weeks to fully understand how a variant like this is infecting people in different populations, whether symptoms are more severe, and whether it causes more hospitalizations or death. Right now, at the time of this medical panel discussion, the medical community doesn't know enough about omicron. Here's what we do know:
The omicron variant is competing well against the delta variant. In areas where the delta variant is already spreading, people are still getting the omicron variant.
The omicron variant came from a part of the world that doesn't have a very high vaccination rate. If we're going to get a handle on this pandemic, we're going to need high vaccination rates around the world—not just in the United States.
As scientists continue to watch and study the omicron variant, here are some of the key questions they will focusing on:
How transmissible is it? Is it more contagious than the delta variant?
What is the severity of disease associated with this variant? Does it make people get sicker than previous variants?
How does it impact the effectiveness of the current vaccines and antiviral medications that we're using? Will it evade these defenses, or will they be effective in fighting this new variant?
Scientists will continue to keep an eye on the omicron variant and other developments related to the COVID-19 pandemic. In the meantime, we should continue to practice these precautions:
Wash your hands frequently.
Wear a mask when you're indoors.
Get vaccinated.
A few more things...
Here are four more things we learned during the medical panel's conversation:
The second dose of the COVID vaccine is the same as the first. This is true in both the adult and children's doses.
People who become infected with COVID should wait three months before getting the vaccine—even if you've already received the first dose.
Based on observations from the southern hemisphere, scientists are expecting a pretty significant influenza season this year. So getting a flu vaccine this year is important. Dr. Cox says, "You don't want to get vaccinated and miss COVID, just to get the flu. So I want to encourage everybody to get both." Fortunately, you can get both the flu and COVID vaccine at the same time. You can get both shots in one arm, or in separate arms.
Children represent 22% of the U.S. population. Most recent data available says that children account for around 25% of COVID infections in the U.S.
Don't throw away your shot(s)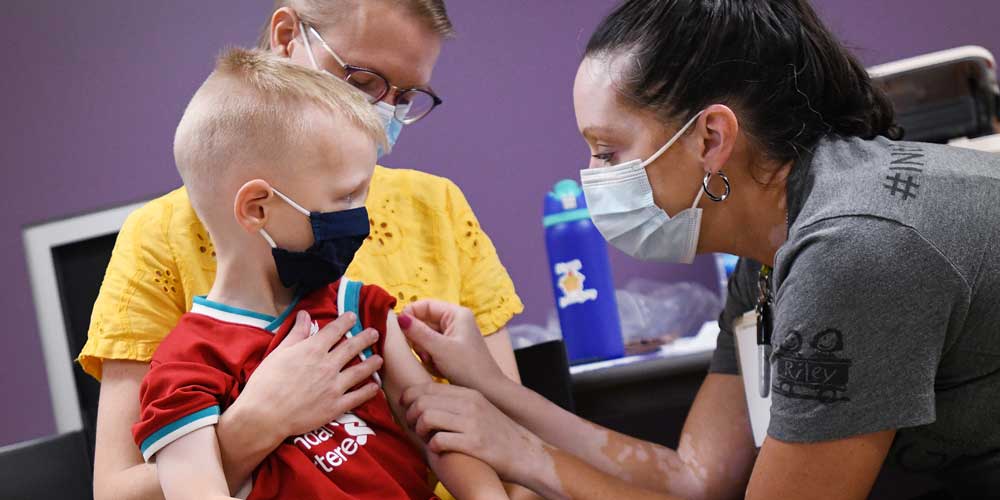 The COVID-19 vaccine is safe and effective for all age groups 5 years old and up and it's really important that children get vaccinated. Even if they don't get overly sick and even if they don't wind up in the hospital, you certainly don't want children to suffer any more than they need to at any given time. Plus, they are a pool or reservoir for continued spread of disease. That's why The Children's Museum has partnered with Riley Children's at Indiana University Health to host a free COVID-19 and flu vaccination clinic on Dec. 2 from 4–8 p.m. Can't make it to the free clinic? Indiana residents can also click here to schedule an appointment to get the vaccine.
Don't throw away your shot, friends. Let's take care of each other by getting vaccinated.
You can watch the medical panel Q & A session in its entirety here: