The Family Learning Navigators are the heart of the Old National Bank Mid-North Promise Program. Not only are they there to walk alongside you and your family on your journey, but they're also committed to your success, always in your corner, and bring compassion and devotion into their role each day!
Here are three things you may not know about the Family Learning Navigators:
1) They give you one-on-one attention
You may have felt like giving up on your academic or career goals, or maybe you've felt like those achievements are just too out of reach—but that's where the Family Learning Navigator steps in! Their role is to provide each family with the most customized plan that will set them up for success. This means you'll work one-on-one with your Family Navigator to create your Family Learning Plan, which includes an outline of all the steps needed to reach your educational, career, and family goals. They'll also connect you to resources in the community that will be most beneficial to you.
"There's something about having her attention and having her be attentive that really makes it feel more like family than just a social worker to client-type of partnership," program participant Sha-Nel Henderson said. "She really was in my corner."
2) They have the best people skills
It's all about communication! The Family Learning Navigator has a unique set of skills that they bring to their job, but they're especially engaging, easy to talk to, and have great follow-up skills. Building connections with each family is what makes our Family Navigators exceptional. They're also trained to provide you with referrals to educational and family support resources in the community and to help remove any barriers that are keeping you and your family from reaching your goals.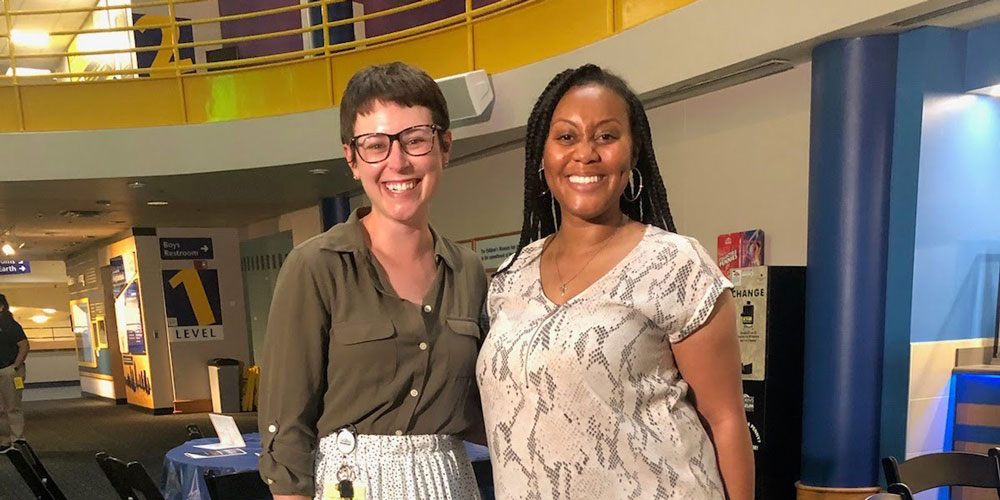 "There were so many things that I wouldn't have thought that they would have offered, she had questions for and she was offering to us. So that was very inspiring," said program participant, Desiré Douglas. "I look forward to talking with [her] each month, because it's like I'm talking to a friend, instead of someone who's just part of this program. It's very informational and they're very helpful and I just love that!"
3) They're rooting for you!
Whether they're helping you with a scholarship application, serving as your accountability partner, or taking the time to listen to your concerns, the Family Navigator is rooting for your success!
Mid-North Promise Program Manager and former Family Learning Navigator Kelsey Hambleton explains why this role was so meaningful to her:
"My favorite part of this role is the participants, hands down. I love being able to bear witness to what the people I've grown to care so much for accomplish. This role really isn't about advice-giving or leading, it's about partnering. The Family Learning Navigator is a thought partner and an accountability partner to the participants in Mid-North Promise Program. It's someone who walks alongside you and talks things through with you to help get you where you want to go."
To learn more about the Mid-North Promise Program and how the Family Learning Navigators can help you achieve your goals, visit the Mid-North Promise Program page!https://www.childrensmuseum.org/about/community-programs/mid-north-promise-program