You might not realize it, but Indiana has a long connection with space flight. It began on April 16, 1867 when Wilbur Wright was born near Millville, Indiana. That's right—one of the Wright Brothers was born right here in Hoosier country. More than 140 years later, the skies continue to host trailblazers with connections to the state of Indiana.
You've probably heard of Virgil "Gus" Grissom. As a member of the Mercury Seven, he was the second American astronaut to go into space. He was born in Mitchell, Indiana, and graduated from Purdue University. Neil Armstrong—the first person to walk on the moon—was also a Purdue alum. Legendary test pilot Joseph Cotton was born and raised in Rush County.
Did you know Indiana's connection to spaceflight runs deeper than these few men? Many of them are enshrined in the Indiana Astronaut Wall of Fame inside Beyond Spaceship Earth at The Children's Museum.
We'd like to introduce you to a few.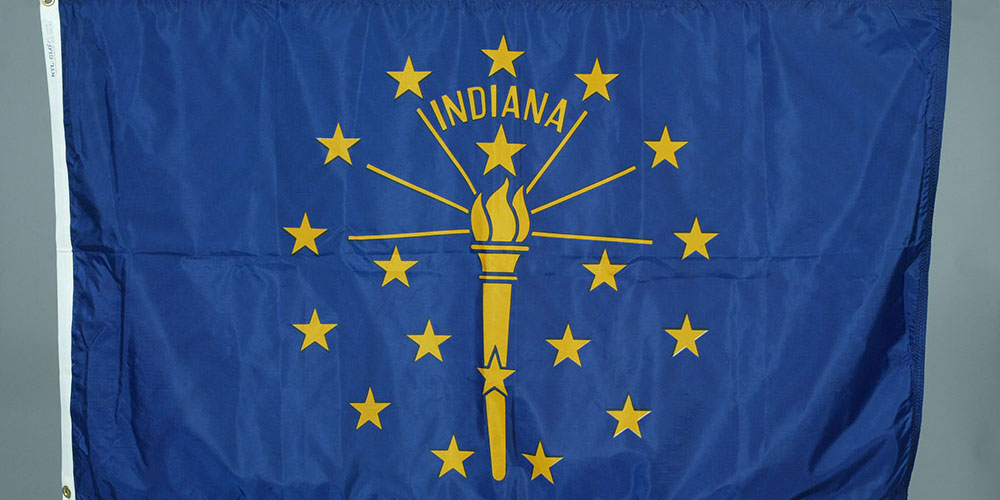 Indiana state flag carried on Space Shuttle Columbia by astronaut Joe Allen in 1982. This is in the museum's Collection.
Five astronauts in the Indiana Astronaut Wall of Fame
Joe Allen
Born in Crawfordsville, Indiana
Studied at DePauw University and Yale University
Joe Allen served as mission specialist on Space Shuttle Columbia during the first-ever fully-operational Space Shuttle flight in 1982. Allen returned to space in 1984 as a mission specialist on board Space Shuttle Discovery. The Discovery team performed NASA's first-ever space salvage mission, successfully returning the Palapa B-2 and Westar VI communications satellites to Earth.
Mary Ellen Weber
Born in Cleveland, Ohio
Studied at Purdue University and University of California, Berkeley
Before joining NASA, Mary Weber worked on creating new processes and equipment for making computer chips. One of the youngest people ever to fly in space, Weber performed biotechnology experiments on Space Shuttle Discovery in 1995. She is also an active skydiver, with 13 medals from the U.S. National Skydiving Championships!
Ken Bowersox
Born in Portsmouth, Virginia
Studied at the U.S. Naval Academy and Columbia University
Ken Bowersox was born in Virginia, but he considers Bedford, Indiana, his hometown. He piloted Space Shuttle Endeavor of the first-ever maintenance mission to restore the Hubble Space Telescope.
Janice Voss
Born in South Bend, Indiana
Studied at Purdue University and MIT
Janice Voss was selected to be a NASA astronaut in 1990. She flew on five different Space Shuttle missions, logging over 49 days in space. Later in her career, Voss was the Science Director for the Kepler Space Observatory, which looks for evidence of planets outside our solar system.
Charles Walker
Born in Bedford, Indiana
Studied at Purdue University
Charles Walker was the first non-governmental official to fly in space, serving as a payload specialist on three shuttle missions for the McDonnell Douglas Corporation. Since 1986, Walker has assisted on many NASA study and review teams, bridging the gaps between NASA and industry.

An exclusive club
If there were such a thing as the "I Traveled in Space Club," it would have a pretty exclusive membership list. To date, only 562 people have ever flown into space. You can find 31 of these trailblazers on the Indiana Astronaut Wall of Fame. Find out more about them the next time you visit The Children's Museum!
Maybe your name will be added to the wall someday!