Black History Month is a time set aside to remember, recognize, and celebrate Black achievements throughout history. The next time you visit The Children's Museum, be on the lookout for these five objects. They have connections with people who broke records and shattered stereotypes. We hope they inspire you.
1. Replica of Ruby Bridges's 1st Grade classroom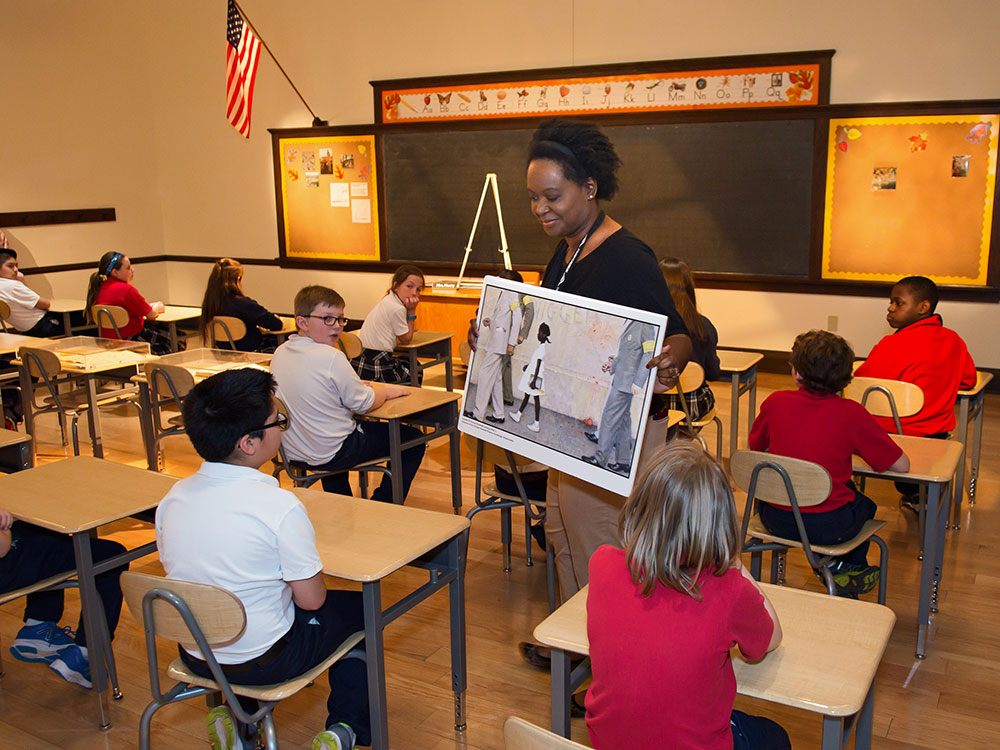 Ruby Bridges helped change our country when she became one of the first Black students to integrate the all-white school system in New Orleans. You can hear her story and explore a replica of her 1st Grade classroom in The Power of Children: Making a Difference®.
While you're visiting Ruby's gallery, be sure to look for the display case featuring Oscar Robertson. He and his basketball team from Crispus Attucks changed the face of Hoosier Hysteria in 1955 when they became the first all-Black team to win an Indiana state basketball championship. In fact, they were the first all-Black team in the entire country to win a state basketball championship.
2. A recreation of the Indianapolis #BLACKLIVESMATTER mural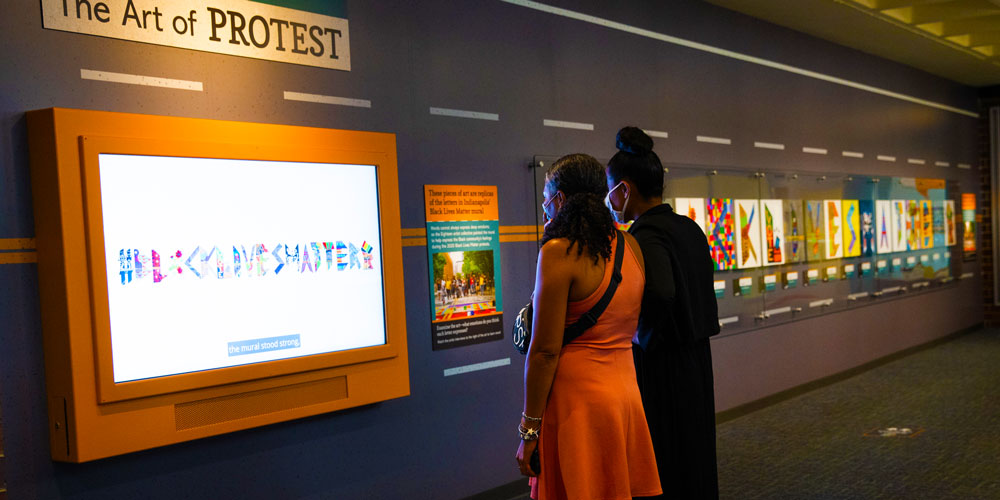 In August 2020, 18 local Black artists created a piece of public art on Indiana Avenue in Indianapolis. Stories from Our Community: The Art of Protest focuses on the creation—and subsequent vandalism—of their work and how it has impacted our community.
3. Replica of Lieutenant Uhura costume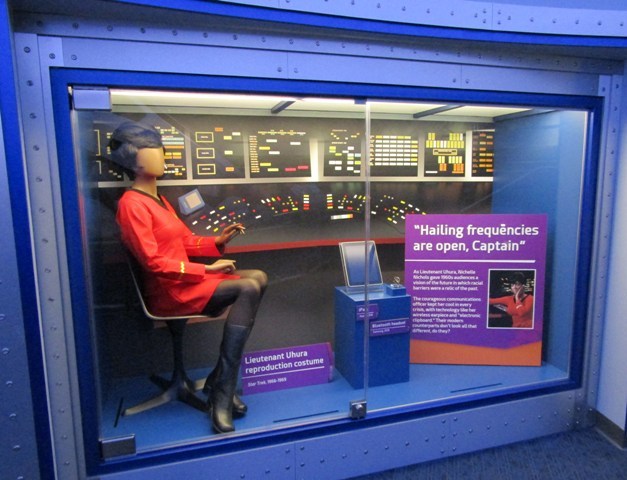 Nichelle Nichols is known throughout the world for the character she played on Star Trek—Lieutenant Uhura. She was a television pioneer. She was the first Black woman to be featured on television who was not stereotyped as a servant or a maid. She also blazed trails when her character kissed William Shatner's Captain Kirk on national television. It's believed to be the first scripted interracial kiss viewed on television.
When she told Dr. Martin Luther King Jr. that she was going to leave Star Trek for a Broadway production, he convinced her to continue in her role as Uhura. "The world sees us for the first time as we should be seen," he told her. Dr. King helped her realize how much of a role model she had become.
A replica of Lieutenant Uhura's famous costumes is on display in the Schaefer Planetarium and Space Object Theater inside Beyond Spaceship Earth.
4. Race car driven by Willy T. Ribbs
Willy T. Ribbs was the first Black person to qualify for the Indianapolis 500. The car he drove in the 1993 Indy 500 is on display in The World of Sport in the Riley Children's Health Sports Legends Experience®.
5. Maxi dress designed by Stephen Burrows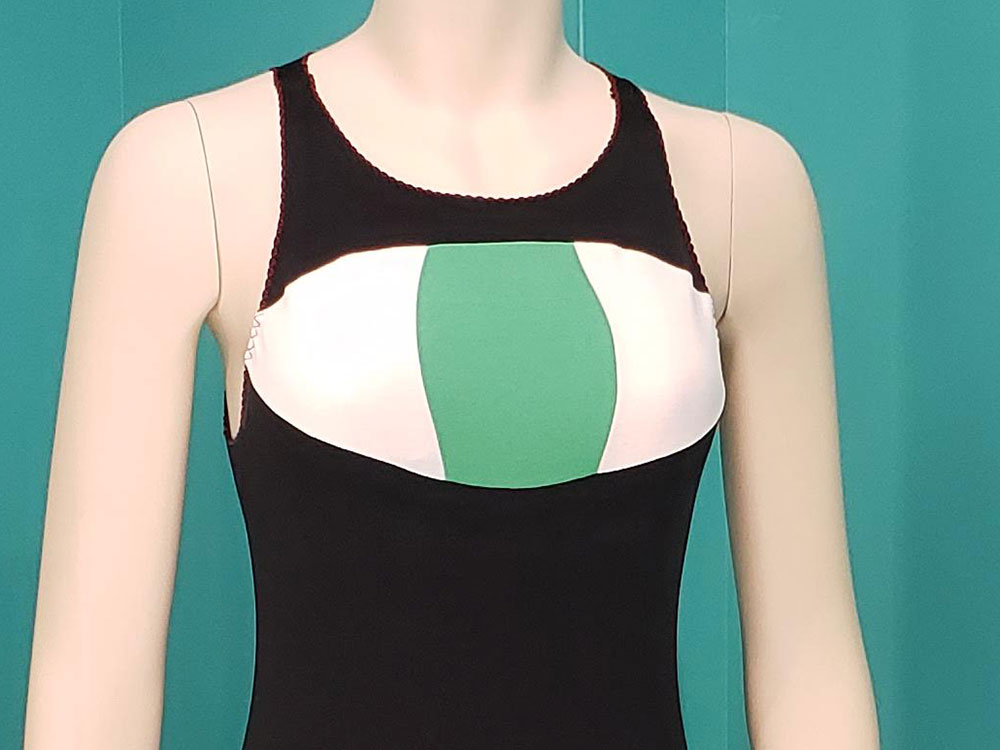 Stephen Burrows was one of the first Black designers to come to prominence in the fashion world. His bright colored creations with lettuce edging were part of the New York disco scene in the 1970s. You can see one of his jersey knit maxi dresses—and other pop cultural artifacts—in American POP.
Other opportunities
Emmett Till & Mamie Till-Mobley: Let the World See traveling exhibit
Emmett Till & Mamie Till-Mobley: Let the World See is a touring exhibit created in collaboration with the Emmett Till and Mamie Till-Mobley Institute, the Emmett Till Interpretive Center, the Till family, and The Children's Museum of Indianapolis. It tells the story of Emmett Till and his mother, Mamie Till-Mobley, challenging visitors to make a ripple for justice in their own communities.
Celebrating diversity all year long
In our pursuit to make our communities kinder, stronger, and more compassionate, we celebrate everyone's groundbreaking, trailblazing, and extraordinary achievements all year long through our programs, exhibits, and artifacts. We hope you'll join us throughout the year.