...Not quite, but the bat signal shines bright on The Children's Museum...the Dark Knight is near—well, thousands of him are!
As of March 2017, the Children's Museum of Indianapolis is acquiring an extraordinary 3,252-piece collection of Batman memorabilia from owner Kevin Silva.
Silva, who resides in Indianapolis, began his collection when his parents bought him a Batman lunchbox to carry to school. For over 45 years, Kevin has added to the collection with Batman screen-used props, original comic-book artwork, advertising, musical instruments, autographed photos, costumes, and more. Silva was named in the Guinness Book of World records in 2013 for having the largest Caped-Crusader collection in the world (held for three years).
With surgical gloves and an acute sense to detail, our collections team will document each item before packing it up and bringing it back to the museum. The Batman collection will be an exciting addition to the museum's already extraordinary collection of over 120,000 artifacts.
Here are some fun facts about the collection:
While much of the collection consists of Batman collectibles and merchandise, there are some original screen-used props. These include a Gotham City license plate and a Gotham City phonebook from the 1960s TV series.
Even though Batman has been adapted for TV, animation, and movies, he started as a comic book character. Included in the collection is original artwork used as comic book illustrations.
Batman is known for his gadgets, and many are represented as toys in this collection. It includes a Batman Action Watch, several "batarangs" (boomerangs), batbelts, walkie-talkies, and even batskis and a batbike.
Below are photos from the museum's visit to Silva's "Batcave," which feature high-quality reproductions of Batman and Robin costumes based on the Adam West and Burt Ward TV show from 1966-68. Pieces from Silva's collection will be on display in the museum's newest exhibit, American POP, part of The Galleries for American Arts and Popular Culture, opening June 17, 2017.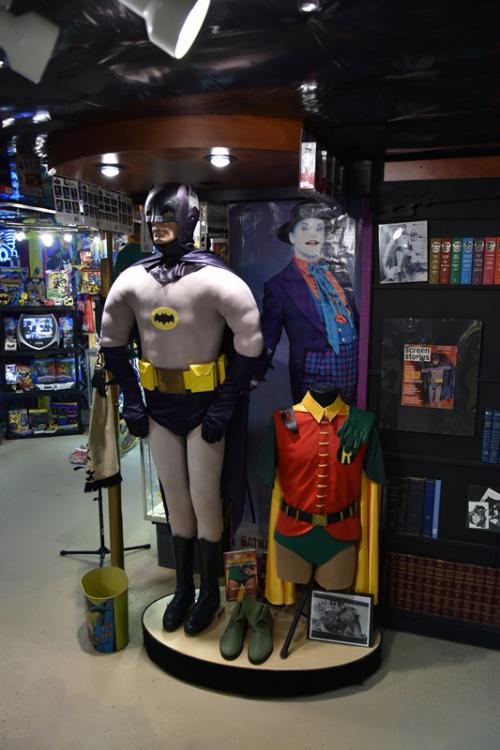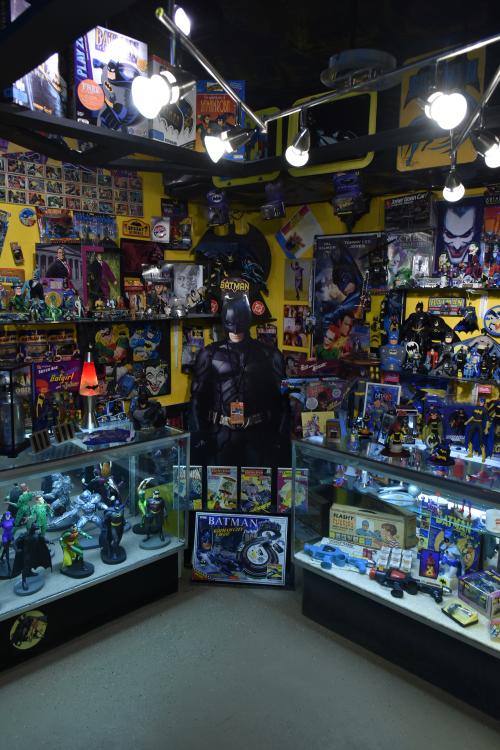 The Galleries for American Arts and Popular Culture are made possible through lead gift support from Lilly Endowment, Inc., Mel and Bren Simon, Allen Whitehill Clowes Charitable Foundation, Gerald and Dorit Paul, Thelma L."T" Wilds, Sharon W. Doiron, and Shirley S. Bryant.