Strategy. Sportsmanship. Stalemates.
Tic-tac-toe is a great game for younger kids to play. You can elevate your game by creating a tic-tac-toe set that you can use all year long. In this project from Inspired Savings, you can create a cute way to get your child's creative juices flowing while creating a unique family treasure. When you gather these materials, it also gives you a good excuse to go go outside and explore the world around you.
Materials
Bucket or reusable bag
10 smooth rocks/stones
Dish soap
3 (or more) colors of craft paint
2 1-inch foam paint brushes
1 small flat paint brush
Sidewalk chalk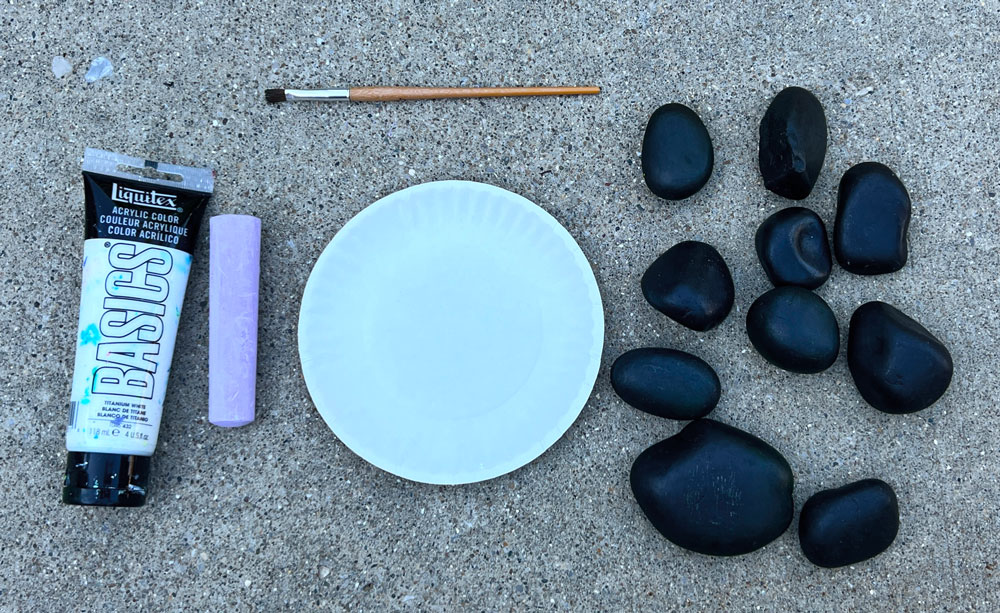 What to do
1. Bring your bucket (or reusable bag) and get outside! While exploring the world around you, look for 10 similarly-sized smooth rocks and place them in your bucket.
2. After returning home, wash and dry your rocks. Use dish soap to get all of the dirt off your rocks. The paint will stick better if your rocks are clean and dry.
3. Use a foam brush to paint five of the rocks one color. Please note: if you are using acrylic paint—or any other that is not child-friendly—be sure to assist and watch your child as they paint. Some child-safe tempera paints will work, but it really depends on the rocks you use and if they are coated and sealed.
Set aside. Allow your rocks to dry. Set your brush aside. You'll use it again for a second coat.
4. Use another foam brush to paint five more rocks a different color. Set aside and allow them to dry.
5. Once your rocks are dry, add a second coat of color to each set of rocks. Set aside and allow to dry.
6. With your small flat brush and your third color, paint a large "X" on one set of rocks. Paint an "O" on the other set of rocks. Set aside and allow to dry.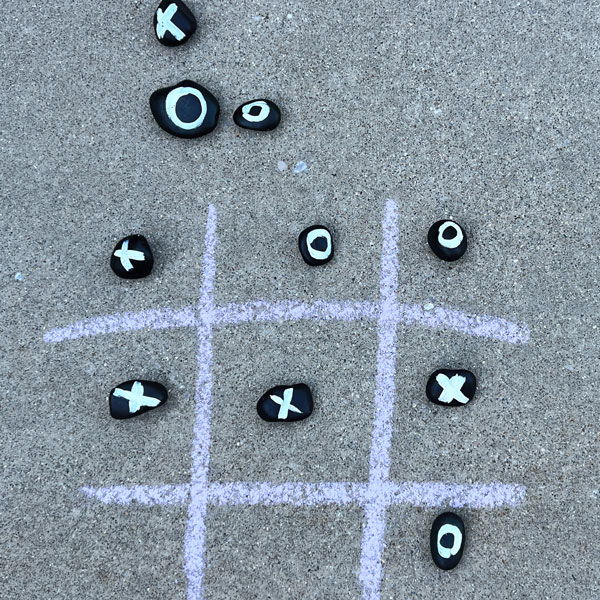 7. Use the sidewalk chalk to draw a large tic-tac-toe board on the ground.
8. You're ready to play tic-tac-toe with your brand-new unique game pieces!
9. When you're done playing, store the game pieces and sidewalk chalk in a shoebox or small bag. Then you're ready to play the next time you're outside!
Educator notes
Elyse Handel, Early Childhood Educator at The Children's Museum, says that you can provide an opportunity for your child to practice letter writing with non-traditional or familiar writing materials. This can help strengthen your young child's literacy.
Looking for more preschool projects and activities?
We've brought together some fun and creative activities for you to do with your preschool-age child. Check them out!
You can see all of our at-home activities on the blog or on Pinterest.