You'll howl with delight at these fun, freaky One-Eyed Monsters.
Ingredients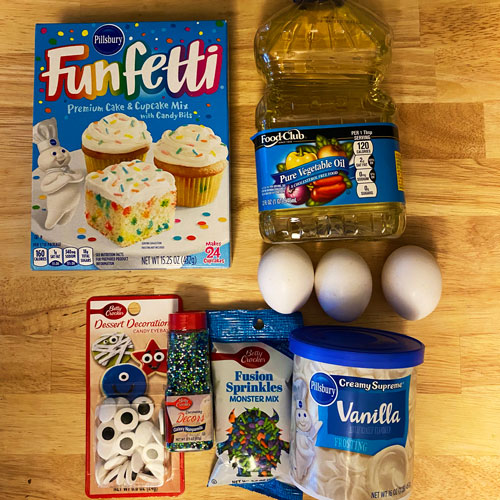 Cake mix of your choice
White baking chocolate (almond bark)
Cake icing
Sprinkles
Large candy eyes
Food coloring (we made purple & green)
Process
Make your cake mix in a large bowl. The Funfetti cake mix we used called for 3 eggs, 1 cup of water and ½ cup of vegetable oil. Mix all up until not lumpy. Pour into 9x13 pan, cook on 350 for 35 minutes.
2. Once cake is baked, take out and chop up with a large serving spoon and put into another large bowl.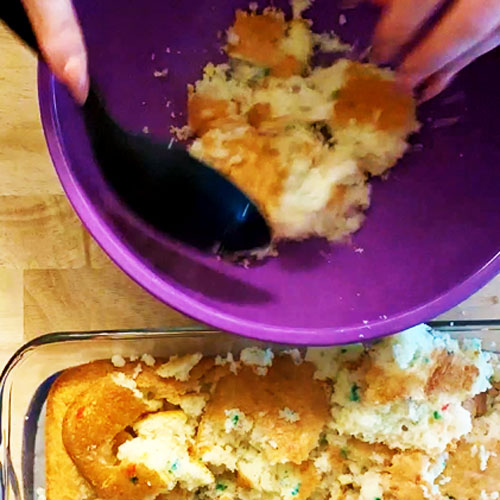 3. After the cake is shredded in the bowl, melt your icing for about 30 seconds in the microwave. Then pour over the cake pieces in the bowl. Mix well.
4. Once the mixture is tacky start to scoop out with a spoon to make small bowls onto a baking sheet (put down aluminum foil first). Make your balls as small or as big as your want for your monsters.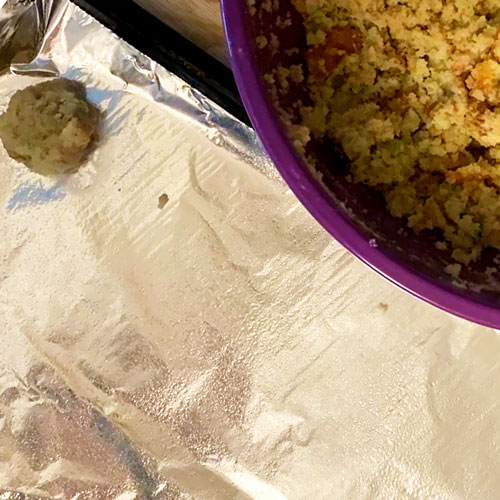 5. Put into the freezer for about 3-4 hours, until hard.
6. Take tray out of freezer. Melt your chocolate in microwave safe bowl 1–2 minutes depending on packaging directions. Stir until smooth and melted with a spoon. We used two bowls to make one purple and one green using food coloring. You can pick your colors.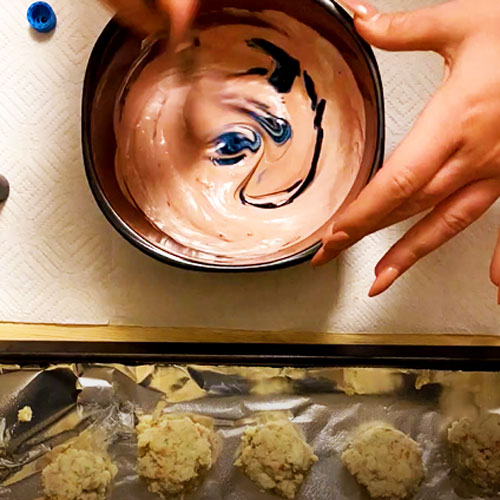 7. Once chocolate is ready, dip your balls into the chocolate and use the spoon to completely cover them, then put on a plate or more parchment paper off to the side.
8. While still "wet" add your large candy eye to the front and sprinkle on your sprinkles of choice for the monster's hair. Repeat until all monsters are created, then put into fridge to set for about 20 minutes.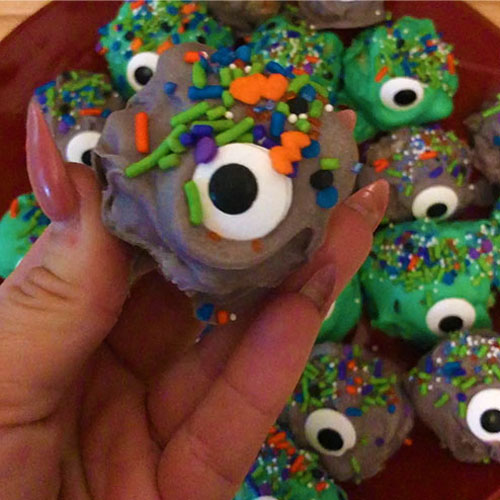 You can eat them right away, or put back into the fridge to serve later!
Looking for more spine-tinglingly good Halloween treats? Check out Our Favorite Halloween Treats on the blog and then get your tickets to The Children's Museum Guild's Annual Haunted House!