In 2009, the Black Eyed Peas, Kelly Clarkson, and Owl City were playing in heavy rotation on the radio. Harry Potter, Transformers, Avatar, and Star Trek had strong showings at the box office. Barack Obama became President of the United States. The Children's Museum opened a new Welcome Center and Skywalk.
It was a memorable year for many of us. It was especially memorable for an 11 year-old boy named Alex.
During Spring Break 2009, Alex Henry and his family made the 100-mile trek from Northern Indiana to Indianapolis for a day trip. Alex and his brothers were big fans of The Children's Museum—what kid isn't? Their family would visit the museum once a quarter or so, but this day was special. From Star Wars, to LEGO, to comic books, the museum had many special items on display. It was a perfect time for their family to visit the museum—it was almost as if this day had been planned specifically for them!
Alex's younger brothers' eyes widened when they walked into the comic book area. They were in awe at the big comic book characters they saw. They were on an adventure in their own comic book world.
"All of a sudden," Alex's dad said, "we looked over, and there was Alex sitting at a light desk and drawing." This was strange. Alex had never shown an interest in drawing before.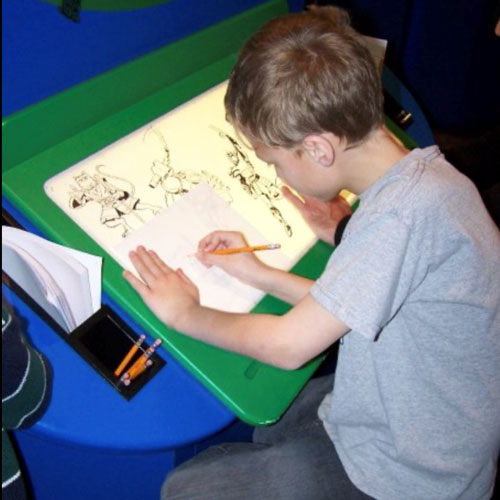 "I had a strange history with art," Alex remembers. For a long time, he didn't think he was very good at anything art-related. So he dreaded it in school. He didn't really draw very much on his own. And he certainly didn't share any of his art with anyone. But when Alex sat at the light desk at The Children's Museum, he was inspired to give it a try. His family remembers gathering around Alex and watching him as he focused on figuring out how to make comic book characters come to life.
Fast-forward to 2021
Alex is now a college graduate. And he's working at his dream job.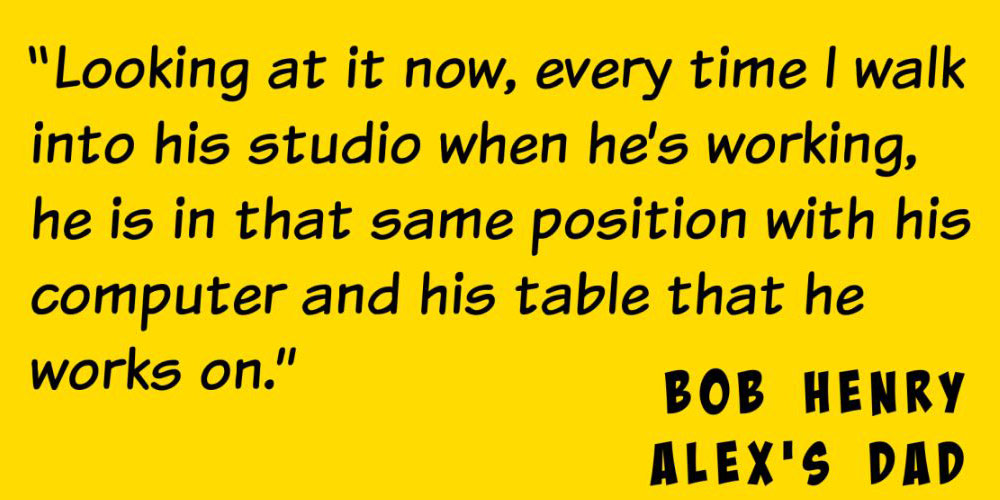 Why does Alex's dad see him in this same position every time he walks into Alex's studio? Because Alex is a professional animator! That's right. The kid who didn't think he was any good at art now makes his living by creating things. And although he's only been out of college for a short time, he's already worked on some significant projects that are likely to appear on your friendly neighborhood streaming channel.
And he traces his experience at that animator table at The Children's Museum as a pivotal moment in his life.
"I really think what The Children's Museum does is very important," he says. "Because it really shows that you can find something—even at age 11—that you can get enjoyment out of and that could even become a career. In that one day we were there, my eyes were opened to different career opportunities. The Children's Museum made it real in a way that I hadn't experienced before."
That's why we're here
The Children's Museum exists to create extraordinary learning experiences across the arts, sciences, and humanities that have the power to transform the lives of children and families. That's our mission. It's the heartbeat behind everything we do at the museum.
Sometimes, this involves creating an immersive experience like Dinosphere®, where you'll come as close to entering the world of the dinosaurs as possible without a time traveling machine. Sometimes, it's by telling and retelling the stories of Anne Frank, Ruby Bridges, Ryan White, and Malala Yousafzai in The Power of Children® and empowering young people to make a difference in the world around them. Sometimes, it's the lasting impact a Coach has on a child after a brief encounter in the Riley Children's Health Sports Legends Experience®.
And other times, it could be a simple light table that sparks a lifetime of creativity.