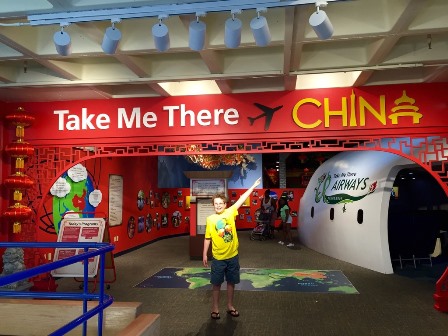 This post was written by Children's Museum Blog Ambassador, Krista Marshall. Follow Krista's posts on the blog or follow her on Twitter @everydaymomsmls.
When you visit the Children's Museum, there is SO much to do, and SO much to see. Then when you get home, if your kid(s) are anything like my son, you have a minute-by-minute recount of everything they saw and did. That is their version of bringing the fun home. But what if I told you there is another way? And my way gets a delicious meal on the table, too!
On our recent trip to the museum, one of my son's favorite exhibits was Take Me There: China. Seriously…it was like he had stepped onto a plane and in seconds was transported to another land!
Once inside China, his absolute favorite activity was the Restaurant where he could pretend to be everything from waiter to chef. This boy LOVES to cook, and this was a terrific way to experience that—with a new twist!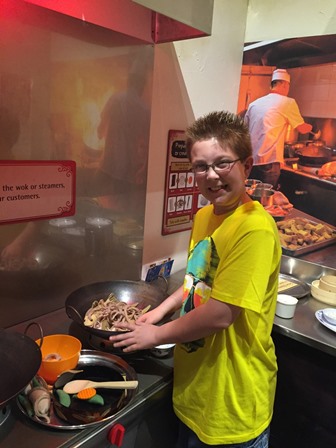 When we were home, he was still talking about all the amazing things he saw on our visit, but none more than the time he spent "in China." And most of all, that kitchen! So, as mommy it was my job to find a way to continue both the fun and learning in our own kitchen! Time for an Asian-inspired meal he could help me prepare, and then gobble down.
If your family loves Chinese food as much as we do, they will devour this too. And you're going to enjoy just how easy it is! Remember, the next time you visit the Museum, you too can bring the fun home!
Cashew Chicken with Fried Rice
2 1/4 lbs. boneless chicken tenders, cubed
3 large garlic cloves, minced
1/2 c. soy sauce
1/4 c. corn starch
1/4 c. vegetable oil
1 bunch green onions, chopped
8 oz. button mushrooms, thickly sliced
1/3 c. sweet chili sauce
1 c. cashews, reserve a few for top
Black Pepper to taste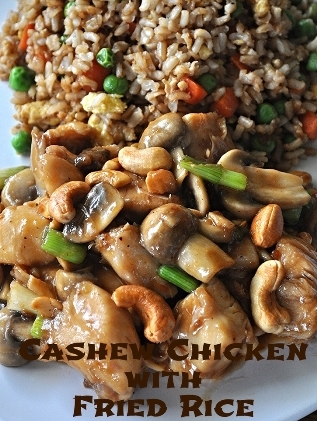 Fried Rice
4 c. leftover brown rice*
1 (12 oz.) bag frozen peas and carrots, thawed
2-4 TBS soy sauce, to taste
3 eggs, beaten
2 TBS vegetable oil
In a large skillet, heat 1 TBS oil over medium heat. Add egg, and stir to scramble. When cooked, remove with slotted spoon to paper towel lined plate. Wipe out pan, and add 1 TBS oil. Place rice in skillet and let fry until you can hear it sizzle. Then start stirring. Add peas and carrots and soy sauce. Stir and saute' until flavors combined, about 10 minutes. *NOTE* I make my rice in the morning and let it sit in the fridge all day. You can even make it the night before!
In a small bowl whisk together soy sauce and cornstarch until smooth. Place chicken in a large bowl, season with black pepper. Add garlic. Pour soy mixture over. Mix well. Allow to sit at room temperature for about 10 minutes. In a large skillet, heat oil over medium-high heat. Add chicken. Saute', stirring frequently, until no longer pink, about 7 minutes. About half way through, add mushrooms. When chicken is done and mushrooms are brown, add onions, chili sauce and cashews. Stir to combine. Serve with fried rice. Sprinkle with extra cashews.