Every year since 2005, The Children's Museum has recognized incredible youth who have impacted their communities with extraordinary service. The Power of Children Awards, inspired by the Power of Children: Making a Difference exhibit, awards these winners with a partial university scholarship to IUPUI, UIndy, or Butler University along with a $2,000 grant to continue their philanthropic projects.
We're highlighting each winner with a further look into the service projects they've built to transform their community. Today's winner is Elizabeth Gonzalez, who created efforts to stop bullying and incite positive action.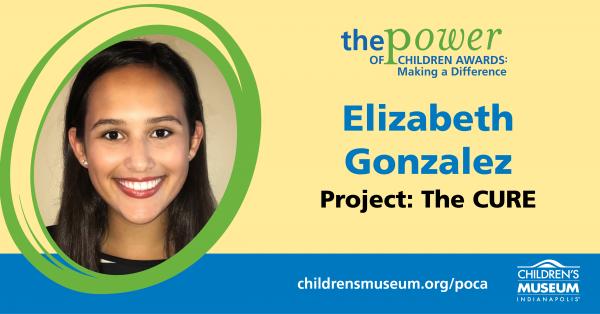 Elizabeth Gonzalez
Grade 10
Hometown: Crown Point, IN
Project: The CURE
More positive action, more positive influence—that was Elizabeth Gonzalez's new goal after witnessing instances of bullying in her school.
She new she couldn't do it with paper. People tear down posters all the time. This had to be solid, more permanent. She thought about the durability of street signs. She pitched her idea to the East Chicago Board of Works. "I figured under stop signs is the best place to install them, because it can serve as a reminder for people to think before they act," Gonzalez stated to her local paper. "Everyone has seen and knows about bullying, but not many realize how it affects someone else long term. My idea is to get everyone to think about it, and stop it before it escalates."
The board suggested to start with her principal, who approved the idea. Further board approval led to sign-posting outside of schools and other locations. As Elizabeth recruited friends to help, The CURE Club was formed—standing for Curiosity, Understanding, and Respect for Everyone. Initiated with the posting of signs, the club's purpose is to incite positive action with small actions itself, resulting in projects like Post-It notes with inspirational quotes around the school, and assemblies to reinforce the purpose among community.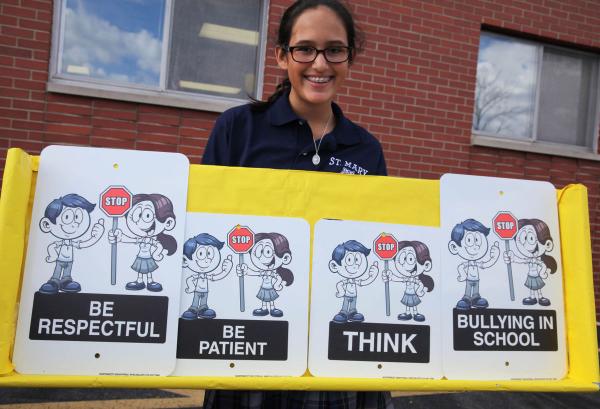 "We cannot change the past, but one positive remark at a time will change the future," said Elizabeth. It's these small actions, that upon accumulation, create big change. People confide in The Cure about their past and positive present; they share their stories and on the club's action have turned bad days into good ones.
Kimberly Swan, school counselor, says about Elizabeth's efforts,
The Cure goes beyond anti-bullying. It promotes positive behaviors in areas of courtesy, understanding, and respect.
With her award money, Elizabeth plans to scale her efforts and the organization in hopes to further impact the city and state. She wants to produce additional street signs promoting kindness and also use the money to pursue a patent for her logo.