In an effort to help keep all visitors, staff, and volunteers at The Children's Museum safe and healthy, the museum has had to make a few changes. You can find all of those changes here. The change that has impacted our tiniest visitors the most is the temporary closure of Playscape®.
Sept. 7 update:
Several of your little ones' favorite features have returned to the museum floor:
10-yard dash in First & Goal
Toddler slide in The Children's Museum Guild's Fantasy Tree House of Sports in the Riley Children's Health Sports Legends Experience®
Dinosaur play table in Dinosphere®
Tractor play table in Corteva Agriscience ScienceWorks
Train table in All Aboard!
Build a tower feature in Fireworks of Glass
Plastic pretend-food in Take Me There®: Greece
The IndyCar photo opp
Please remember to follow all signs, wipe down equipment before and after use, and continue to practice social distancing.
While we know nothing can replace Playscape® our interpretive staff has been working hard to create extraordinary experiences for your preschool-aged child. You can find these activities outside of Playscape® every day:
It's Storytime! Join us outside of Playscape® for an interactive story time! Together, enjoy some familiar preschool classics while using your imagination, finding patterns, and getting creative during story time.
Making Music Together Join us outside of Playscape® to make some music and engage your mind and body while exploring tune, beat, rhythm, and more. Activities will vary to include singing, clapping, and dancing.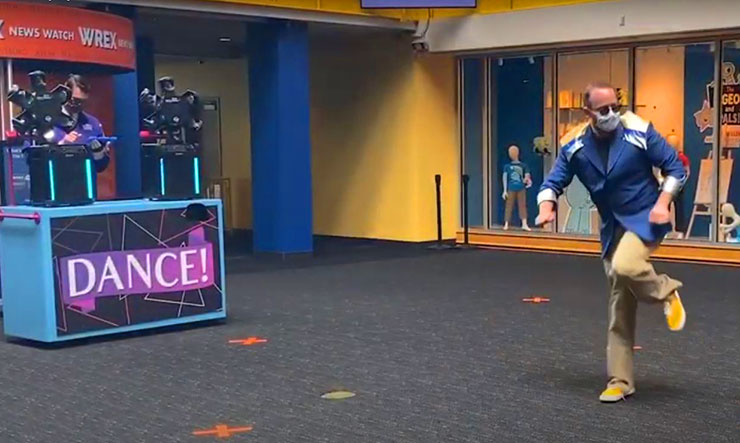 We've also added a show in the Sunburst Atrium that's geared towards our littlest visitors. Get your groove on in Sing Along, Dance Along! During this special show, our youngest guests and their families have the opportunity to create some rhythms, show off their own dance moves, and sing along to a familiar tune!
Program lineup is subject to change. Check the web calendar for updated times for these and other great programs throughout the museum!
Still looking for more? We've created two different itineraries with your little one in mind. The Itinerary for Toddlers highlights some favorite things to do throughout the museum. If you're ready to explore all that the Riley Children's Health Sports Legends Experience® has to offer, give the Little Sports Legends itinerary a try. That's really just the start, though. Age-appropriate equipment is available in all of our outdoor sports areas!
When you visit The Children's Museum, you'll find that things are a little different, but we're the same museum you love with new ways to keep you safe.