For over five decades, the members of Mystery Inc. have shown that through courage, teamwork, and ingenuity, even the toughest mysteries can be solved. Now you have the opportunity to join the gang in cracking the case of a jewel-thieving ghost in Scooby-Doo!™ Mansion Mayhem at The Children's Museum. Let's take a walk through the exhibit and find out how you meddling kids (and grown-ups, too!) can help solve the mystery in this immersive exhibit.
"Looks like we've got a mystery on our hands!"
—Fred Jones™
Enter the Graveyard
Before you can enter the mansion, you'll have to walk through the family cemetery and its unusual tombstones. You'll have to summon your courage to step inside the mysterious mansion. Make sure to stop at The Mystery Machine before you enter the mansion!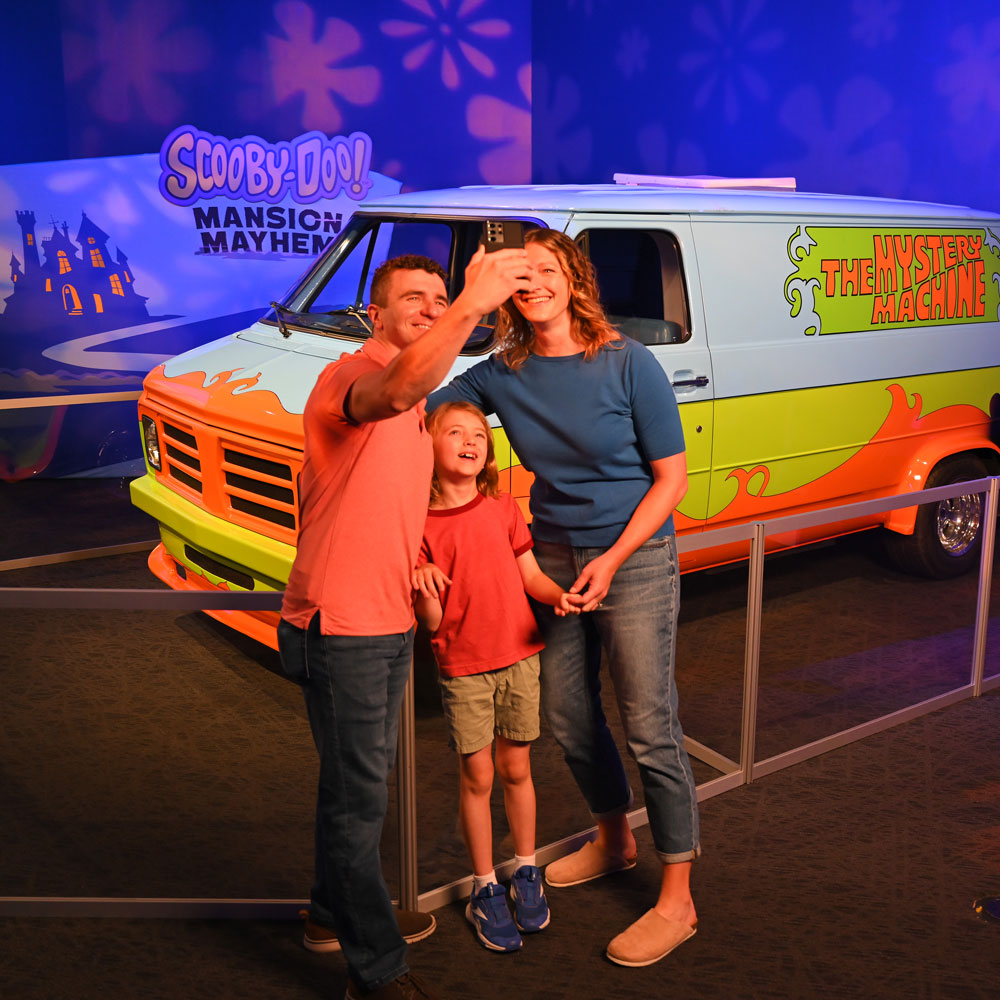 The Mystery Machine on display is a real movie prop that was used in Scooby-Doo (2002) and Scooby-Doo 2: Monsters Unleashed (2004)
Visit Pearl's Plant Conservatory
Hone your sleuthing skills in our live interactive programs.

Space for these programs is limited and available on a first-come, first-served basis. Check the web calendar for up-to-date times, as they are subject to change. Please note: programs include loud noises such as thunder, some flashing lights, and simulated lightning.
Search the Hall of Portraits with Daphne
Once you enter the mansion, you'll want to find each member of the gang—Fred, Shaggy, Scooby, Daphne, and Velma—and help them search for clues to unmask the ghost and catch the villain.
Join Daphne in the Hall of Portraits and comb through paintings for clues.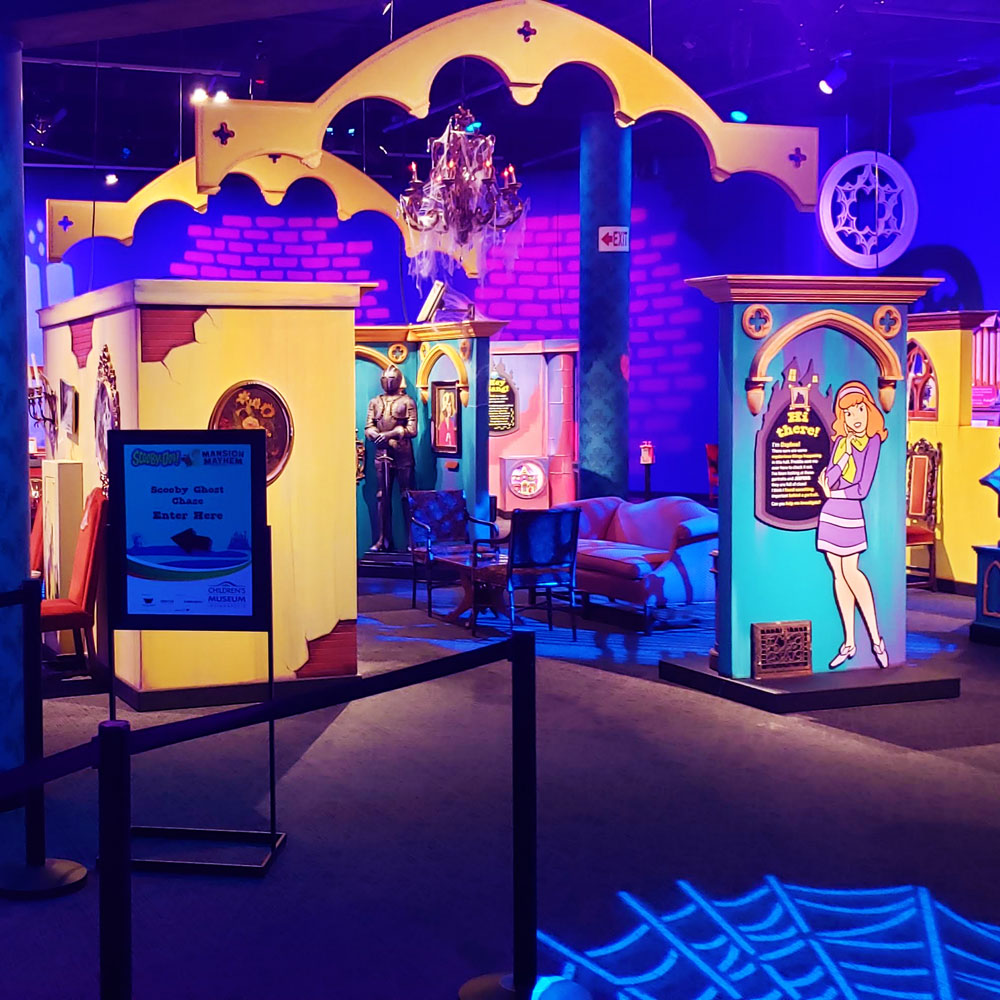 "Jeepers!" It's a little eerie. Can you be brave like Daphne?
The villain has stashed a safe behind one of these portraits. Can you find it?
As you explore, ask yourself, "Am I looking at the portraits? Or are the portraits looking at me?" You'd better take a closer look.
Discover the villain's secret control panel and the eerie illusions it makes.
Explore the Library and Music Room with Velma
"Jinkies!" Velma lost her glasses and could really use your help. She knows the Library and Music Room holds clues to the jewel thief's true identity. But she can't see anything without her glasses, so she needs your help!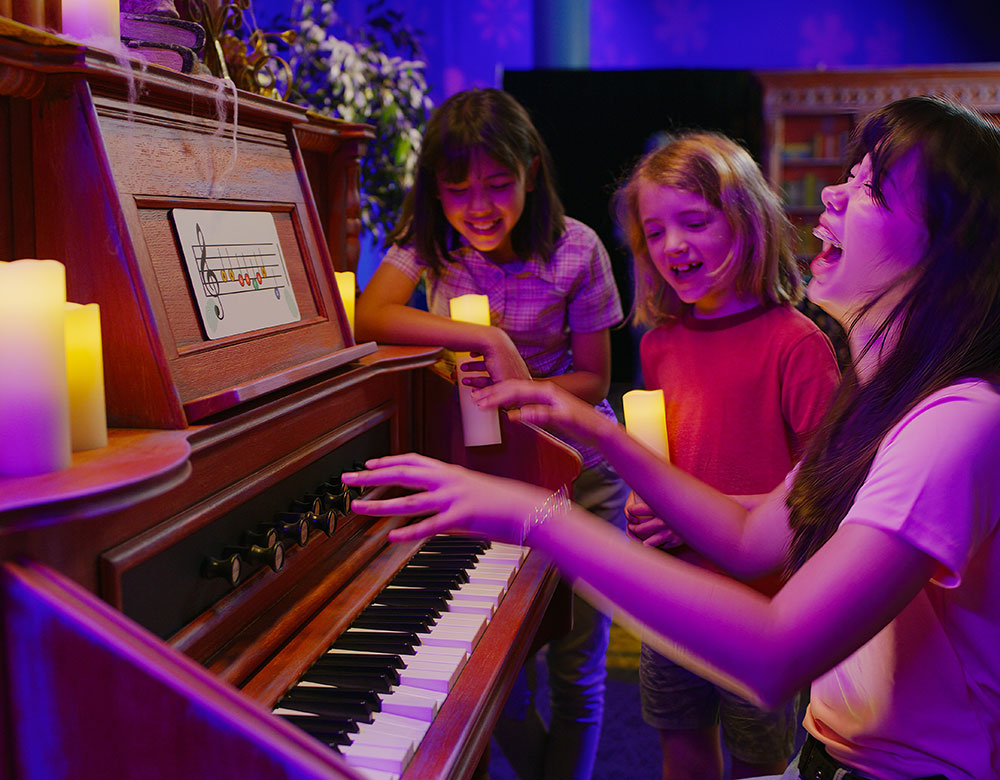 Analyze clues that Velma has found to create a sketch of the villain.
Open a secret panel in the Library bookshelf to see what it holds. Is that a clue to the villain's disguise?
Help solve a musical puzzle at the pipe organ.
Find the Villain's Tinkering Workshop
Fred—the calm, cool, and collected leader of Mystery Inc.—is waiting for you in the villain's secret workshop! He's also an expert trap builder.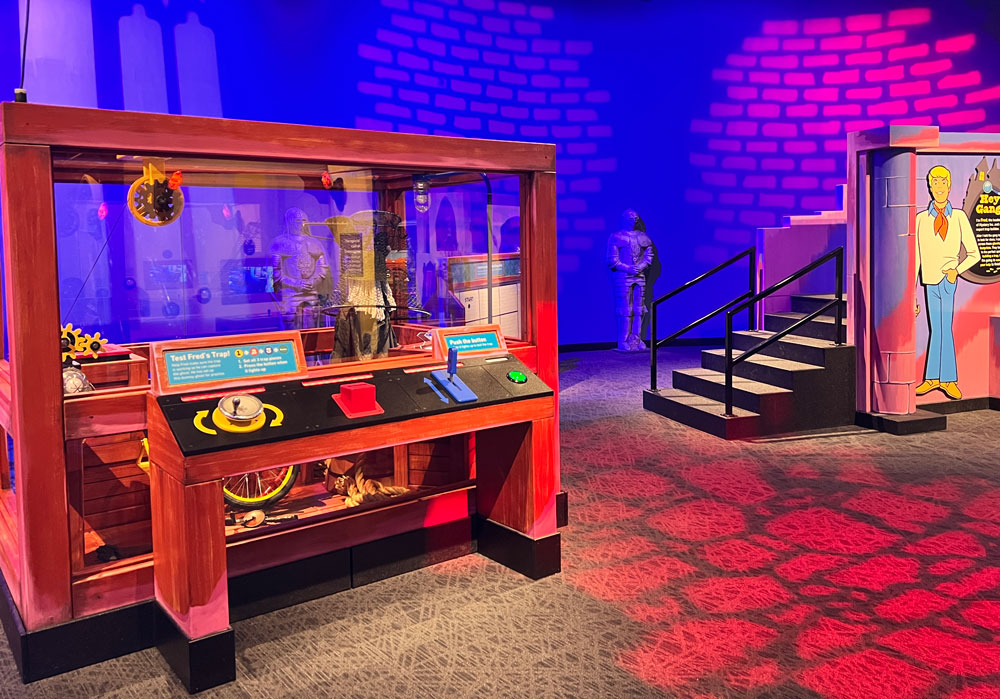 After he told the Mystery Inc. gang to split up and explore the mansion for clues, he came across some glowing footprints. They led him to a perfect spot for building a trap, but he needs your help to test it.
Follow glowing footsteps to the workshops' secret passageway.
Search the villain's workbench to learn how he makes the ghostly illusions around the mansion.
Help Fred set a trap to catch the ghost!
Definitely check the Kitchen
"ZOINKS!" In a surprise to absolutely no one, Shaggy and Scooby(™) went directly to their favorite part of any house—the Kitchen. Before they arrived in the Kitchen, they ran straight into a ghost!
You can join their escape by matching the shapes Scooby makes as he runs through walls.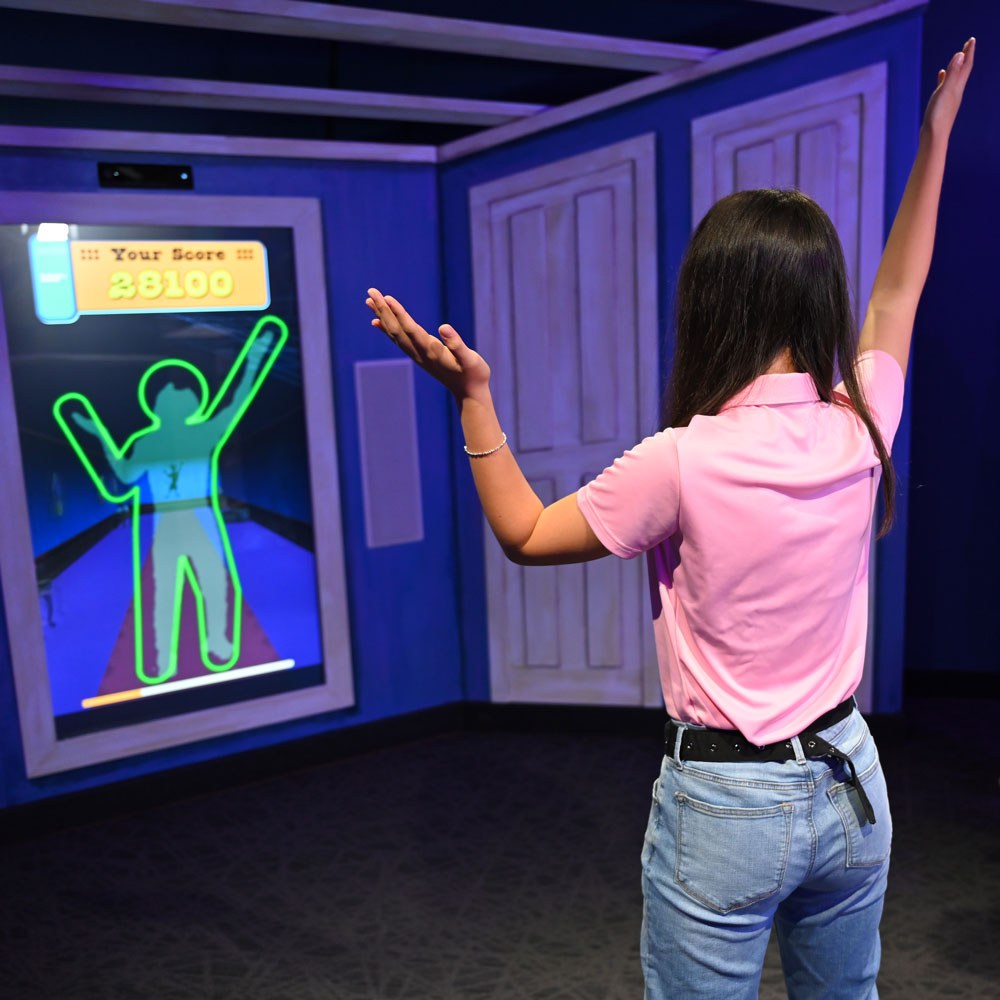 This mansion mystery is giving Shaggy and Scooby a serious case of the munchies. Can you and your family make them a sandwich out of some of their favorite ingredients? Can you build the tallest one?
Investigate the Kitchen's supplies and make pretend snacks for Scooby and Shaggy.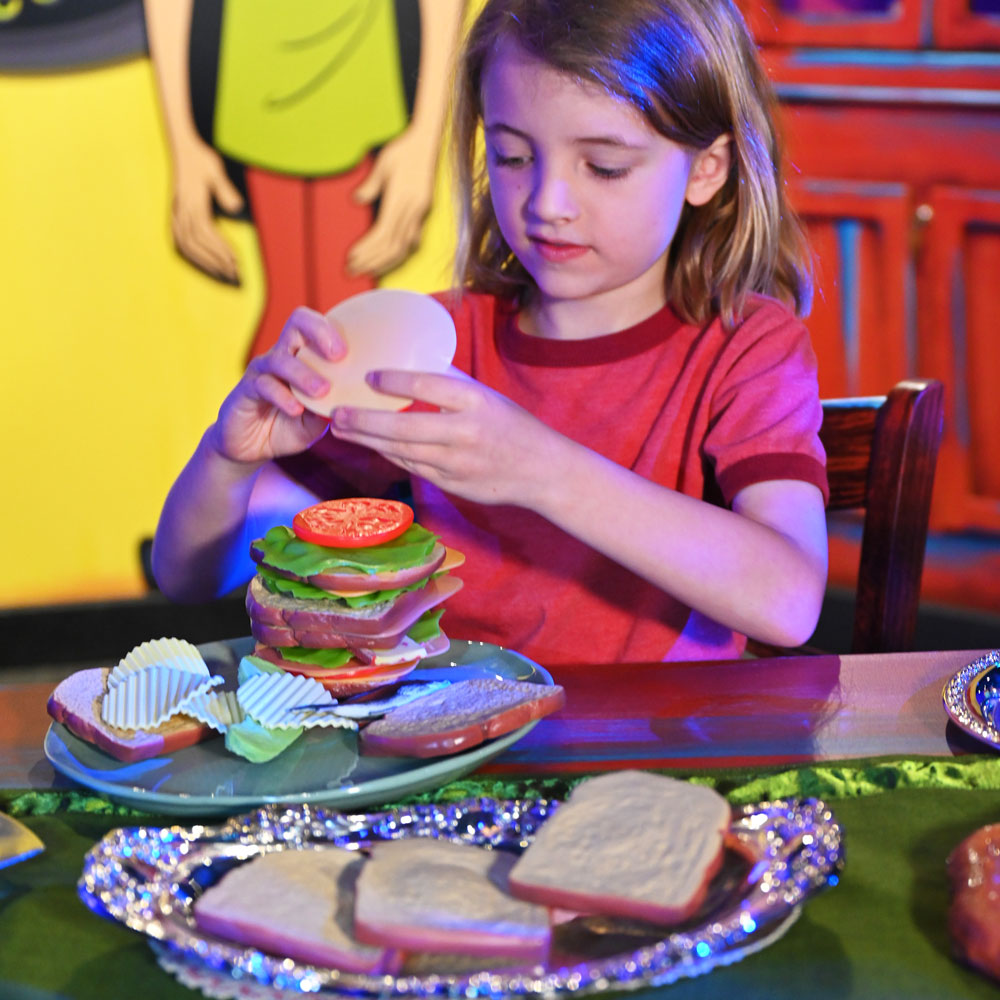 Case closed!
Once you've cracked the case of the jewel-thieving ghost, snap a selfie with the whole gang while you unmask the villain.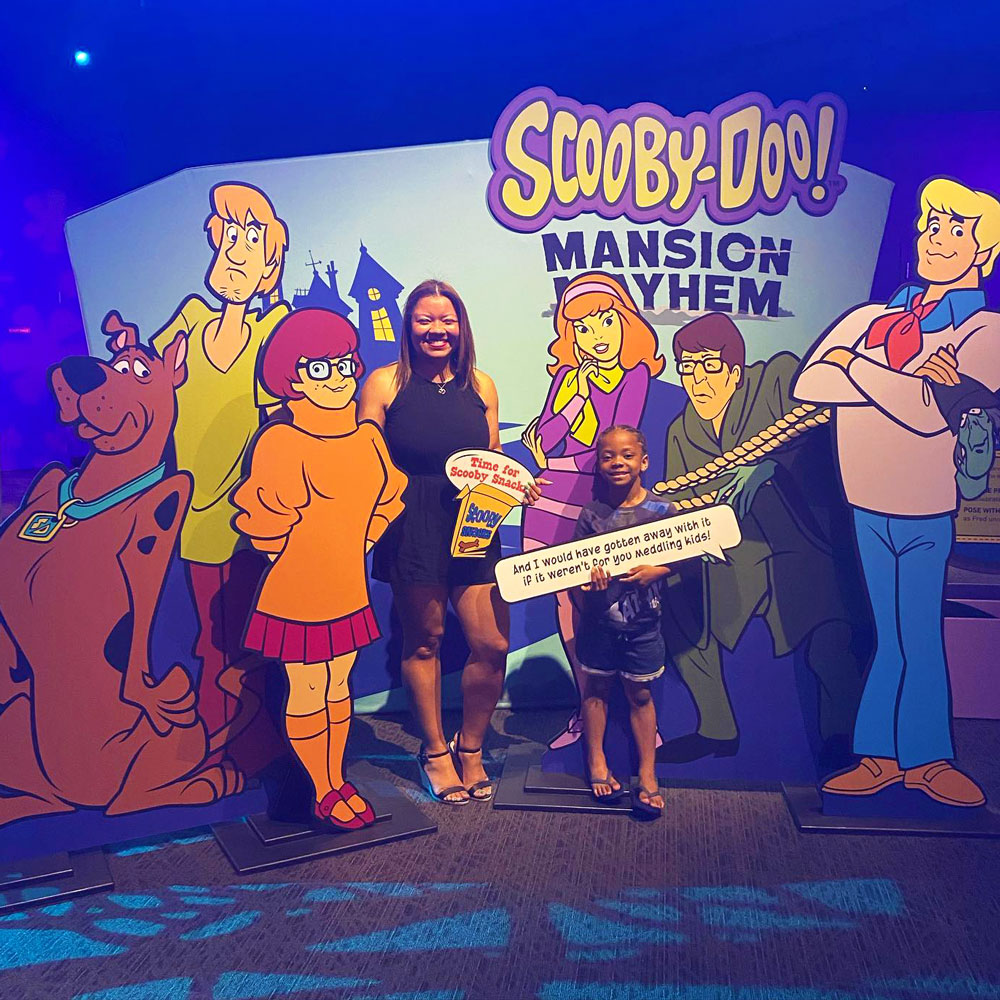 They would've gotten away with it, too—if it weren't for you meddling kids (and grown-ups)!
SCOOBY-DOO!™: Mansion Mayhem is open through Jan. 22, 2023 and is included with museum admission. You can save up to 20% by buying general admission tickets at least two weeks in advance.

Choose Your Day
Choose Your Tickets
View Cart
Would you like to upgrade your experience?
---
Presented by F.A. Wilhelm Construction
Supported by Donatos Pizza and Delta Dental of Indiana
SCOOBY-DOO and all related characters and elements © & ™ Hanna-Barbera. (s22)