Get a year of more play time. More perks. More memories. More often.
And save more, too!
Choose membership from the start, or apply your ticket cost toward a membership within two weeks of purchase. After two visits, membership can pay for itself. It's a great value!
Members get a year of unlimited visits to our outdoor Riley Children's Health Sports Legends Experience®—and to our five floors indoors. We have permanent exhibits like Dinosphere®, as well as always-changing exhibits. See the current exhibit lineup.
Whether you choose a Basic, basic +2, or Donor Membership, members get these exclusive benefits:
Member Previews—a sneak peek of new exhibits before the public
Member Morning Weekends—an hour of early access to the museum before it opens (first combined Saturday and Sunday of the month)
Insider news—including Extra! magazine and member emails
And members SAVE MORE:
FREE Carousel rides
20% discount on family programs
10% discount on general guest admission tickets and Haunted House tickets
10% discount in The Museum Store
10% discount on birthday party packages
Occasional member discounts in weekly enews for local sports and entertainment
To make sure you enjoy non-stop fun, your membership will be automatically renewed each year at a savings of up to $25 annually. You will have an opportunity to opt-out from your shopping cart.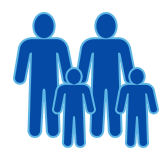 Basic Membership—$225
Choose between Family or Grandparent
Explore, discover, and make great family memories! Family Membership includes benefits for up to two adults sharing the same household and all children under age 21. Grandparent Membership includes benefits for up to two adults sharing the same household and all unmarried grandchildren under age 21. Pay one low price and visit as often—and whenever you'd like.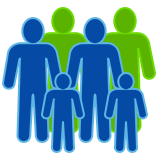 Basic Membership +2 Guests—$260
Choose between Family or Grandparent
Includes all of the benefits of the basic membership, plus you can bring two friends along for free any time you'd like!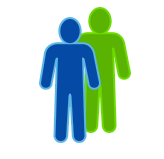 Individual +1 Membership—$175
This membership is perfect for families with just two visitors ready for an adventure! Includes benefits for one adult plus one guest per visit (cardholder must accompany guest).
Donor Memberships
Choose a contributing membership that allows us to provide world-class experiences for all. Your tax-deductible gift of at least $40 to The Children's Museum Fund ensures that all children, regardless of family income, can experience the museum.
Donors support the museum, enjoy all the membership benefits above, and receive these additional perks:
FREE stroller and wagon rental
10% discount in the Food Court
Caregiver card for a designated caregiver
Invitations to special tours
Select our Easy Pay option—a cost-effective way to become a donor. Split your purchase into three easy payments, while enjoying the benefits of membership right away!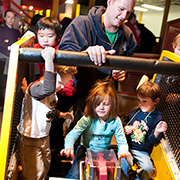 Discovery Builder Membership—$300
Create lifelong memories. Join us in our quest to provide transformative experiences for families and children around the world. Discovery Builder Memberships include all the benefits of a basic +2 membership, plus free stroller and wagon rental, a discount in the Food Court, a caregiver card for a designated caregiver, and invitations to the Insider Tour series allowing you behind-the-scenes access to the museum.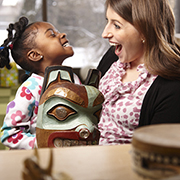 Explorer Club Membership—$500
Spark a lifetime of curiosity. With ever-changing experiences and over 120,000 rare artifacts, you bring imaginations and creativity to life when you support The Children's Museum. You receive all the benefits of Discovery Builder support, plus two single-use guest passes and invitations to the Collections Tour series featuring a behind-the-scenes sneak peek at our vast collection.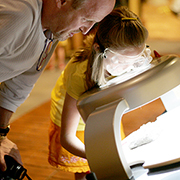 Innovator Membership—$750
Be the impact. Your contribution allows us to build beyond the extraordinary, helping us change more lives with more profound experiences. Innovator Memberships include all the benefits of Explorer Club, plus two free Haunted House tickets.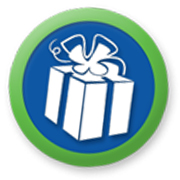 Give a Gift of Membership
Don't let family and friends miss any of the fun in 2021! One gift lasts all year—memberships offer unlimited admission for a whole year, free Carousel rides, advance tickets to shows, discounts, exclusive member hours, and more!
Buy Today!
If you have elected to auto-renew your membership, The Children's Museum of Indianapolis, Inc. ("TCM") will automatically renew your membership for successive one-year terms at the applicable membership category rate then in effect, using the credit/debit card provided above unless you have opted-out above. The annual renewal payment will be charged to the applicable credit/debit card on the date of expiration of your then-current term. You understand and agree that TCM is not obligated to provide you with any additional notices prior to each annual renewal payment. If a renewal payment fails for any reason, your membership will not automatically renew and you will be unsubscribed from the program and its benefits. If you decide not to renew your membership while enrolled in this automatic renewal option, you must notify TCM of your nonrenewal at least 45 days prior to the expiration date of the then-current term.
Member Benefits
A Children's Museum membership is an extraordinary value. Not only do you pay once to visit all year, you also can take advantage of these special benefits.
Free Carousel rides
Discounts on programs and special events (including the Haunted House!)
Discounts in The Museum Store
Exclusive members-only events and hours
Advance tickets for Lilly Theater shows
Special offers for local attractions or events
Community Memberships
Part of our mission is to provide an accessible, positive learning environment for children and families—including those families that cannot afford the cost of admission. These community membership programs help fulfill that mission.
Neighborhood Club—Free for Our Neighbors
Welcome, neighbors! If you live within one of the museum's
six surrounding neighborhoods
, you qualify for a free one-year family or grandparent membership. Start building lifelong memories with your family and community today!
Download the Application
Foster Family Memberships—Free for Indiana Foster Families
Indiana foster families can sign up for a year of unlimited free adventures and extraordinary learning. In partnership with the Department of Child Services the museum is proud to provide a free one-year membership to qualifying families.
Download the Application