Our mission:

To create extraordinary learning experiences across the arts, sciences, and humanities that have the power to transform the lives of children and families.
With life-changing permanent exhibits like The Power of Children®, Corteva Agriscience ScienceWorks, and Beyond Spaceship Earth, empowering temporary exhibits, and opportunities to run, jump, and have fun in places like the Riley Children's Health Sports Legends Experience®, we believe The Children's Museum should be accessible to all. This includes children in the foster care system.
Being a foster family presents its own set of challenges. We believe having access to the world's biggest children's museum should not be one of them. That's why, in partnership with the Department of Child Services, we are proud to offer a FREE membership to eligible licensed Indiana foster parents and their families. Foster Family membership is a one-year membership that covers adults living in the same household, their foster children, stepchildren, and biological children under 21.
How does this help transform the lives of children and families? Listen to Ashley Hutchinson share her family's story.
That's just one of many families who have been impacted by using their free Foster Family membership to The Children's Museum.
What's included in a Foster Family membership?
Free general admission for one full year
Free Carousel rides
Free subscription to Extra!, the museum's magazine and program guide
Discounts in The Museum Store
Discounts on birthday parties and Haunted House tickets
Discounts on family program registration
Discounted guest admission tickets
Invitations to exhibit preview days and members-only special events
Early admission on Member Morning weekends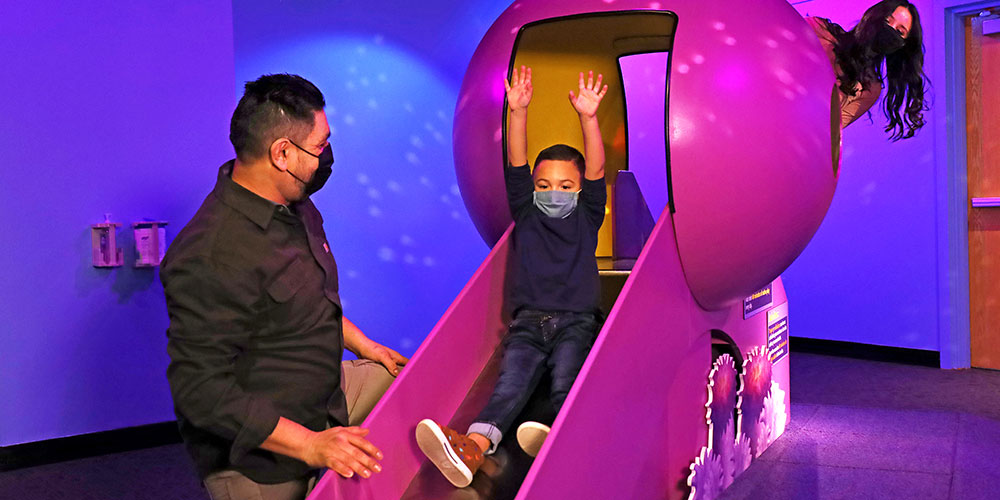 How do you apply?
Print and fill out this application
Bring your completed application and these documents to the Box Office

Valid Indiana Foster Family Home License issued by the Indiana Department of Child Services or a Licenced Child Placement Agency—licensed foster parent must be present at time of enrollment
Indiana state-issued photo ID
If you are a foster family living in Indiana, we hope you'll partner with us in transforming the lives of the children who have been entrusted to your care. If you have any questions about this extraordinary opportunity for foster families, please call us at 317-334-4000 or 800-820-6214.