In honor of Presidents Day, we've decided to highlight some presidential items from our Collections department that have connections with our great state. Like all of the items in the museum, each of these objects has a fascinating story. Join us as we celebrate the rich political history of the Hoosier State.
Abraham Lincoln's rocking chair
You can't start a discussion about a presidential connection to Indiana without our most famous contribution—Abraham Lincoln. While Honest Abe was born in Kentucky and began his political career in Illinois, we're proud to say that the 16th President of the United States grew up right here in Indiana.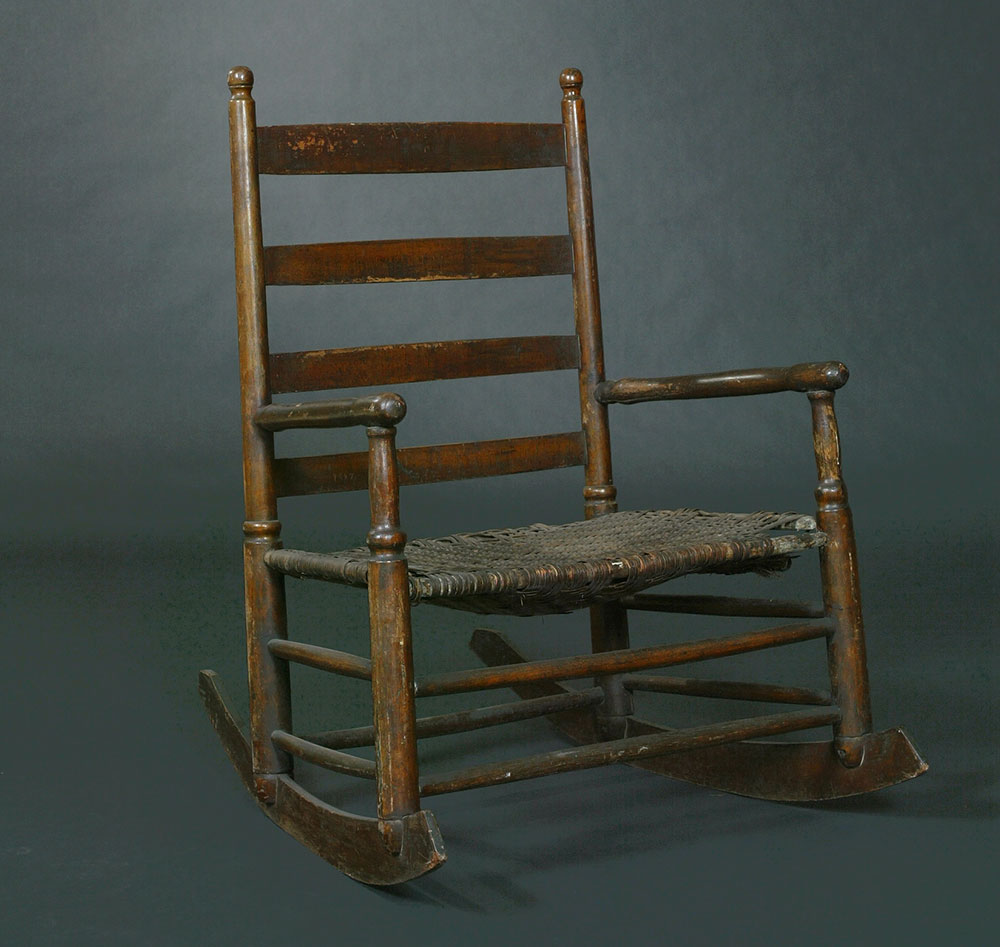 Some items are made famous by the people who used them. While many places in Indiana and Illinois claim that "Lincoln slept here," The Children's Museum owns a chair that he loved. Tradition says that this plain looking slat-back rocking chair was a favorite of a certain young itinerant lawyer named Abraham Lincoln when he stayed at Kelley Tavern in St. Joseph, Illinois, on frequent trips across the state in the decade before he became president.
Items from Lincoln's funeral train
After President Lincoln's assassination in 1865, his body was carried by train from Washington, D.C., to Springfield, Illinois, for his funeral. The train made stops along the way so people could pay their final respects. When the train arrived in Indianapolis, Lincoln's body was placed on a carriage and moved to the Indiana State House. Reports say that more than 50,000 mourners filed into the rotunda to pay their respects.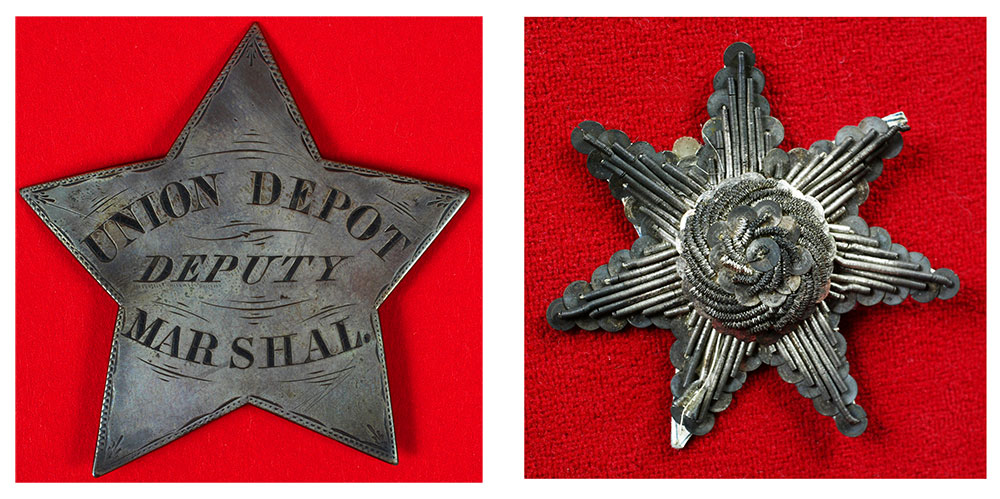 Samuel Graham was a railroad employee at Union Station and served as a special officer the day Lincoln's funeral train arrived in Indianapolis. His five-point star badge is the photo on the left. The multipoint star on the right? Graham removed that from the carriage that carried Lincoln's body.
Letter from William Henry Harrison
William Henry Harrison lived in Ohio when he became President. Decades before his short tenure in the White House he was the first governor of the Indiana Territory. Before the very recent arrival of emails and text messages, handwritten letters were the primary means of long distance communication. This letter was written by William Henry Harrison in 1839 while he was campaigning for the presidency.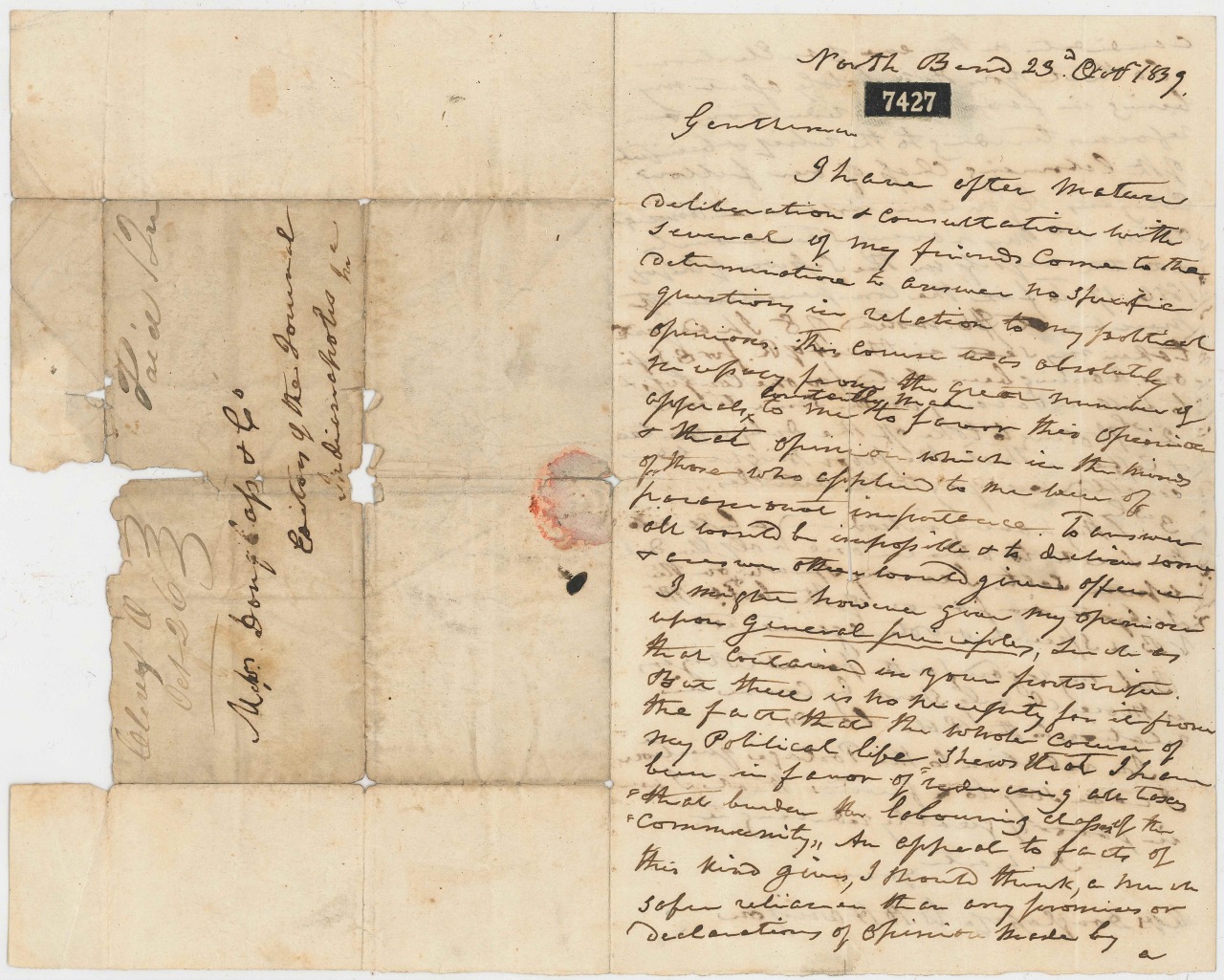 As you can see, one of the downsides of handwritten letters is sloppy penmanship.
Benjamin Harrison campaign badge
Benjamin Harrison—William Henry Harrison's grandson—served in the 70th Indiana Regiment during the Civil War. Benjamin Harrison's political career included serving as governor of Indiana and representing our state in the U.S. Senate. He is the only U.S. President to have lived in Indiana at the time of his election. You can learn more about Benjamin Harrison's time in the White House by listening to Old Whiskers Escapes, the true story of Benjamin Harrison's pet goat.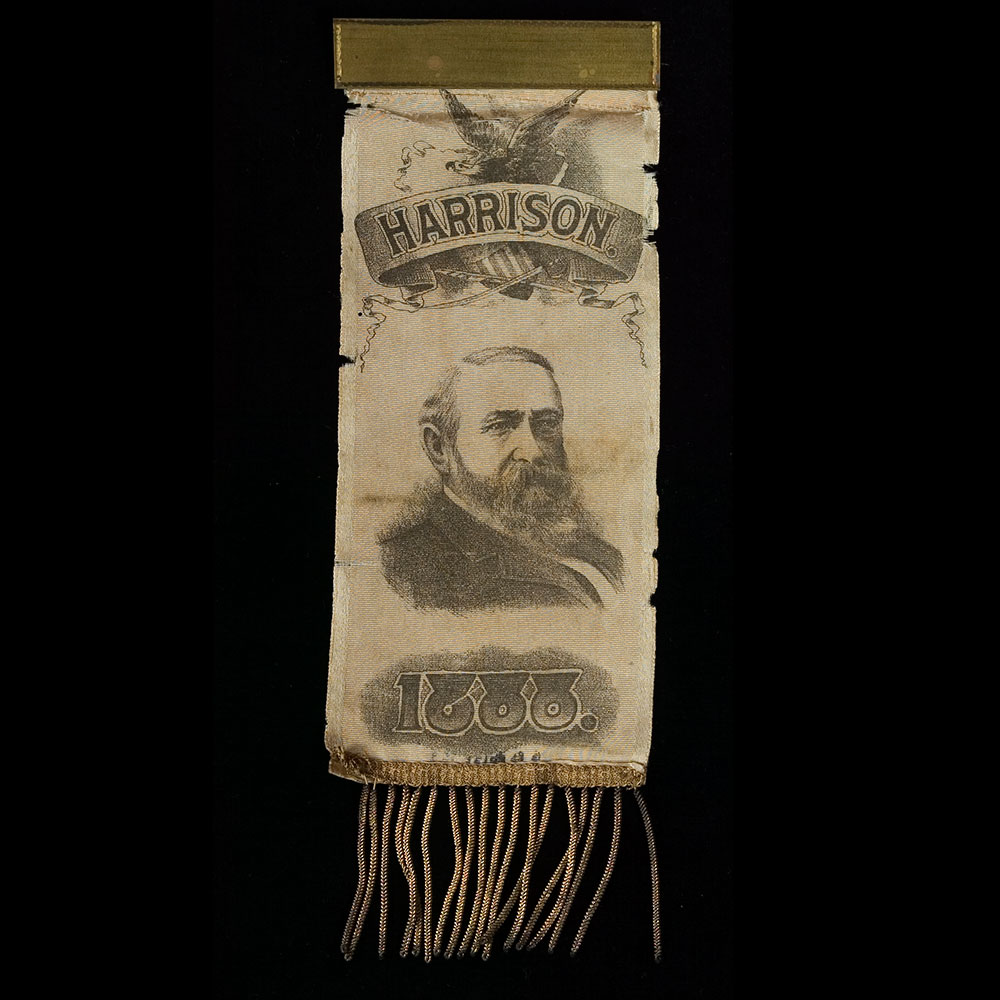 A successful campaign involves making TV and newspaper ads, having a social media presence, and creating items like posters, flyers, and campaign buttons. While Abraham Lincoln was the first president to strategically use buttons in his campaign in the 1860 presidential election, campaign buttons have been used since George Washington's time when people wore metal pins with his initials and short phrases. Benjamin Harrison's campaign included badges like this one.
Interested in making your own campaign buttons? Check out this blog post called Political Pinbacks!
Photo of President Theodore Roosevelt in Indianapolis
President Theodore Roosevelt visited Indianapolis in 1907. This photo shows him posing dignitaries from around the state, including Vice President Charles W. Fairbanks. Vice President Fairbanks was a senator from Indiana before he became Roosevelt's vice president. This photo was taken at Fairbanks's house in Indianapolis.

Did you know that six vice presidents have come from Indiana? Schuyler Colfax served with Ulysses S. Grant. Thomas A. Hendricks was Grover Cleveland's vice president. We already mentioned that Charles W. Fairbanks was part of Theodore Roosevelt's ticket. Woodrow Wilson's vice president was Thomas R. Marshall. More recently, Dan Quayle was vice president under George H.W. Bush. And you probably already knew that Mike Pence was Donald Trump's vice president.
New York is the only state that has produced more vice presidents than Indiana.
Looking for more presidential connections?
The next time you visit, keep an eye out for other presidential objects in exhibits like The Power of Children®. Until then, check out our Presidents Day Activity Bundle.