It's time to reopen our doors to the public! We are excited to see you at The Children's Museum—when the time is right for your family. We've made some adjustments to our policies, procedures, and exhibits to help make your visit as extraordinary and safe as possible.
Here's a few tips to keep in mind as you return to the world's biggest and best children's museum.
Please note our updated guest policy
Tickets must be purchased in advance. You can buy tickets here.
Everyone is expected to follow social distancing requirements.
Effective June 9, 2021:

Unvaccinated visitors ages 2 and up are required to wear a face covering while indoors. Vaccinated visitors can choose not to wear a mask. Remember: Super heroes wear masks all the time. Rex wears one, too!
Face coverings are not required in our outdoor areas.

If you are not feeling well, please stay home. We will gladly exchange your ticket for a day when you feel better! Tickets can be exchanged by calling 800-820-6214 before 5 p.m. today.
View our FAQs for our peace of mind exchange policy.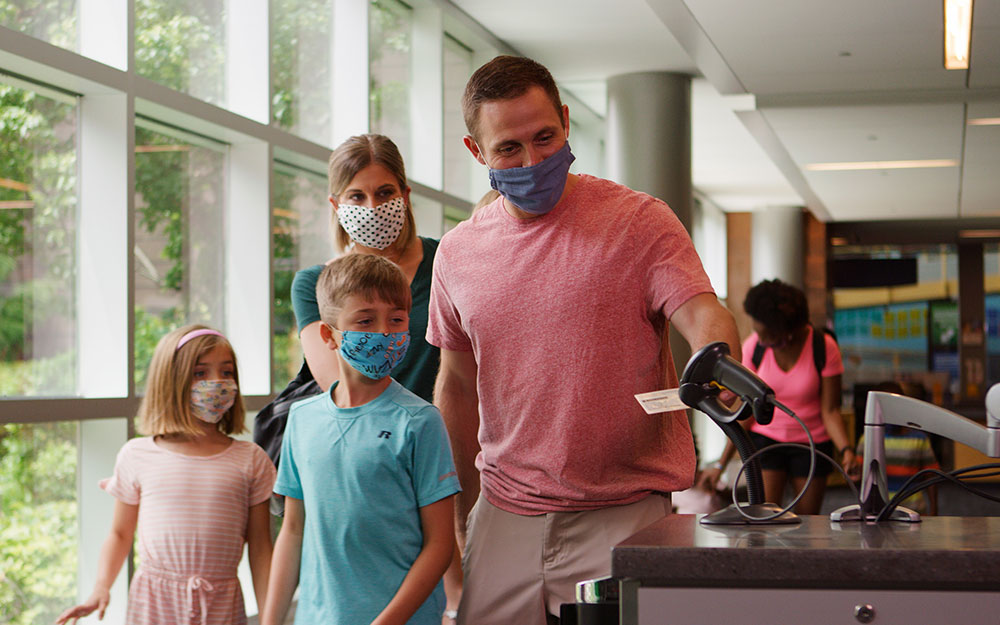 Changes to the experience:
Playscape® and The Children's Museum Guild's Fantasy Tree House of Sports are temporarily closed for the health and safety of visitors, staff, and volunteers. Click here to learn more about other major exhibit components that have been closed or temporarily removed to keep you safe.
Every exhibit will be closed for cleaning for 30 minutes several times a day. You can find a list of all of the cleaning times here. Want to learn more about our cleaning process? Check out this blog post.
We've increased live programming and performances in Sunburst Atrium and exhibits. We've also added programming outside of Playscape®. You can find out more about each day's performances and events by visiting the web calendar or downloading the museum app.
The Riley Children's Health Sports Legends Experience® is open! As always, it's included with museum admission. Get outside! Burn that energy!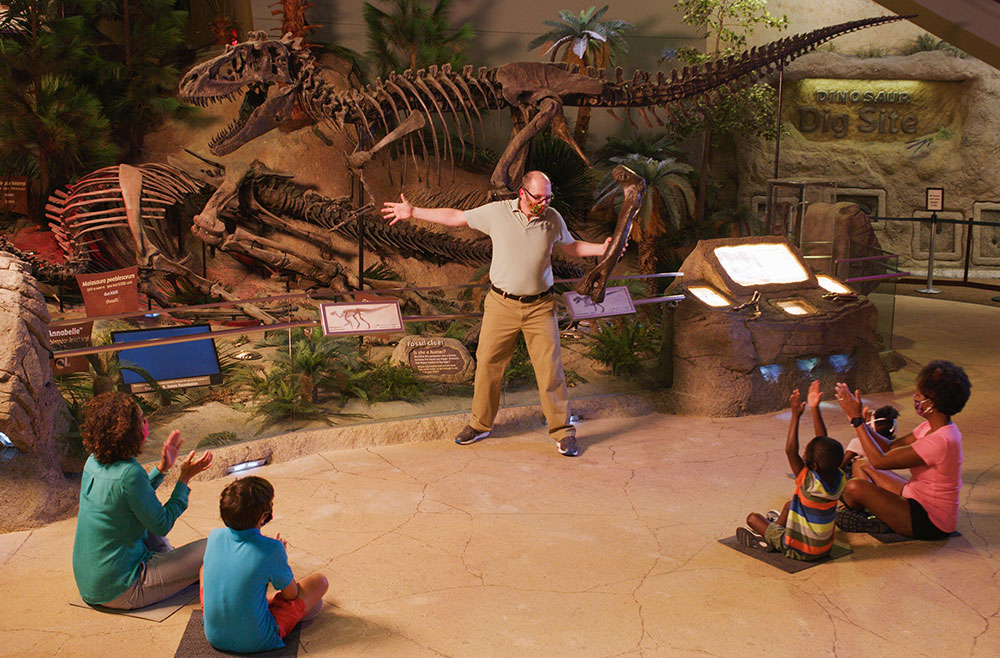 Other important tips
Park for free in the parking garage on Illinois St. and take the covered Skywalk into the museum.
Please help Rex follow social distancing guidelines while he greets visitors each morning and during the End of Day Parade.
Bring a reusable water bottle. Our drinking fountains are turned off, but our bottle filling stations are on.
Pack a snack or plan your meal in the Food Court. Please bring a credit or debit card for payment for purchases in the Food Court and The Museum Store.
Connect to the free WiFi when you arrive.
Check out our updated itineraries to help you plan your family's day.
Download our free museum app for a digital map to help you explore.
Download the Discovery Guide and explore the museum like never before!
Please note that entry to Dinosphere® is one-way only, down the ramp from Level 1. The exit is through the Lower Level tunnel to All Aboard!
Don't forget to share your experience with us! Use #atTCM on your favorite social media platform.
With new safety protocols in place and some of our experiences reengineered, your visit to the museum will look different. It's important to talk with your child about their visit so they know what to expect. Use this social narrative to prepare your family for some of the sights and sounds they will experience.
We're excited to welcome you back to The Children's Museum! Once you return, you'll find that we're the same museum you love with new ways to help keep you safe. What are you waiting for? Reserve your tickets today!
Choose Your Day
Choose Your Tickets
View Cart
Would you like to upgrade your experience?