When Dinosphere® opened in 2004, it quickly became the most-popular and most-visited permanent exhibit at The Children's Museum. Children and their grown-ups quickly fell in love with Bucky the teenage Tyrannosaurus rex, Kelsey the Triceratops, and a whole crew of Cretaceous Period creatures that awed the crowds and sparked imaginations.
Now that Dinosphere® has undergone a massive expansion, you might be wondering what happened to the original fossils that gathered around the watering hole. Well, you probably won't notice any big changes to the original Dinosphere®. The fossils got a good cleaning during the renovation. The pterosaur fossils were moved inside the dome. You might remember that they could be seen flying high over the entrance ramp. And the sound and light show that projects a sky overhead has been tweaked a little bit. But those changes are barely noticeable.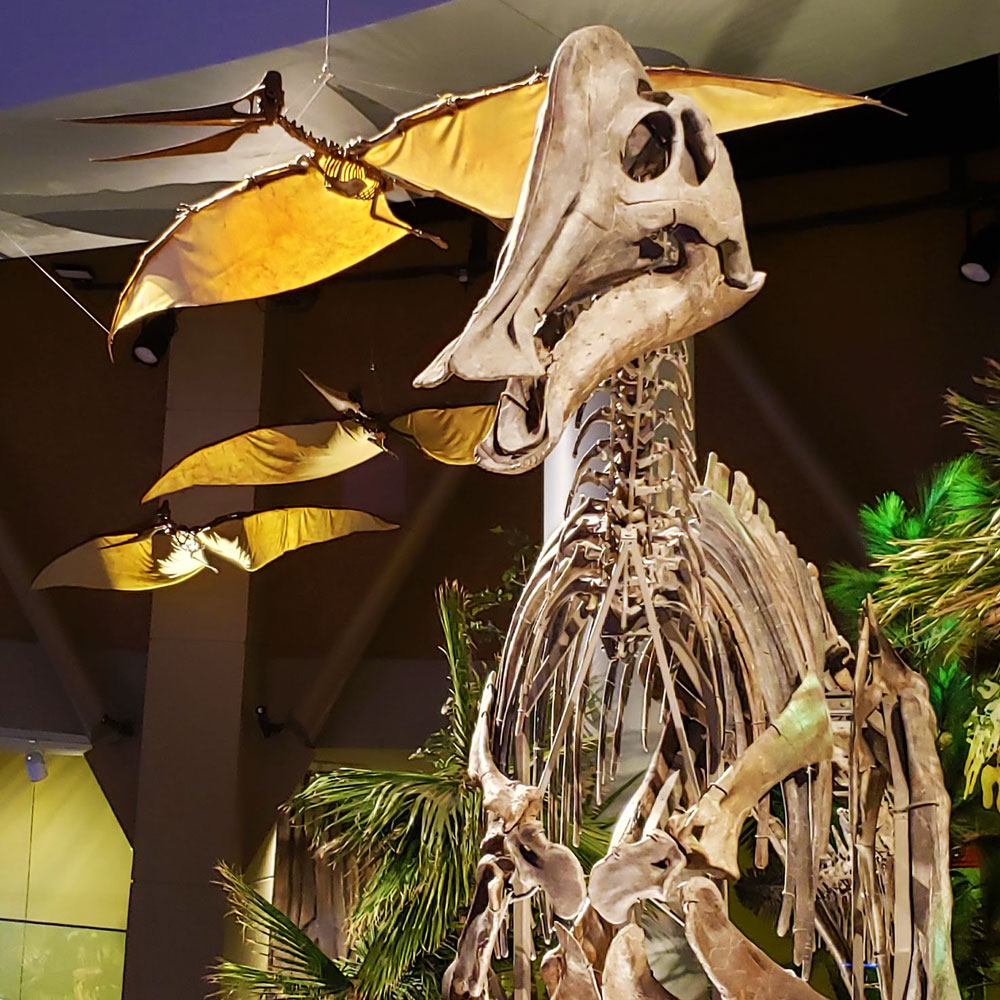 OK. That's not entirely true. There are two changes you might notice.
While Dinosphere® was closed, Dracorex hogwartsia was moved to the museum core, across from the elevators on Level 2. Dracorex will remain in this prominent spot.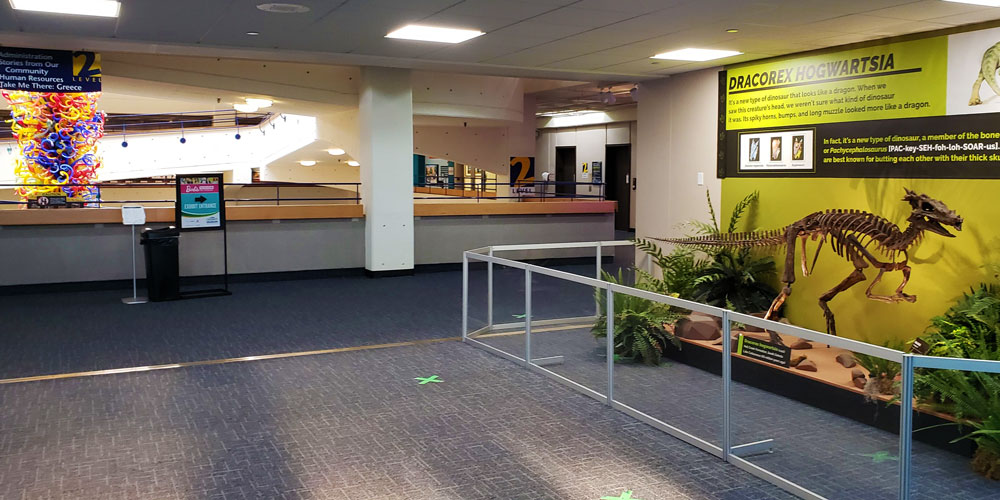 SuperCroc, a fan-favorite that once dwelt where the Fireworks of Glass sculpture now stands, has been moved a few feet from its most-recent location that was at the bottom of the ramp that leads to Dinosphere®. Now the Sarcosuchus skeleton is around the corner of the entrance to Creatures of the Cretaceous™—the new name for the original Dinosphere®—and has been installed in a dynamic new pose.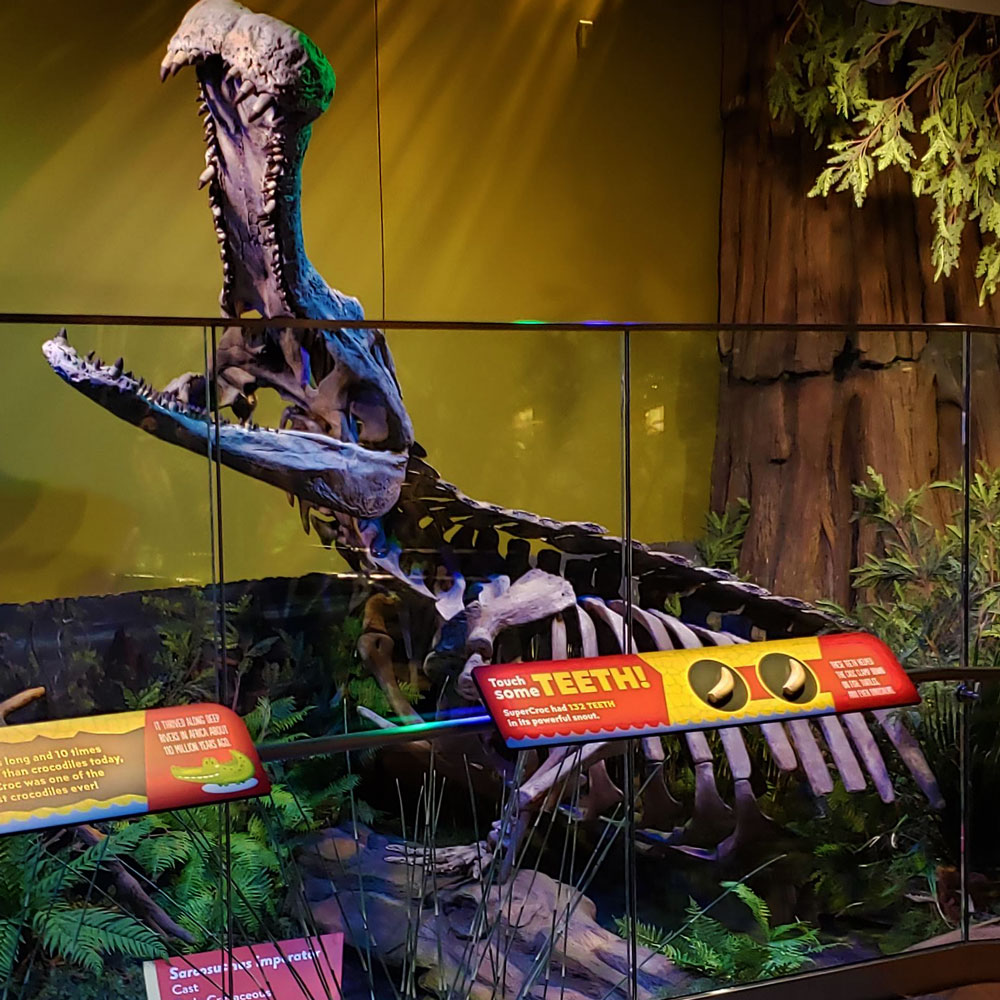 Watch out! SuperCroc looks hungry and might think you'd make a good midday snack.
If you visited just Creatures of the Cretaceous™, you might wonder what all of the fuss is about. And you'd definitely want to know why we closed our most-popular exhibit for an entire year. Fortunately, there's a whole lot more to the new Dinosphere® than the Creatures of the Cretaceous™ area.
What's new in the new Dinosphere®?
We're glad you asked. Let's take a look at the three new areas inside the new Dinosphere®.
Giants of the Jurassic™
Sauropods were some of the largest animals ever to roam the Earth. Led by The Children's Museum, a team of scientists dug them out of the ground. And now these enormous creatures call the new Dinosphere® home. Enter this immersive environment, marvel at the sauropods' size, and find out how they got so big!
Here's what you'll find in this entirely new part of Dinosphere®.
New entry to the exhibit
A new queuing area is full of information about Mission Jurassic—the multi-year expedition out West to unearth new specimens from a fossil-rich dig site in Wyoming called the Jurassic Mile™. As you walk through this newly-expanded area, take a peek out the new overlook and catch your first glimpse at the massive creatures that now call Dinosphere® home.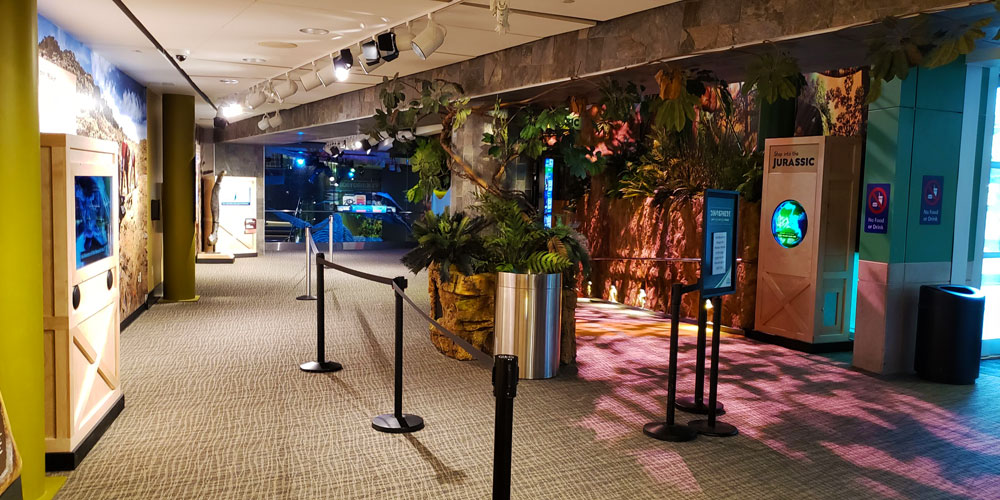 You used to enter Dinosphere® by walking down a ramp. The lights slowly dimmed, you could hear ancient sounds of nature all around you, and you were surrounded by prehistoric plants. By the time you reached the bottom of the ramp, it was clear you had entered their world.
Do you remember that?
If so, hold on to that image in your mind's eye. Then crank it up to 11. Because that's what the new ramp experience is like. Our design team took everything that was great about the original entry ramp and did the impossible—they made it even better.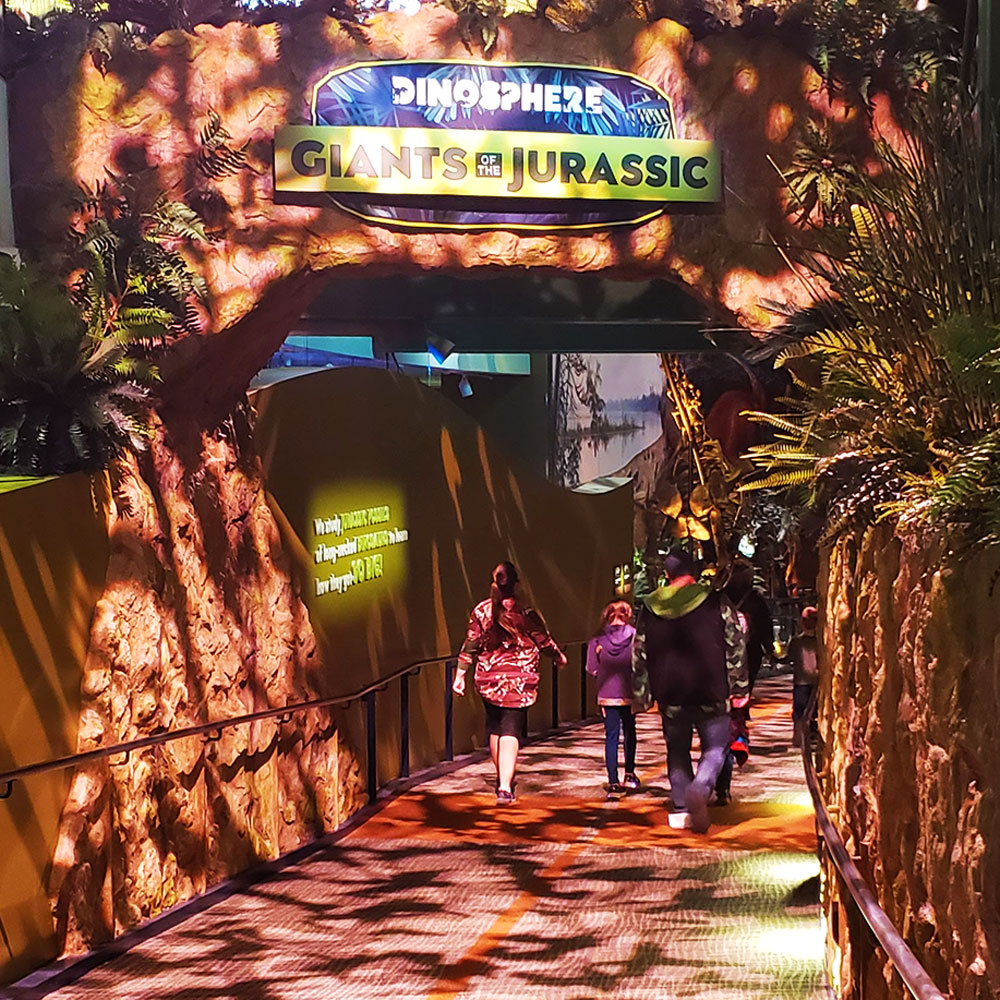 As you walk down the ramp, you're instantly transported 150 million years into the past. And then you suddenly find yourself standing in the shadow of two giant sauropods that our scientists dug up at the Jurassic Mile™.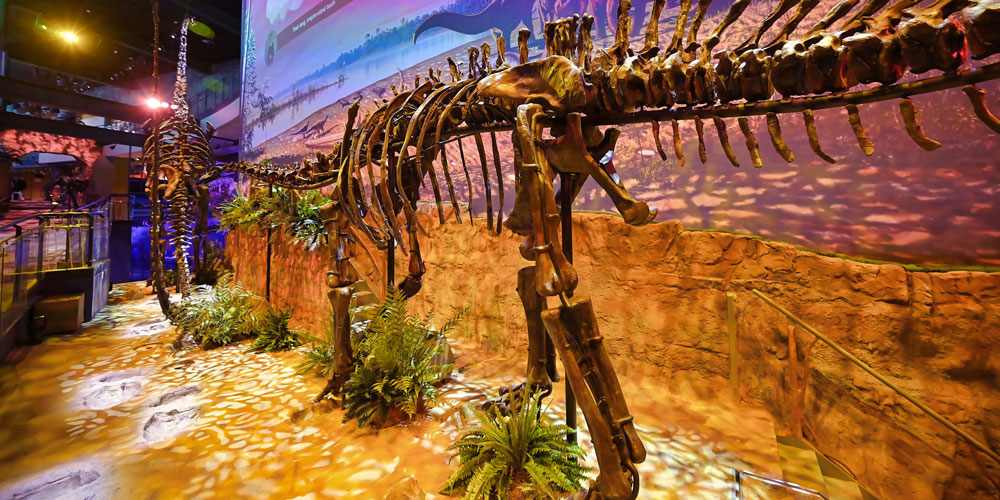 As you meet these new inhabitants of Dinosphere®, you'll also have the opportunity to experience a brand-new sound and light projection that helps you understand the sauropods' story a little better.
A beautiful new mural spans the length of the ramp was created by Julius Csotonyi. The mural contains 11 different Jurassic critters. Not all of them are dinosaurs! Try to find them all!
At the bottom of the ramp, you'll find some footprints that lead to more real fossils from the Jurassic Mile™, including a footprint from a two-legged, meat-eating dinosaur and Allosaurus teeth!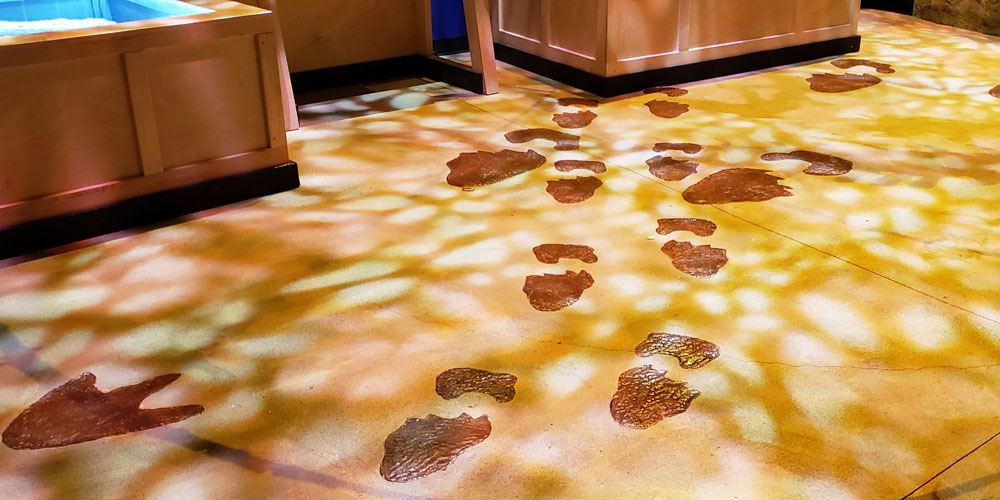 The rest of your Jurassic journey continues up on Level 2, with interactive experiences and touchable objects that will help bring the Jurassic Period to life. Here's what you'll find on Level 2:
Help a sauropod grow
In this digital interactive, your mission is to help a baby sauropod grow from a baby that hatched from an egg that's half the size of a soccer ball to a massive, full-sized adult. Keep an eye out for Allosaurus.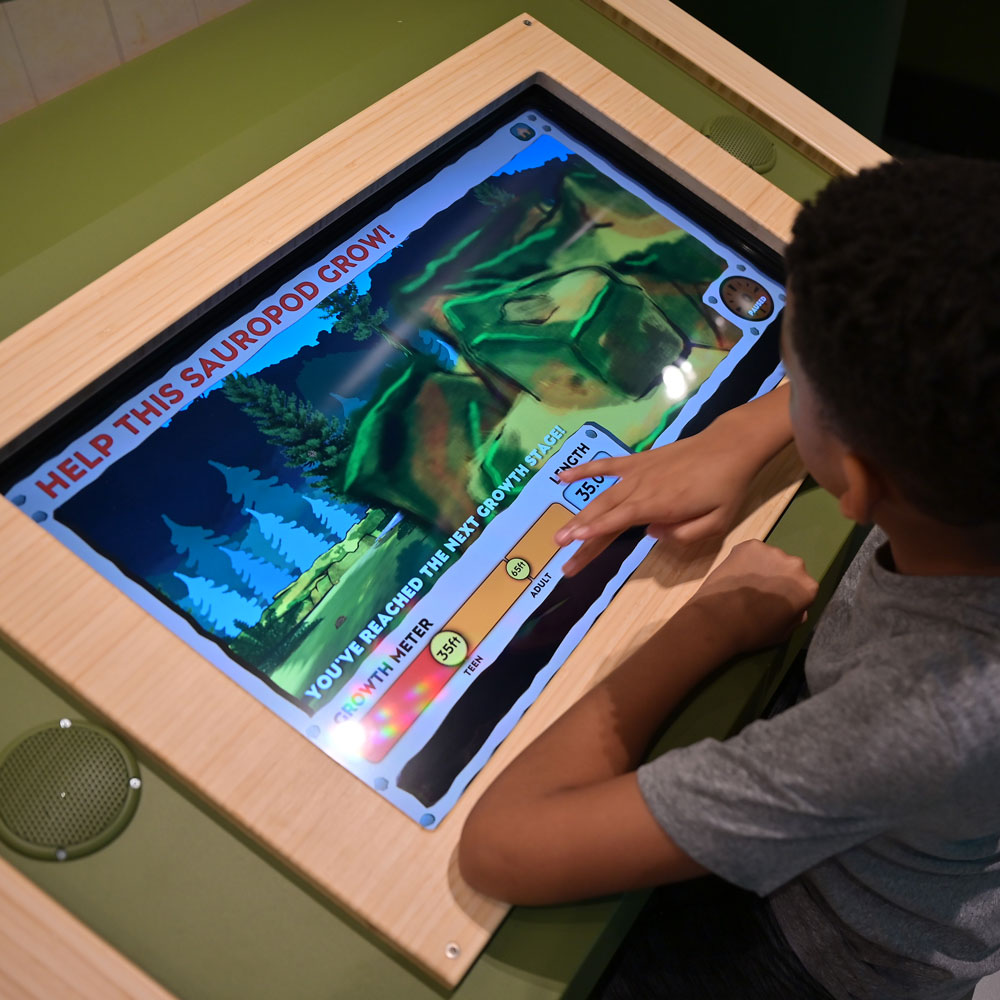 Dinosaur digestion
Learn about a sauropod's various stages of nutrition extraction. On this giant screen, you can follow a plant's journey into, through, and out of a sauropod's body.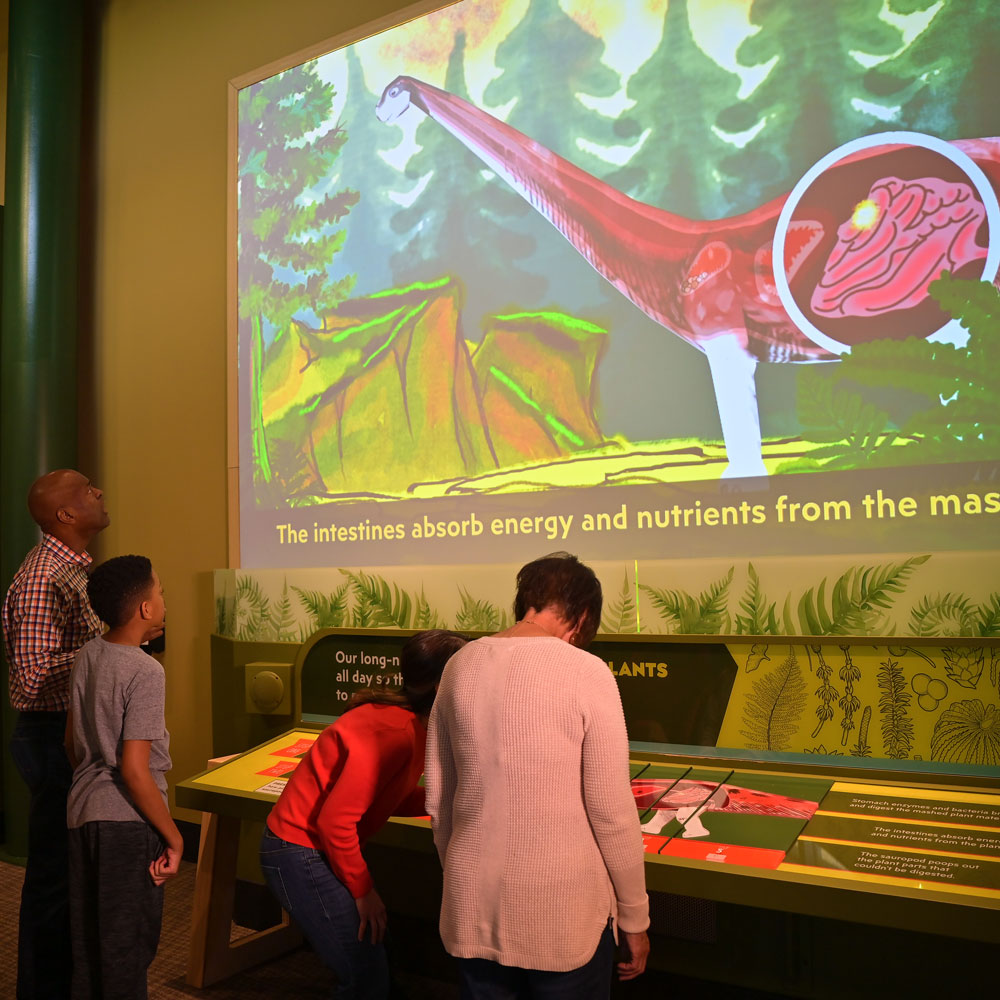 Balance a sauropod
See if you can put the sauropod puzzle pieces together so your dinosaur can balance on its own! This is a fun challenge for preschool-aged children!

The interactive displays in Giants of the Jurassic™ on Level 2 are also surrounded by various works of paleo art and touchable objects.
Pro tip: Before you leave Giants of the Jurassic™ on the Lower Level, be sure to snap a selfie with the sauropods. The one that's standing on all four legs is perfectly positioned for a dino photobomb.


Be sure to explore the new Monsters of the Mesozoic Seas™ before you head upstairs to the Dinosphere Art Lab and the rest of Giants of the Jurassic™ on Level 2!
Monsters of the Mesozoic Seas™
Take a deep dive and discover ancient aquatic life in this brand-new area of Dinosphere®. You'll feel like you're walking through a prehistoric aquarium as you explore Mesozoic Era marine life.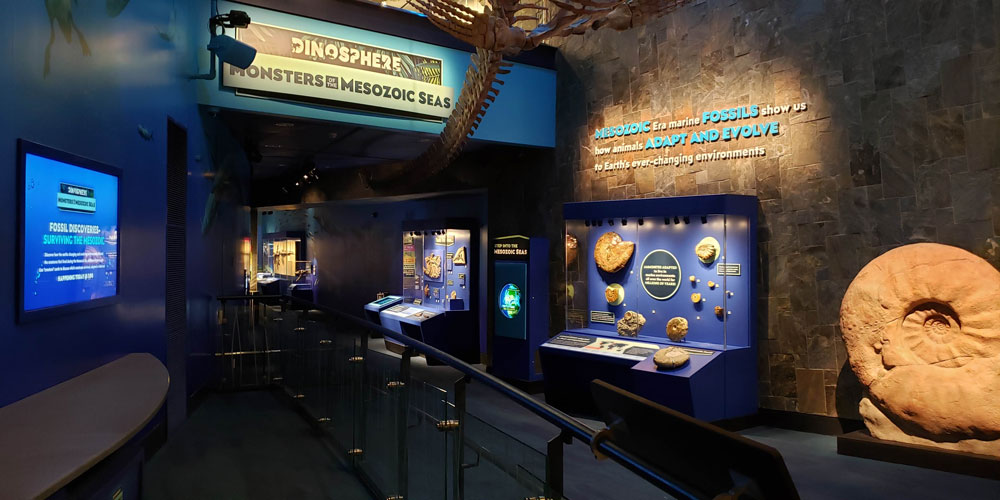 New fossils
From the largest turtle ever to swim the seas to a dolphin-like creature with huge eyes that was dug up by our paleontologists along the Jurassic Mile™ there's a treasure trove of aquatic animals on display. You can learn more about them on the Monsters of the Mesozoic Seas™ page.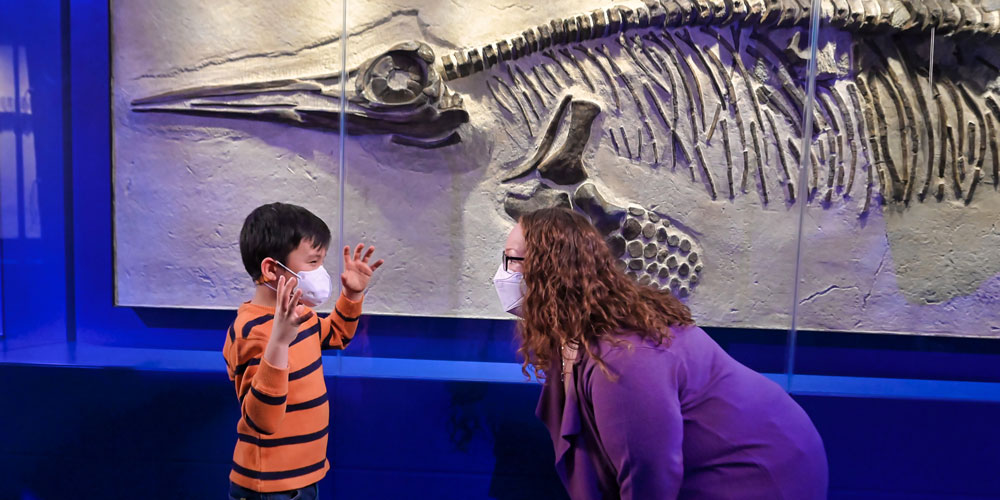 Create a sea creature
Build a new sea creature by choosing different body parts in a touchscreen activity and putting them together to create their own creature. Then place your animal in the ocean to see how it survives while searching for food and fighting off predators in various environments.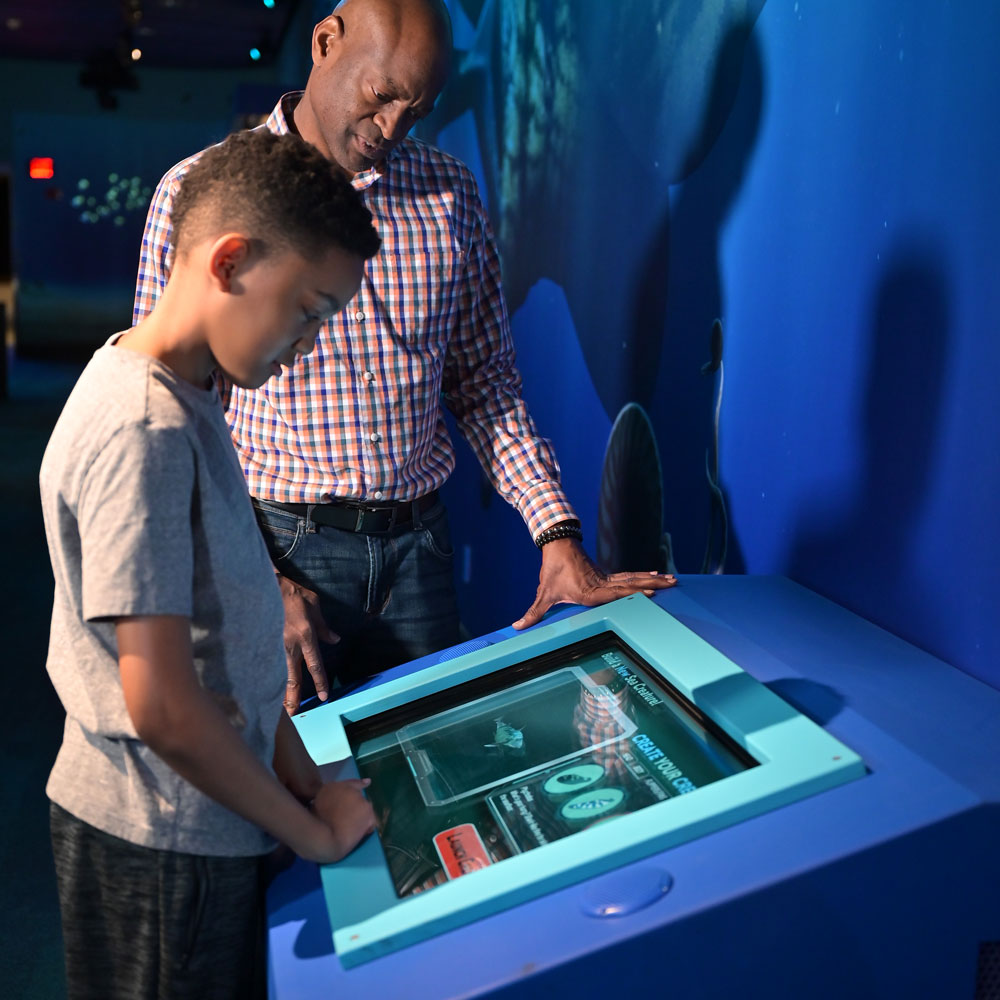 Digital fish wall
Say "hello" to a school of prehistoric fish as they swim through the ancient aquatic sea. Be careful, though. If you make too quick of a move, you might startle them.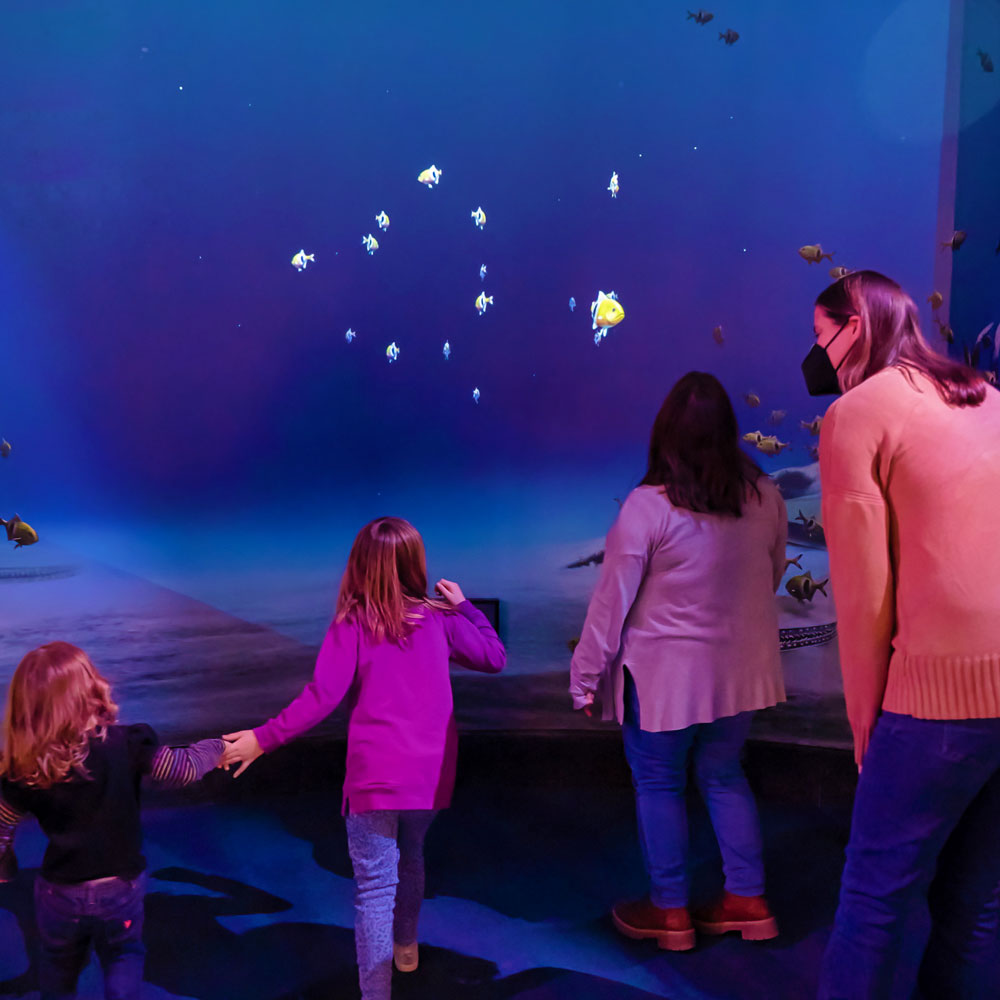 Play table
Play with miniature Mesozoic sea creatures in a diorama of the ancient body of water that was once part of the Jurassic Mile™—the Sundance Sea!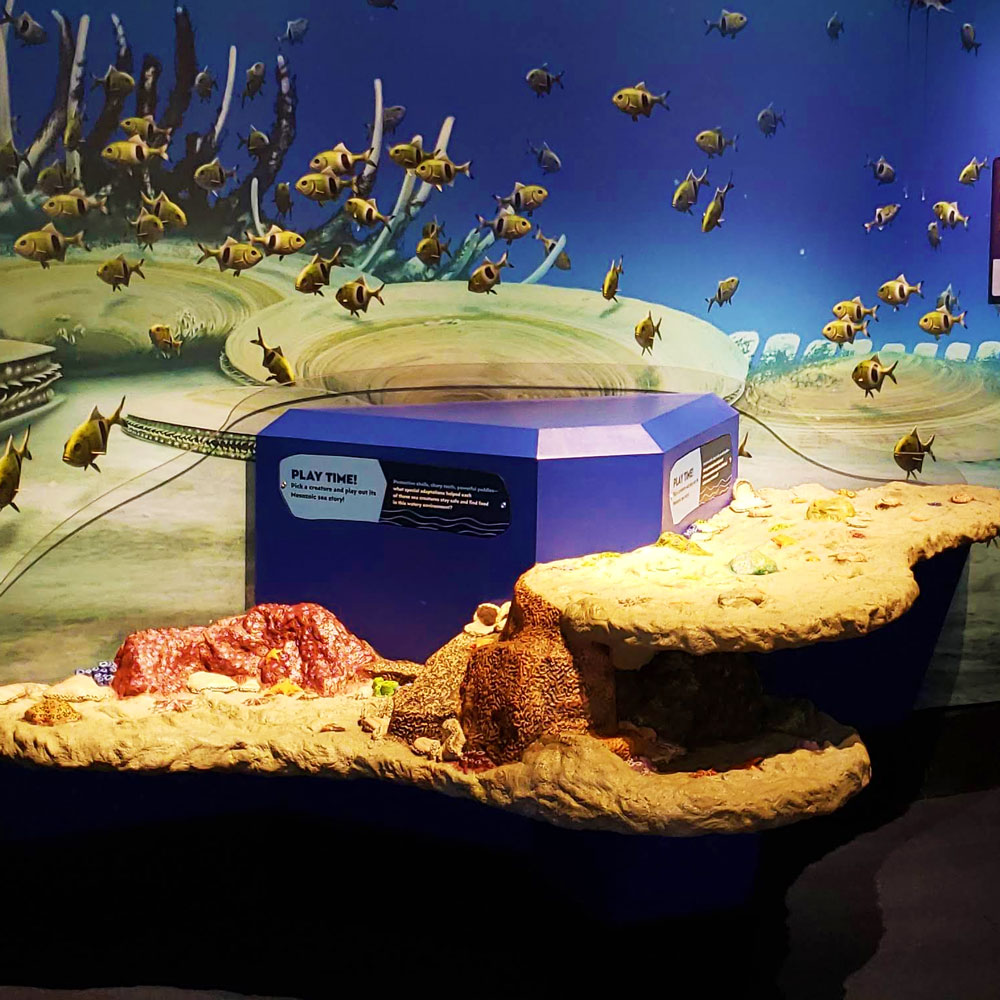 Pro tip: You can exit Dinosphere® through Monsters of the Mesozoic Seas™ if you want. That exit will take you to All Aboard! and other exhibits on the Lower Level. But we don't really recommend doing that because you'll miss out on the rest of Jurassic Giants™ and what might be the most memorable part of the Dinosphere® experience—the Dinosphere Art Lab.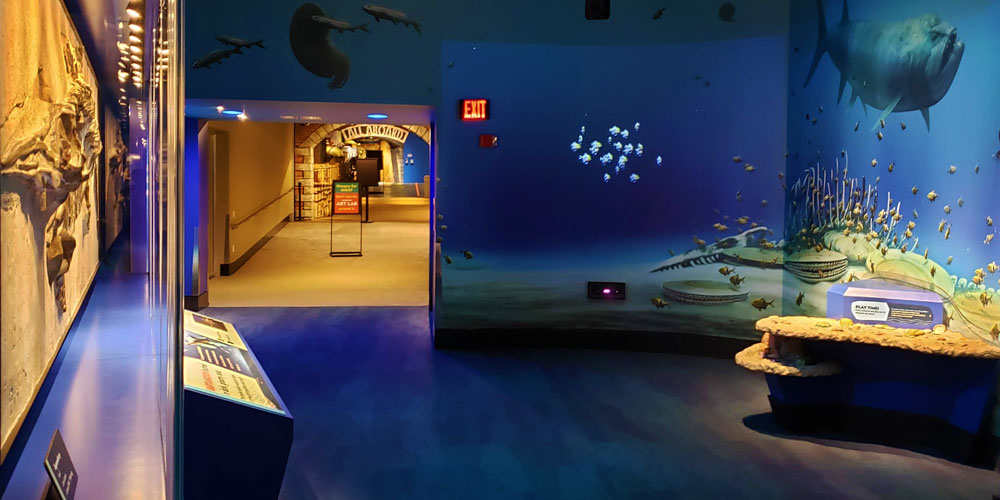 Dinosphere Art Lab
After you've explored Dinosphere®, allow all of your newly-learned scientific knowledge to spark your imagination. Put them both together and try your hand at creating paleo art! Just head upstairs to Level 2. You are welcome to climb the steps or take the elevator that's in the middle of Dinosphere®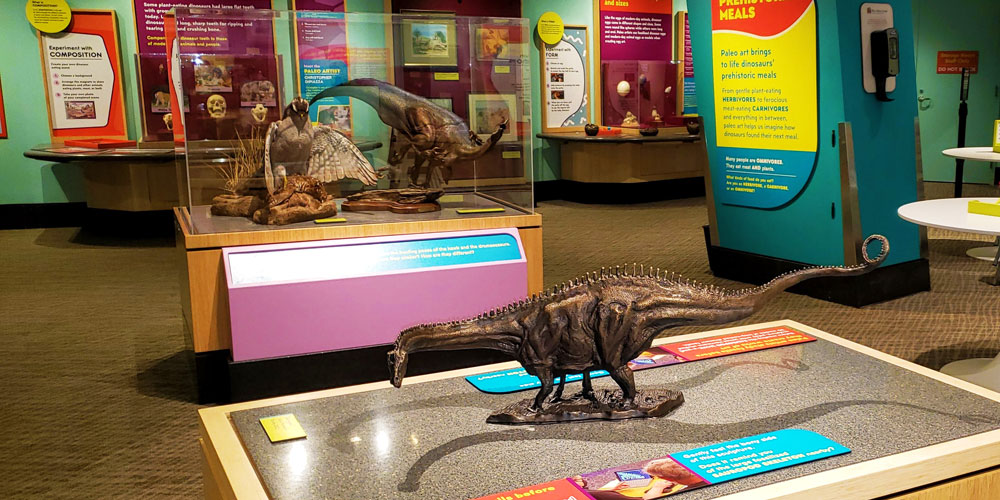 Commissioned works of paleo art—including sculptures, paintings, and comic books—from several different artists are on display to inspire you to bring dinosaurs to life with your own works of paleo art!
Design a dinosaur hatchling
This has quickly become a fan-favorite experience. Color your own dinosaur and scan your creation. Watch as your animated dino hatches from an egg and comes to life, joining other dinosaurs on a giant projection screen.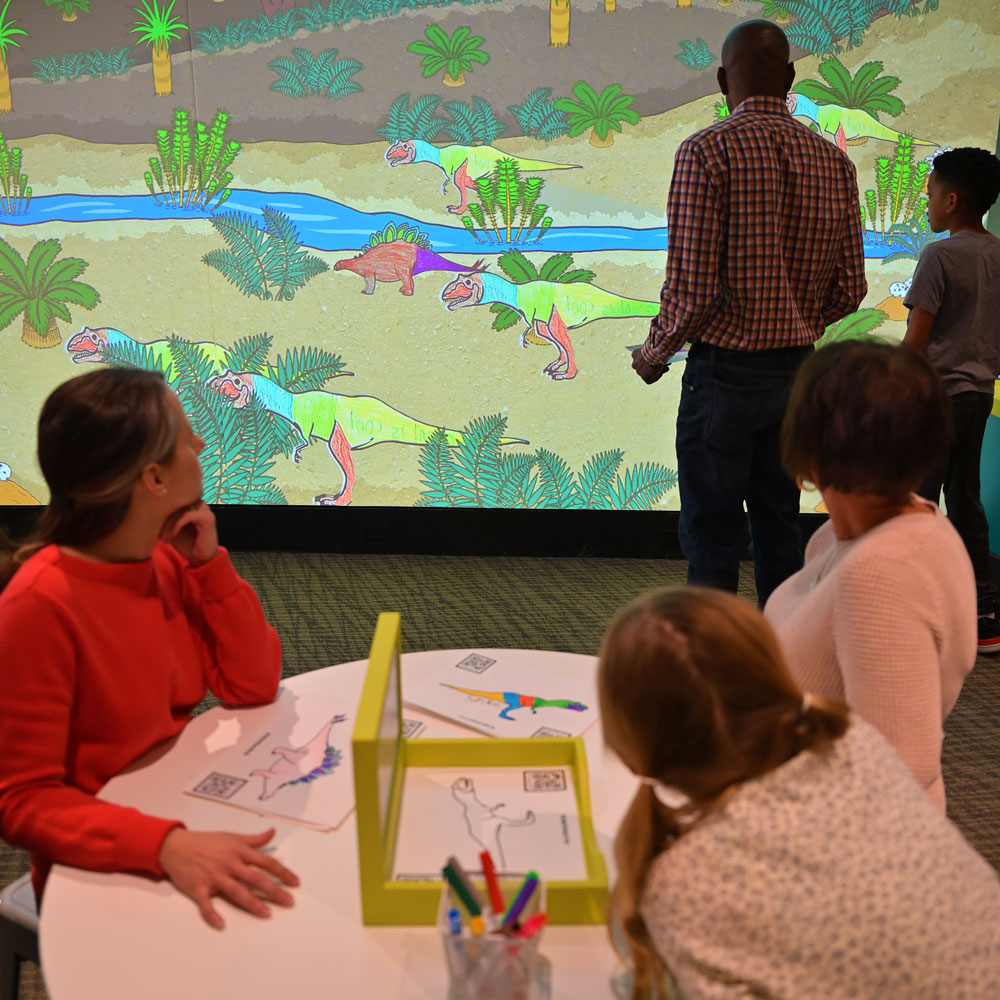 Make a dinosaur dinner scene
Choose a Cretaceous Period forest or river delta scene for your magnetic board and then add dinosaurs and their food, like plants and insects, and maybe even other dinosaurs.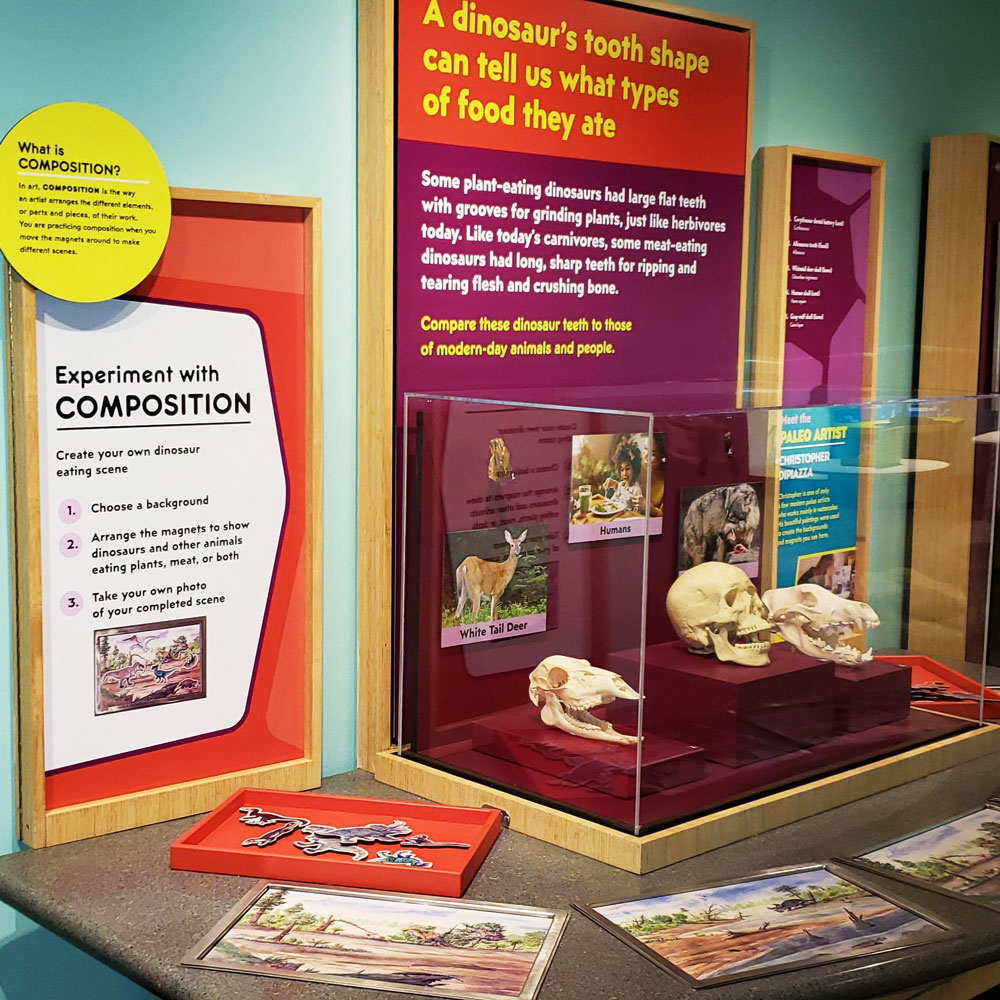 Create a dino egg
A bronze egg sculpture is missing its top. It's your job to complete the egg. Make sure it will protect the baby dinosaur inside! Use different tools to give the egg texture and give it your own creative touch.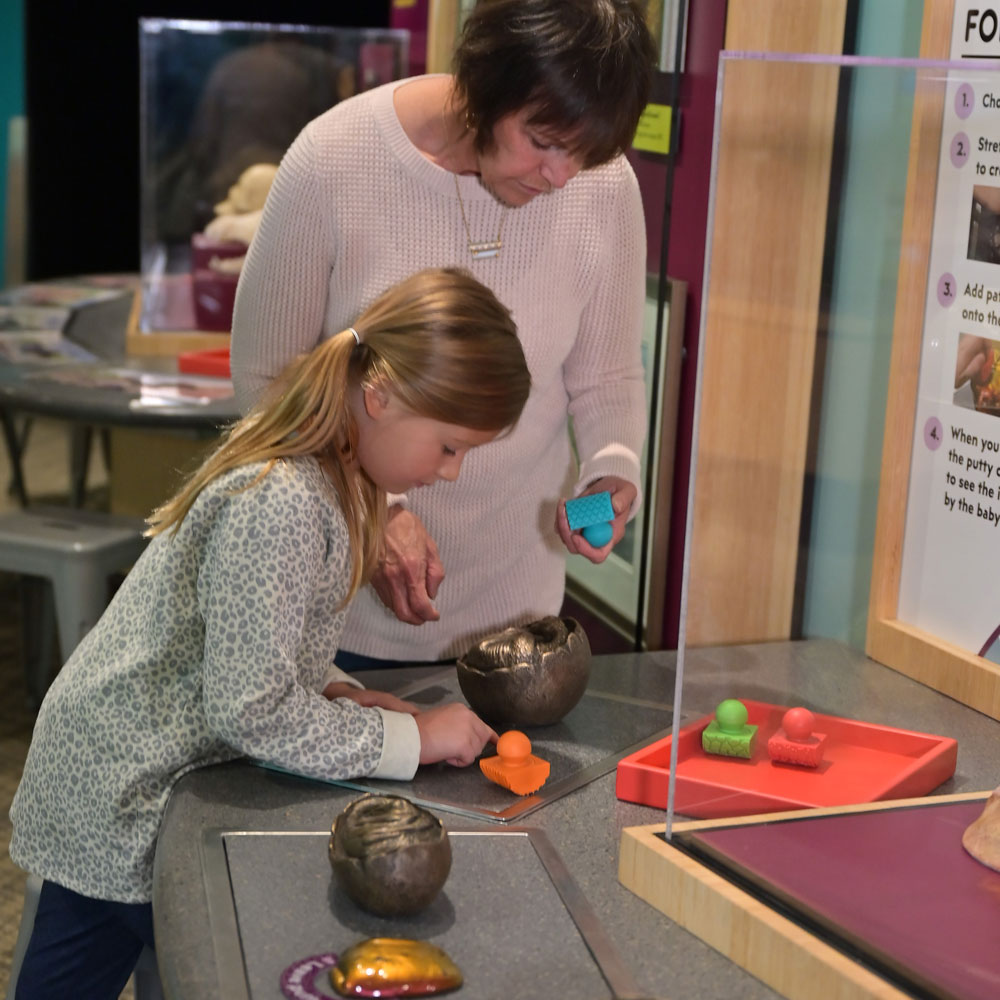 Copy a trackway
You saw the trackways in Giants of the Jurassic™. Create your own in the Dinosphere Art Lab by making a rubbing from different textured plates.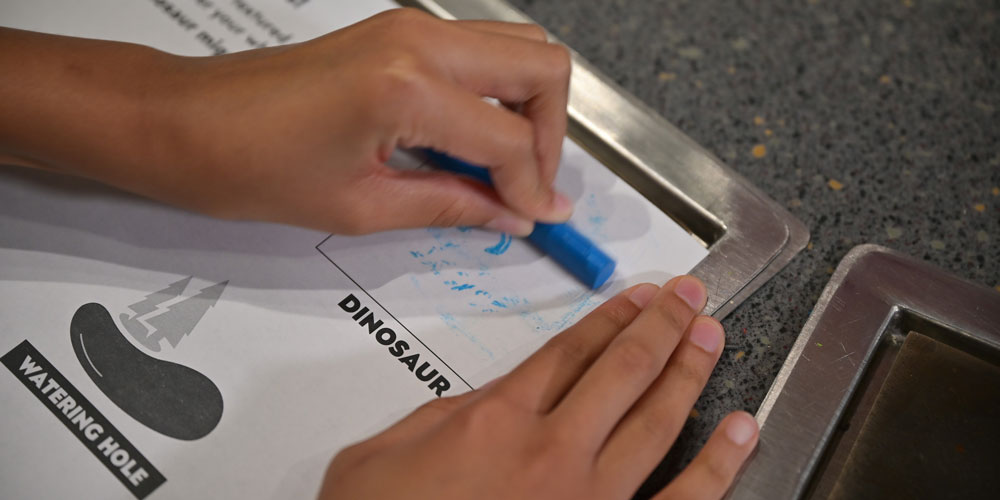 Animate a dinosaur
Spin a praxinoscope and watch as two different dinosaurs come to life.

Create a dinosaur comic strip
Make a comic book-style story of a day in the life of a dinosaur with the drawings of paleo artist Coco Fox as your guide.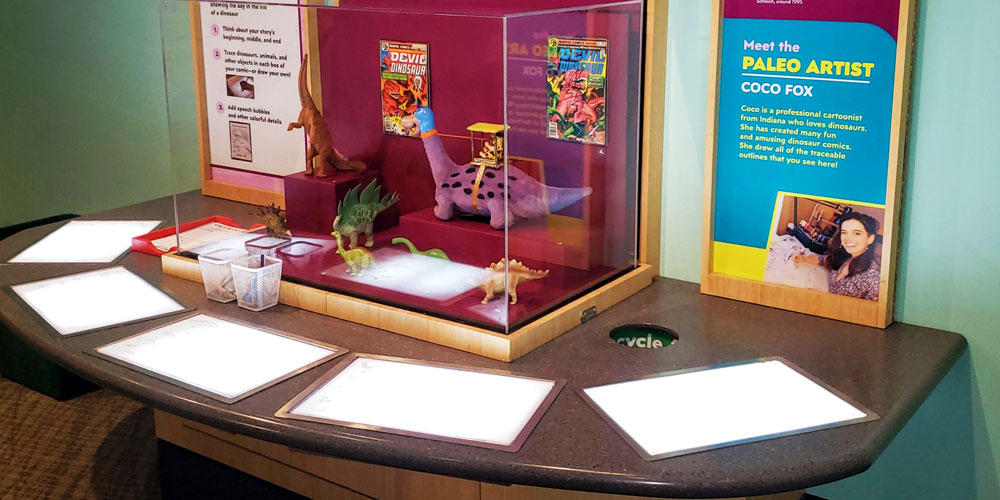 Pro tip: Share your paleo art masterpieces on your favorite social media platform. Don't forget to tag us with #atTCM.
There's a lot to explore in the new Dinosphere®!
Whether you're an old pro at the original Dinosphere®, or it's your first time entering their world, there's a lot to explore in the new DinosphereⓇ. So what are you waiting for? Get your tickets to The Children's Museum today!