Dinosaurs. Mystery. Important conversations.
It's safe to say that 2022 was full of the iconic moments that help make The Children's Museum such a remarkable place. As we set our sights on 2023, let's take a look back at some of the things that made this so memorable. In no particular order, here's five highlights from 2022.
1. We reopened Dinosphere®
After being closed for a year, Dinosphere®—the most-visited exhibit at The Children's Museum—finally reopened to the public. And it was well worth the wait!
Now, two gigantic sauropods—four-legged, long-necked, plant-eating giants—greet you as you walk down the remodeled entrance ramp and explore Giants of the Jurassic™. The dinosaurs you've come to know and love over the years, including Bucky the teenage Tyrannosaurus rex and Kelsey the Triceratops have returned in Creatures of the Cretaceous™. In the R.B. Annis Mission Jurassic Paleo Lab and the Polly H. Hix Paleo Prep Lab, you can talk to our scientists as they work on real fossils they brought back from the Jurassic Mile™ dig site in Wyoming. You can also dive deep into Monsters of the Mesozoic Seas™—a brand-new area full of ancient aquatic animal fossils that's just waiting for you to explore.
But that's not all!
We also added Dinosphere Art Lab—a space where you can pair your creativity with the scientific discoveries you've made and bring these dinosaurs to life!
A massive expansion like this required a massive celebration. And we pulled out all the stops to make sure all of central Indiana knew that something BIG was coming.
We hosted a giant dino egg hunt in downtown Indy.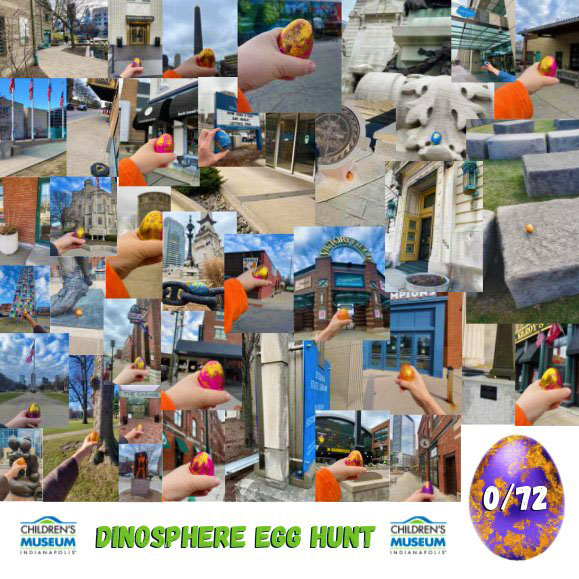 Dinos invaded Monument Circle, thanks to some magic from the folks at AES Indiana.

Even Mayor Hogsett got in the spirit, declaring March 12, 2022, as Dinosaur Day throughout the city of Indianapolis.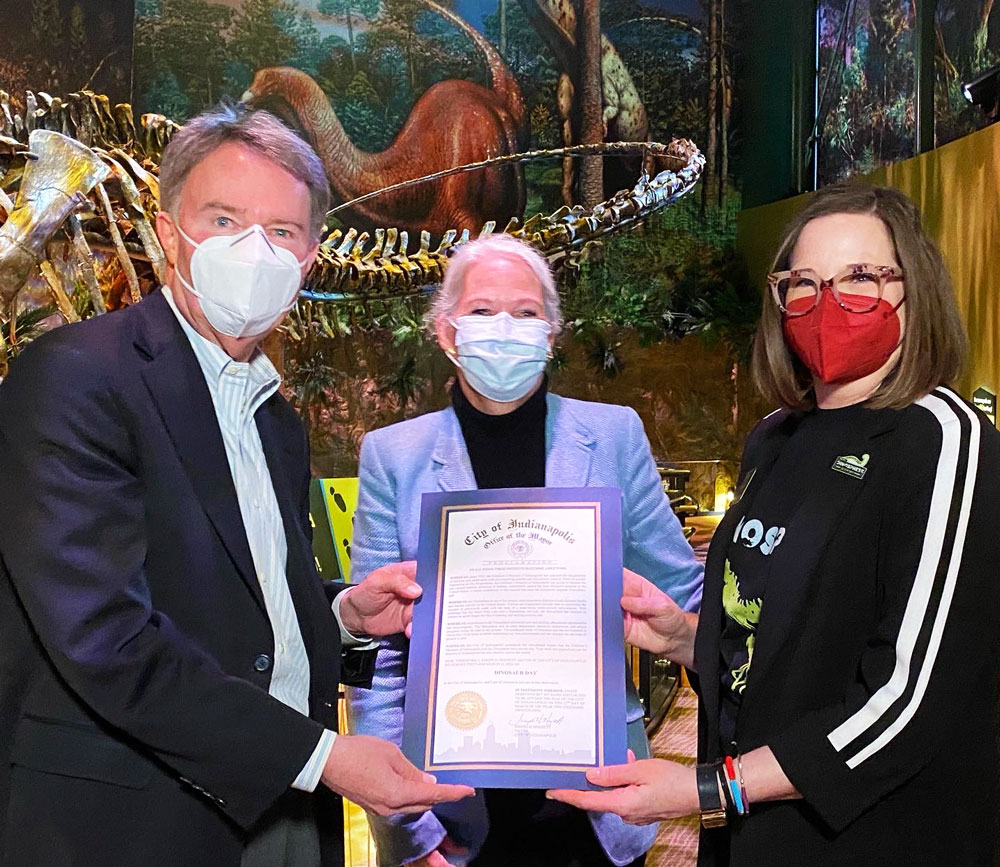 Of course, opening day was a big hit.

2. We helped tell Emmett Till and Mamie Till-Mobley's story
For three years, we partnered with the Emmett Till & Mamie Till-Mobley Institute, the Emmett Till Interpretive Center, and the Till family to create an exhibit that helps to ensure that the truth of Emmett's horrific story will not be forgotten. We worked directly with Emmett's family to ensure the exhibit shares his story in a respectful way that honors his memory.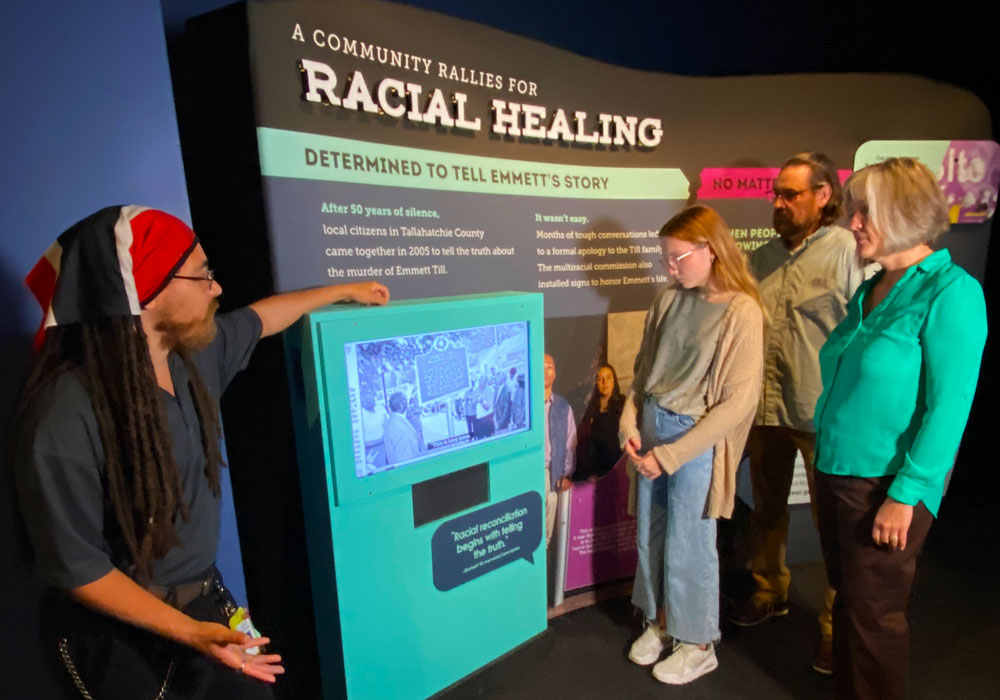 "I have always wanted Emmett's name to stand for healing, reconciliation, forgiveness, and hope."
—Mamie Till-Mobley
The Emmett Till and Mamie Till-Mobley: Let the World See exhibit opened at The Children's Museum in 2022. It was created to elevate this important story and provide an intentional and supportive space to have difficult conversations about truth, race, and justice.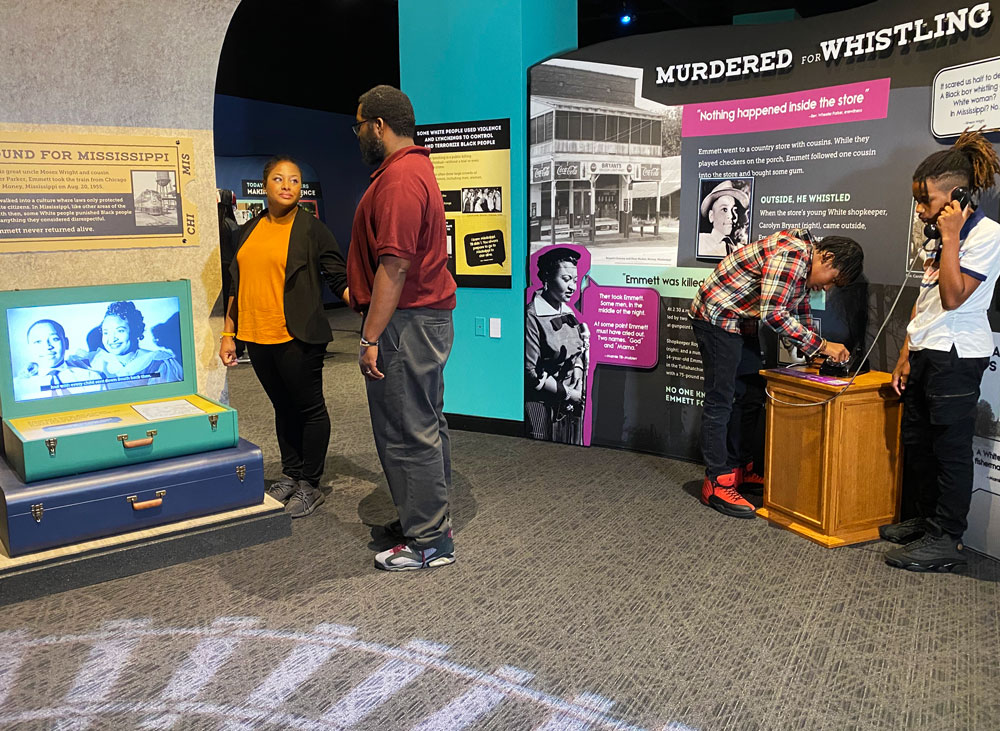 Emmett Till and Mamie Till-Mobley: Let the World See is currently on tour. It will ultimately arrive at its permanent home at the Emmett Till Interpretive Center in Sumner, Mississippi.
3. TikTok became our most-popular social media channel
For years, Facebook has ruled the museum's social media presence with the most followers. Not in 2022, though. That honor belongs to TikTok.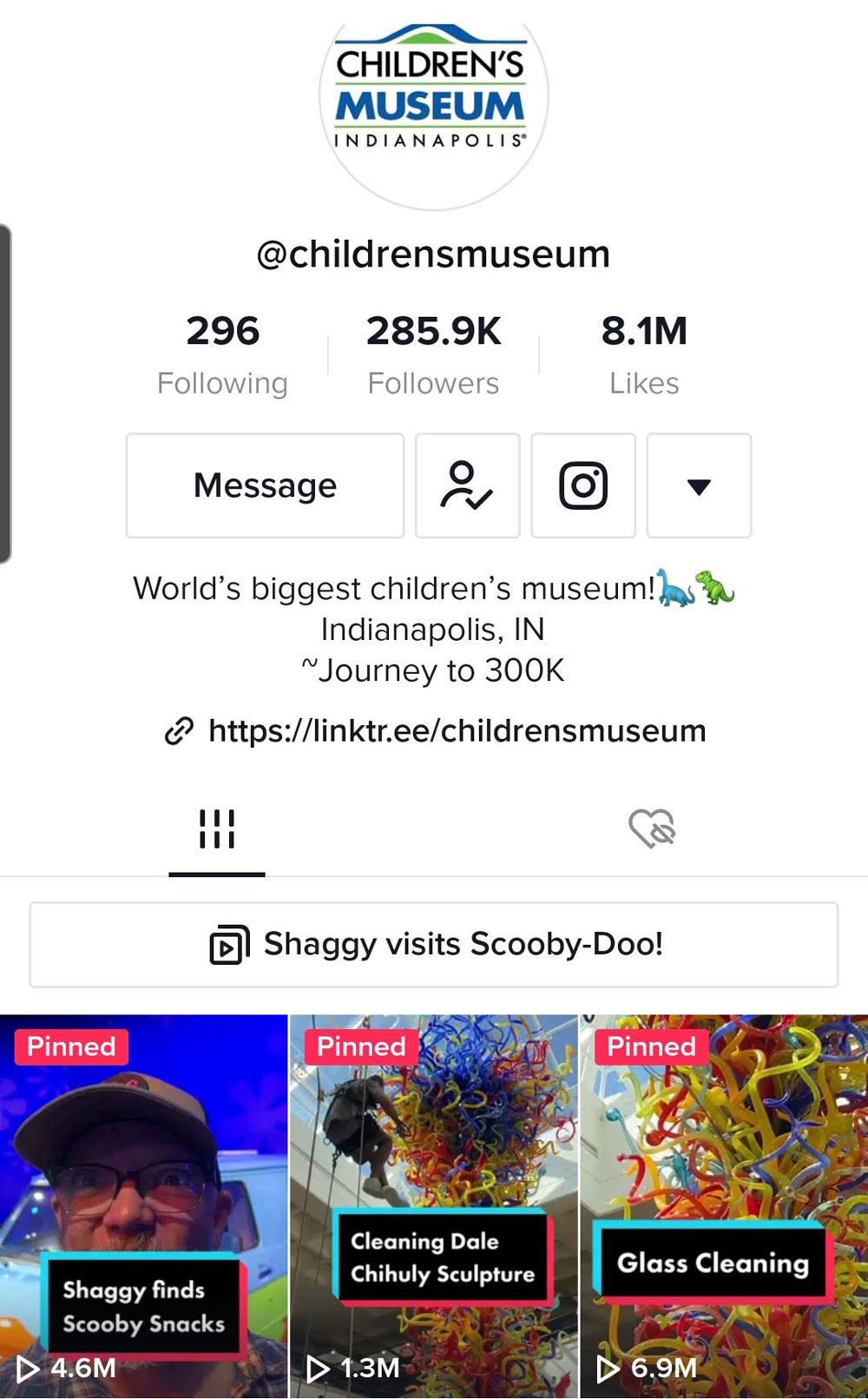 You should stop by and say hello!
4. We went on a feel-better adventure, then caught a jewel-thieving ghost, and played the coolest game in sports
Back in 2016, we created an exhibit based on Disney Junior's award-winning series, Doc McStuffins. After a few years of touring the country, it was time for the exhibit to make a house call at The Children's Museum. It was fun to welcome back this family-favorite exhibit.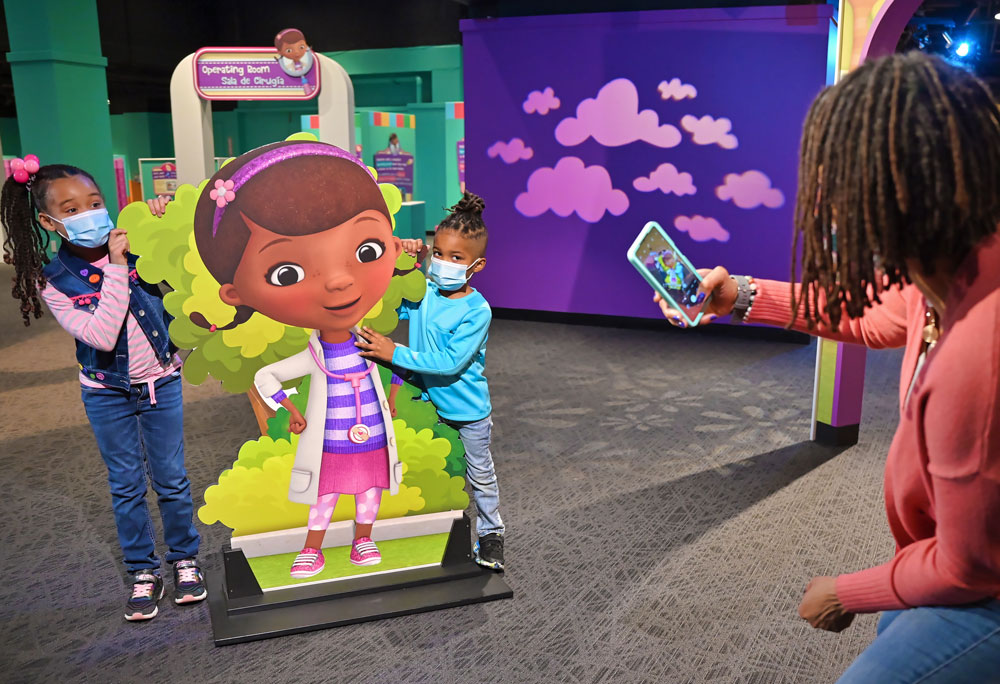 In Doc McStuffins: The Exhibit, children and their grown-ups experienced the magical storytelling of Doc McStuffins as young "doctors-in-training" as they visited the McStuffins Toy Hospital to perform check-ups and diagnose toy patients while learning about healthy habits, compassion, and nurturing care. It was a great feel-better adventure!
We also hosted a brand-new exhibit featuring SCOOBY-DOO™ and the rest of the members of Mystery Inc.. It looked like the gang had another mystery on their hands in Scooby-Doo!™ Mansion Mayhem —and they needed your help solving the case of the jewel-thieving ghost.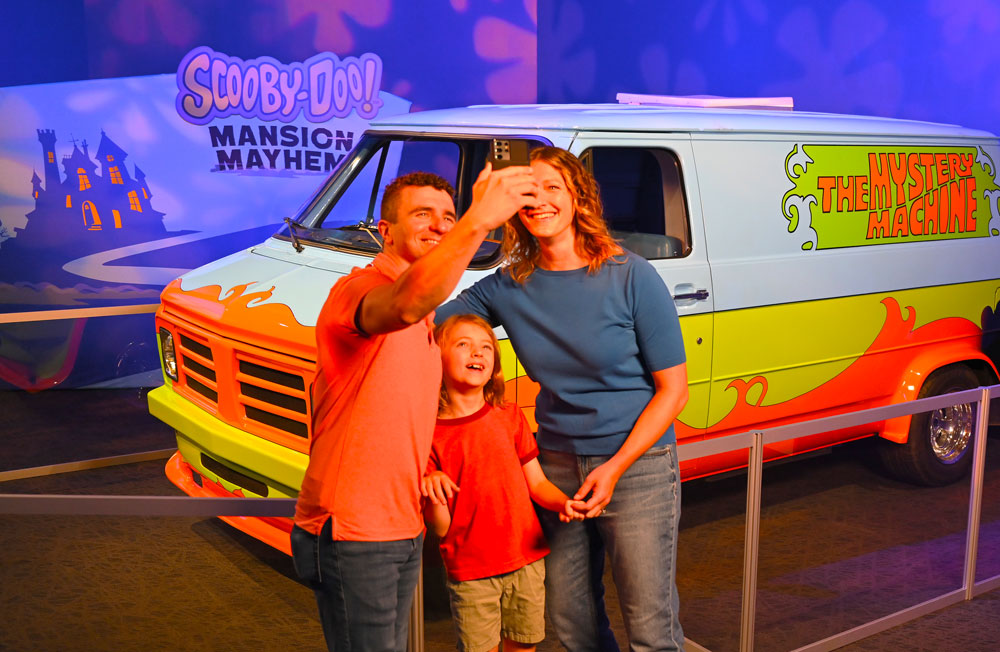 Everyone loved this exhibit—especially one visitor named Matthew.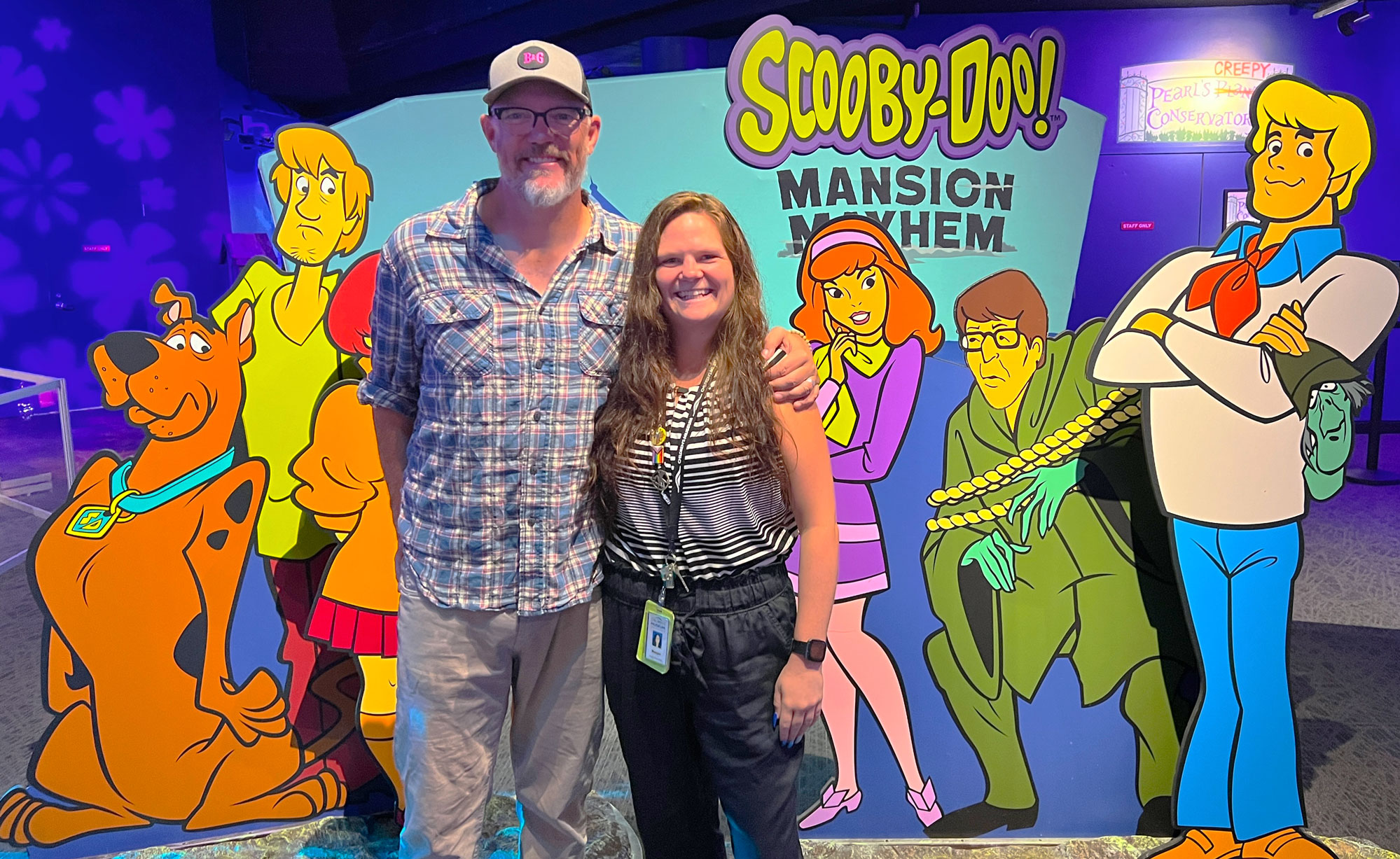 That's right. Matthew Lillard, also known as Shaggy from the Scooby-Doo movies, made a surprise visit.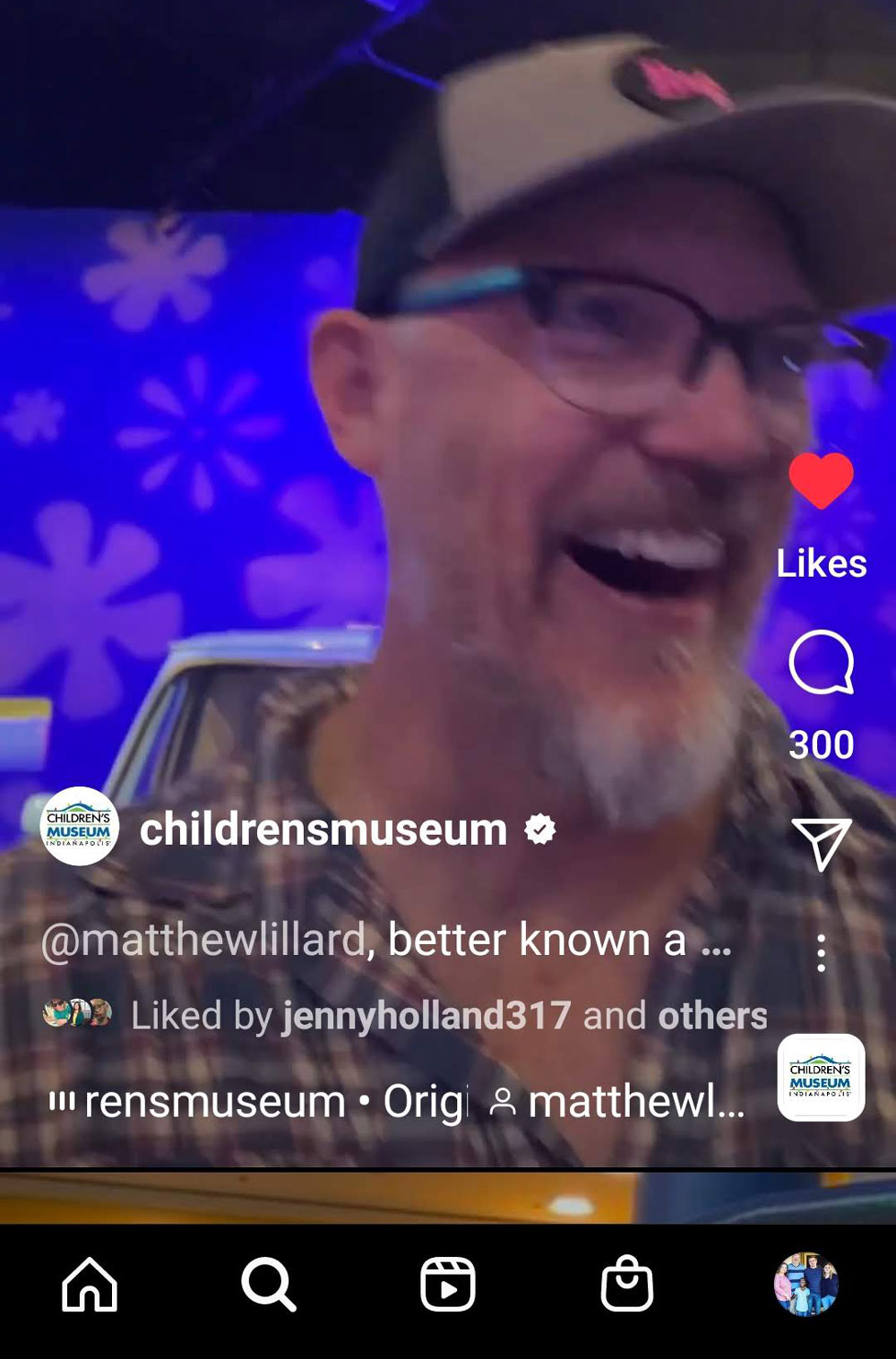 "Zoinks!"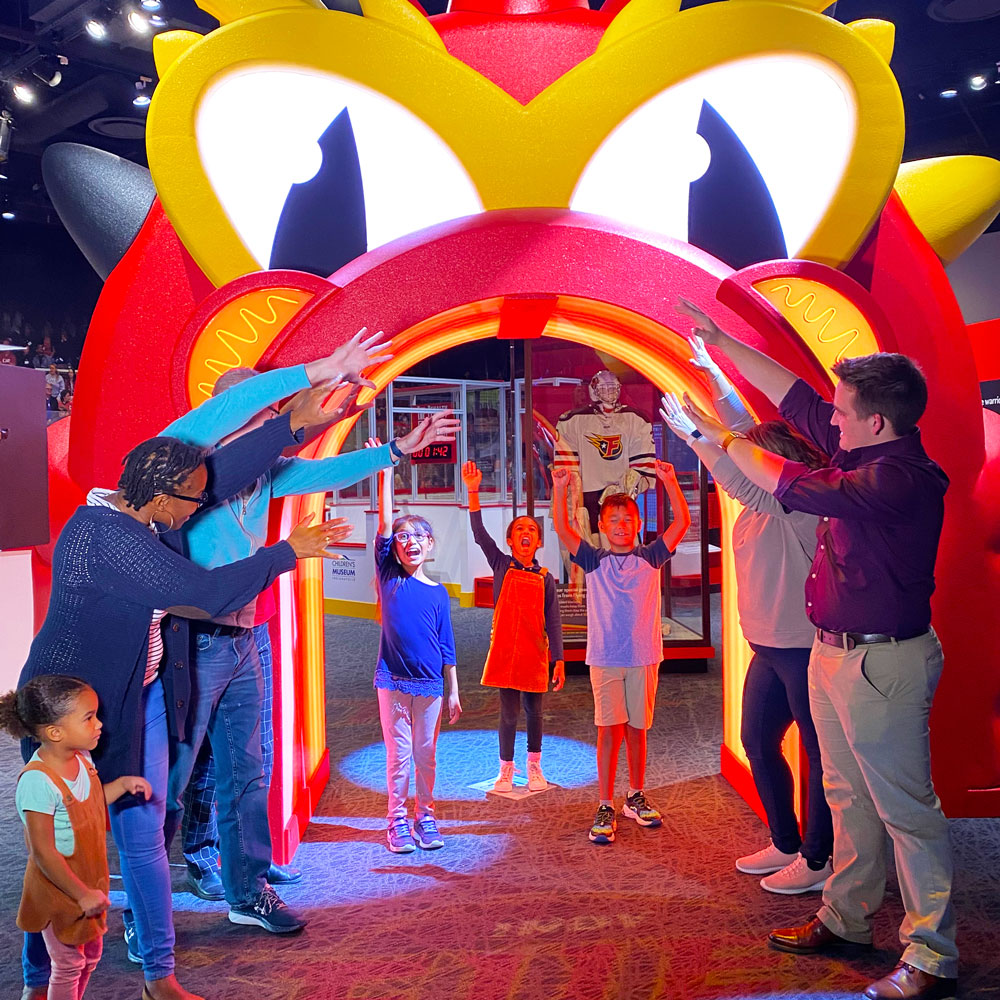 We also partnered with the Indy Fuel to create Power Play, a one-of-a-kind immersive hockey experience in a way that only The Children's Museum can—open through 2023. The world of hockey comes to life as you discover why fans are so passionate about the coolest game in sports.
5. Goodbye, Jolly Days. Hello, WinterFaire
After more than 25 years, we said one final goodbye to Jolly Days as it returned for one final season. Families skated in their socks, explored the Ice Castle, and hung out with the Jolly Days characters one last time before the exhibit closed. The Yule Slide also made its triumphant return after a brief pandemic-related hiatus.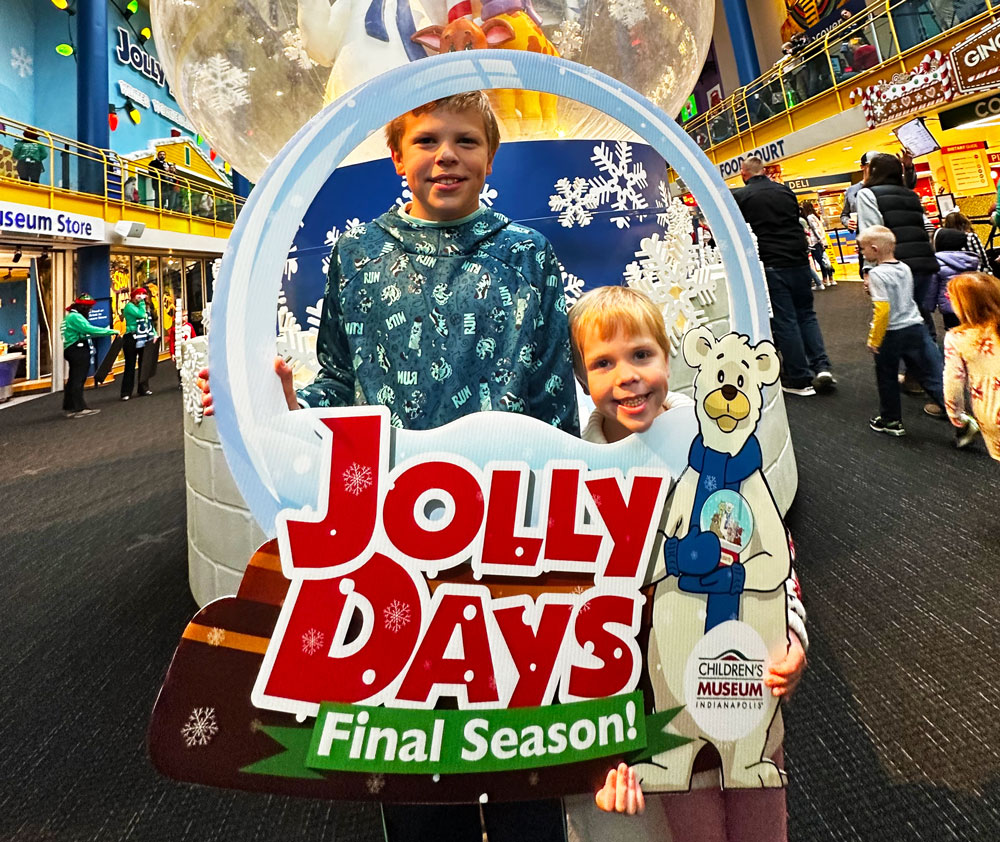 It might be a little sad to say goodbye to such a time-honored family-favorite, but we can't wait for you to experience WinterFaire—the new winter-themed experience that opens in 2023. A whimsical cast of animal characters invite you into their enchanted winter forest home for an adventure. Get swept up in their wondrous world with carnival games and an ice cave. Of course, we'll also have a giant slide with a winter twist.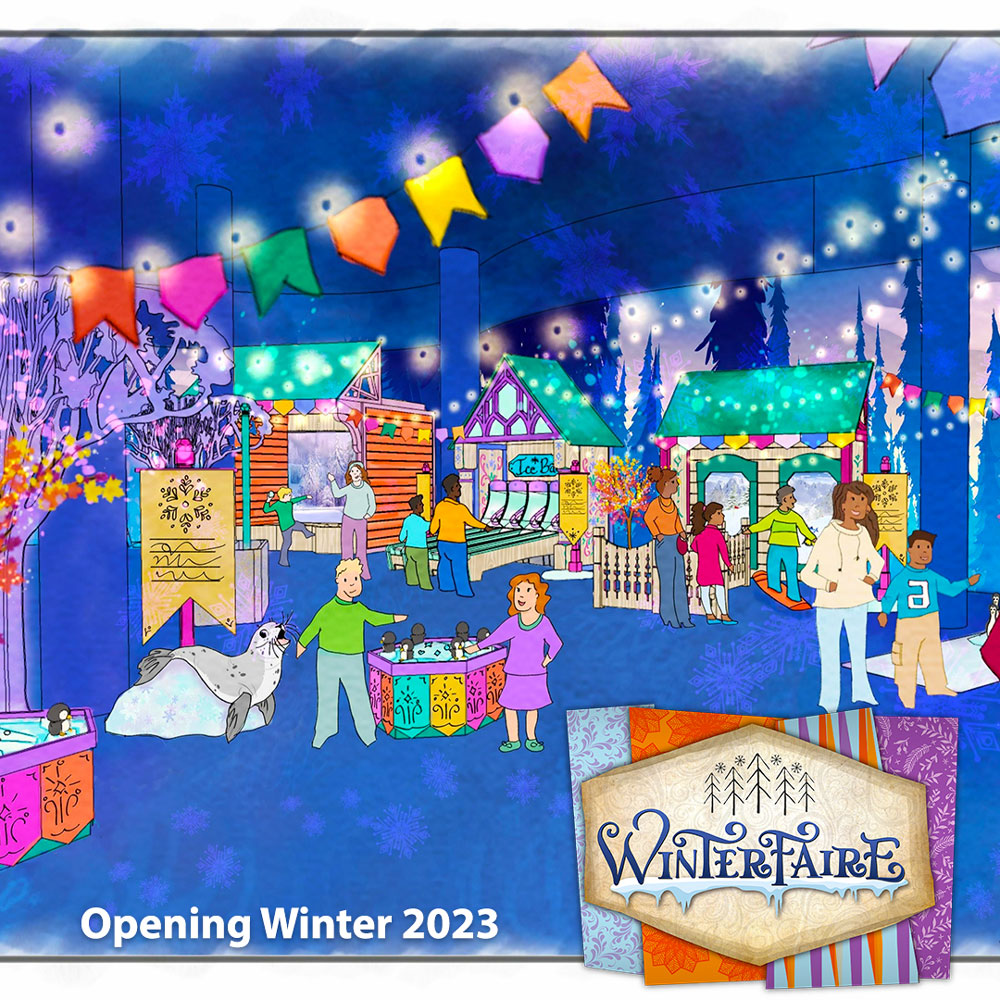 In addition to WinterFaire, Dinosaur Train: The Traveling Exhibit, Minecraft: The Exhibition, and Sacred Places complete our 2023 new exhibit lineup.
The outdoor areas of the Riley Children's Health Sports Legends Experience® will reopen March 18, 2023. Your family can keep score in smiles in our outdoor sports wonderland as you make lasting memories with your "home team"—your family and closest friends—in a no-fear, just fun atmosphere. Because when the goal is fun, everyone wins!
A year full of special memories
Yeah, a lot happened over the past year. And these highlights just scratch the surface. Our Visiting Artists, Beatriz Vasquez and Ashley Nora, hosted amazing workshops for our visitors. Our Sports Legends coaches provided a memorable and unique family experience at the Indianapolis Motor Speedway during both Indy 500 qualification weekend and The Brickyard weekend. We joined our friends at Heartland Film and hosted a members-only screening of our Miission Jurassic documentary and Jurassic World Dominion, followed by a Q & A session with our paleontologists. We returned to the Jurassic Mile® dig site in Wyoming and brought back even fossils to our paleo labs. And our interpretation team knocked it out of the park all year long, elevating the visitor experience and making The Children's Museum such a magical place.
What a great year! And next year's going to be just as remarkable. There's lots to do and see in 2023!
You can't cram all of this into one day. That's why a museum membership is such a valuable resource. When you become a member, you receive a year of unlimited visits to the museum—including special events like SpeedFest, live productions in Lilly Theater, and a calendar full of daily programs—early access to new exhibits, and special members-only discounts to The Museum Store, paid programs, and local sports and entertainment.
What are you waiting for? Become a member today!
---
Dinosphere® is made possible through lead gift support from Lilly Endowment Inc., The Scott A. Jones Foundation, Eli Lilly and Company Foundation, The Enid Goodrich Educational Initiatives Fund of The Children's Museum, Polly H. Hix, Yvonne H. Shaheen, The Elliott Sogard Family, and Bob and Carol Reynolds, with major support provided by The R.B. Annis Educational Foundation, Bowen Engineering Corporation, The Dan and Rhonda Hall Family, and Seymour and Rheta Holt.
Emmett Till & Mamie Till-Mobley: Let the World See was made possible in part by The National Endowment for the Humanities: Democracy demands wisdom, the Maddox Foundation in Hernando, MS, The Institute for Museum and Library Services [MH-249226-OMS-21], and The Historic Preservation Fund administered by the National Park Service, Department of the Interior [15.904].
Doc McStuffins © Disney
SCOOBY-DOO and all related characters and elements © & ™ Hanna-Barbera. (s22)
Dinosaur Train: The Traveling Exhibit was created by The Magic House in collaboration with The Jim Henson Company. © 2022 The Jim Henson Company. Jim Henson's mark & logo, Dinosaur Train mark & logo, characters and elements are trademarks of The Jim Henson Company. All Rights Reserved.
Minecraft: The Exhibition is organized by the Museum of Pop Culture in partnership with Mojang.
Sacred Places is made possible by Lilly Endowment Inc.
The Riley Children's Health Sports Legends Experience® is made possible through lead gift support from The Enid Goodrich Educational Initiatives Fund; Riley Children's at Indiana University Health; The Herbert Simon Family Foundation/Pacers Foundation/The Herbert and Bui Simon Foundation; Old National Bank; Lilly Endowment Inc.; Efroymson Family Fund; Henry and Christine Camferdam; The Children's Museum Guild; Elizabeth Bracken Wiese and J. Frederic Wiese Jr.; Indianapolis Colts; NCAA; Ice Miller LLP; Dr. and Mrs. George Rapp, Dr. and Mrs. John Rapp, and Mr. James and Dr. Patricia Rapp.
Supported by the Arts Council of Indianapolis and the Christel DeHaan Family Foundation. Activities are made possible in part by the Indiana Arts Commission, a state agency, and the National Endowment for the Arts, a federal agency.