FOR IMMEDIATE RELEASE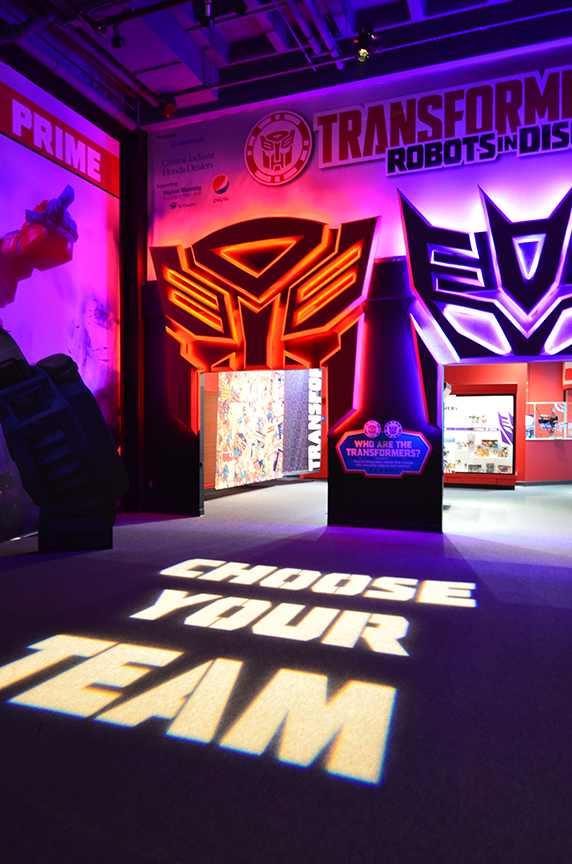 Inspiring the imagination of kids and adults for generations The Children's Museum of Indianapolis celebrates 30 years of these heroic robots in TRANSFORMERS: ROBOTS IN DISGUISE, opening March 7, 2015.

"Are you an AUTOBOT or a DECEPTICON?" will be asked of visitors entering this unique intergenerational exhibit through giant TRANSFORMERS masks. Inside, children and families will recognize all their favorite characters — from the evil DECEPTICON leader MEGATRON and his archrival, the wise OPTIMUS PRIME and the AUTOBOT army, to BUMBLEBEE and STARSCREAM. The exhibit will span the universe of the TRANSFORMERS brand, from Generation 1, which debuted in 1984, to the characters from Hasbro's newest animated series TRANSFORMERS ROBOTS IN DISGUISE – giving every member of the family a chance to share favorite memories.

"TRANSFORMERS prove that ordinary things can become extraordinary with an active imagination and great engineering," said Dr. Jeffrey H. Patchen, president and CEO, The Children's Museum of Indianapolis. "Just when you thought you were looking at a cool Camaro, you realize that underneath the shell is a giant AUTOBOT with a taste for adventure named BUMBLEBEE. We want families to explore how there really is more to the world than meets the eye and as they learn that together, they will share the joy of puzzle solving and discovery."

It's a jet, a car, a dinosaur! It's a TRANSFORMERS Character!
Since the 1980s, the TRANSFORMERS brand has fascinated children and parents alike with heroic AUTOBOTS and villainous DECEPTICONS. Visitors will be immersed deep inside the universe of the TRANSFORMERS brand viewing rare and collectable toys, comics, memorabilia, film props and more!

Prepare to be transported to the future as the exhibit also features the all new animated series, TRANSFORMERS: ROBOTS IN DISGUISE, set to debut on the Cartoon Network at 6pm EST on March 14th. Visitors will discover all new characters and a fun action-packed storyline in which BUMBLEBEE must return to Earth and lead a rag tag team of AUTOBOTS who must capture a group of DECEPTICONS on the loose.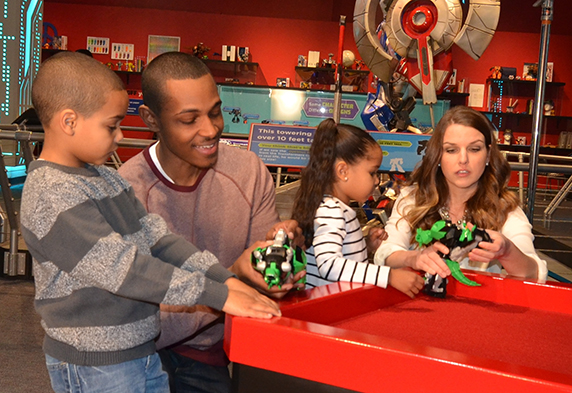 "We're very excited to bring the TRANSFORMERS brand to life by showcasing the creativity and innovation behind a brand that's been in families' homes for more than three decades," says Tom Warner, Senior Vice President Transformers Franchise Lead, Hasbro, Inc. "Bringing together fans of all generations, this exhibit celebrates how the franchise has evolved in both engineering and design, and in entertainment over the past 30 years. It's an exhibit you won't want to miss!"

Visitors will be amazed by the breadth and depth of this museum exhibit about the universe of the TRANSFORMERS brand, which will feature:
A scale replica of an OPTIMUS PRIME character
A talking 2015 BUMBLEBEE Camaro
Various movie props
Extensive displays of TRANSFORMERS toys
"Become BUMBLEBEE" digital interactive
A large TRANSFORMERS Beast Wars battle scene diorama
Limited engagement display of Transformers: Age of Extinction OPTIMUS PRIME semi-truck
Transformers Rescue Bots preschool play tables

Design studio delights with hands-on experiences as families role play together.
What are the secrets to creating something that can move and contort itself into an entirely different being? Enter the Design Studio within the TRANSFORMERS exhibit and visitors will discover the artistic design and engineering that goes into crafting these beloved characters. They'll explore how the TRANSFORMERS robots twist and change, and be inspired to use their own imaginations to design, prototype, sculpt and hand-paint their own TRANSFORMERS characters for more exciting stories!

Central Indiana Honda Dealers are the presenting sponsors with support from Pepsi and Peyton Manning Children's Hospital at St. Vincent.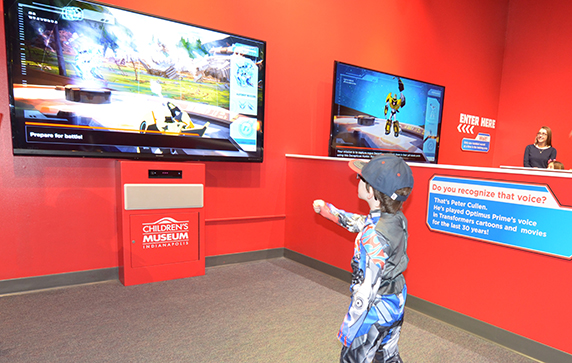 About The Children's Museum of Indianapolis.
The Children's Museum of Indianapolis is a nonprofit institution committed to creating extraordinary learning experiences across the arts, sciences, and humanities that have the power to transform the lives of children and families. For more information about The Children's Museum, visit www.childrensmuseum.org, follow us on Twitter @TCMIndy, Facebook.com/childrensmuseum and YouTube.com/IndyTCM.

About Hasbro
Hasbro (NASDAQ: HAS) is a global company committed to Creating the World's Best Play Experiences, by leveraging its beloved brands, including LITTLEST PET SHOP, MAGIC: THE GATHERING, MONOPOLY, MY LITTLE PONY, NERF, PLAY-DOH, TRANSFORMERS, and premier partner brands. From toys and games, television programming, motion pictures, digital gaming and a comprehensive lifestyle licensing program, Hasbro fulfills the fundamental need for play and connection for children and families around the world. The Company's Hasbro Studios creates entertainment brand-driven storytelling across mediums, including television, film and more. Through the company's commitment to corporate social responsibility, including philanthropy, Hasbro is helping to build a safe and sustainable world and to positively impact the lives of millions of children and families every year. Learn more at www.hasbro.com and follow us on Twitter (@Hasbro & @HasbroNews).

TRANSFORMERS, all related characters and ROBOTS IN DISGUISE are trademarks of Hasbro and are used with permission. ®2015 Hasbro. All rights reserved. Licensed by Hasbro.