2021 Power of Children Awardees
Meet this year's five innovative and inspiring Power of Children Awards (POCA) Awardees who are changing their communities and the world! STEM education and mentoring for all kinds of students. Puzzle making that brings together student volunteers and the elderly living with Alzheimer's disease. Photography and public talks showcasing life and culture at the world's borders. Bags with essential items and inspiration for people who are homeless. Benches inviting youth to befriend lonely students. This year's young service leaders are tackling real-world challenges with commitment, problem-solving and empathy as they use their skills and recruit other youth to make a difference.
Learn their stories!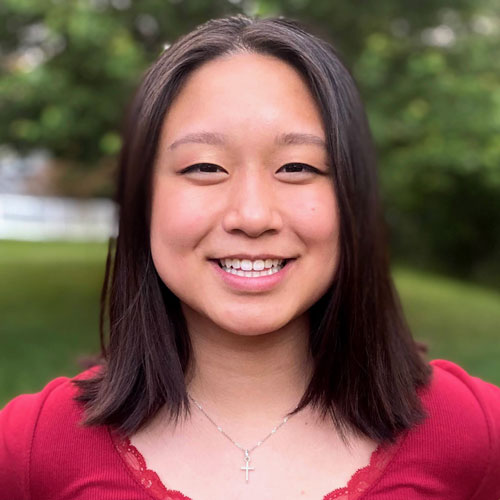 Victoria Ren
Grade 11
Hometown: Sewickley, Pennsylvania
School: North Allegheny Senior High School, Pittsburgh, Pennsylvania
Nonprofit organization: STEM & Buds
Website: stemandbuds.org
Meet Victoria Ren who, with her friend Ashna Patel, founded STEM & Buds —a peer-mentoring organization designed to make STEM (Science, Technology, Engineering, and Mathematics) and civics both inclusive and accessible. Its team and cadre of high school mentors work to help younger students feel smart and capable to tackle STEM, no matter their academic background.
What started as a small Pittsburgh, Pennsylvania program of after-school peer tutoring and summer camps, is now a cost-free network of 45 sponsor-supported chapters in elementary and middle schools, shelters and community centers in 13 states and three countries. The chapters provide educational programming around STEM and involve more than 1,500 trained high school mentors and 2,000 young mentees. "By building a pipeline of civically-minded, STEM students committed to social good alongside developing strategic, cross-sector partnerships, we hope to transform what science-driven advocacy and engagement look like for everyone", said Ren.
With the Power of Children Awards money, STEM & Buds will provide professional development opportunities for its youth mentors and leaders, as well as stipends for its team to do extra research and legal work.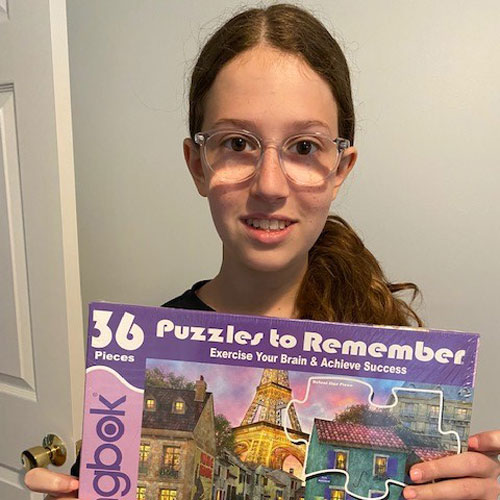 Hailey Richman
Grade 8
Hometown: Plainview, New York
School: Howard B. Mattlin Middle School, Plainview, New York
Nonprofit organization: Puzzles To Remember
Website: http://www.puzzlestoremember.org/
Meet Hailey Richman who, at four, was a caretaker for her grandmother diagnosed with Alzheimer's disease. They worked jigsaw puzzles together and Richman experienced the value of puzzles for people experiencing dementia. It gives them a rare sense of accomplishment and, according to some studies, can slow the disease's progression.
For years, Richman volunteered for the nonprofit organization Puzzles To Remember and became its Executive Director in 2020. Hailey created the organization's Puzzle Time program that pairs youth volunteers with residents in memory care facilities as they solve puzzles together. Before the pandemic stopped visits to facilities, the program had expanded to 36 states and four countries. Richman's organization partners with Springbok Puzzles, who created Puzzles to Remember Alzheimer's Puzzles. Hailey has collected 36,000 of the organization's 125,000 puzzles gathered from collection bins, drives, social media requests, and individuals and distributed to over 5,000 nursing homes. In addition, she has raised over $25,000 for Alzheimer's research.
Richman is using her POCA grant to supply puzzles to memory care facilities and to help publish a book she authored with guidance for youth caregivers. She shared, "There is no 'how to' manual for caring for loved ones inflicted with dementia. Besides feeling stress, there is also fear and isolation. Young people who are caregivers have been marginalized and need to feel empowered and understand that they are not alone!"
---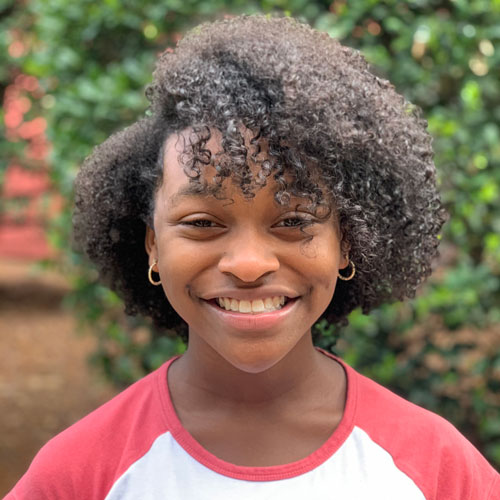 ZaNia Stinson
Grade 8
Hometown: Charlotte, North Carolina
School: Mountain Island Day Community Charter, Charlotte, North Carolina
Project: Z Feeds Angel Food Project
Meet ZaNia Stinson who, spent her early childhood in a shelter for women and children. Motivated by her empathy for that experience, ZaNia decided to serve others facing homelessness and hunger after she permanently moved in with her foster turned adopted family. She created Z Feeds Angel Food Project five years ago and has raised $35,000 in cash and donated items. "I will never forget how the people at the shelter took care of us and I always wanted to give back. I began making Go-Go bags filled with food, water and inspirational readings to encourage the residents there. I donate them whenever I am able to make them", said Stinson.
Not even COVID-19 deterred ZaNia from continuing her service work. To date, she has distributed more than 950 bags containing more than 9000 food items and more than 4,900 toiletry items for women and children in shelters and for homeless people who live on the streets. When COVID-19 struck, the 14-year-old found creative ways to utilize her legion of Girls Scouts, classmates, church members, family and friends to safely help her pack and deliver Go-Go bags. With her Power of Children Awards grant, Stinson intends to purchase more food and toiletry items and keep filling bags with goodness and hope.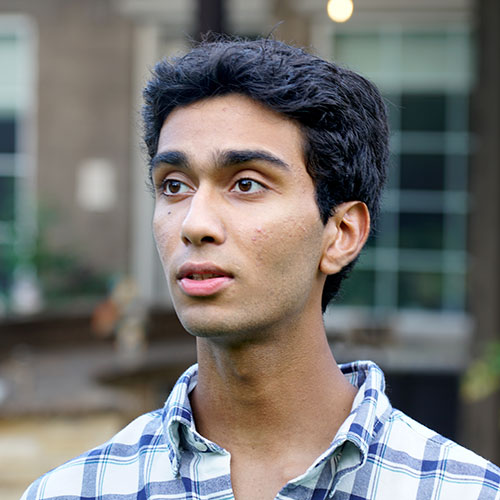 Ekansh Tambe
Grade 11
Hometown: Dallas, Texas
School: St. Mark's School of Texas, Dallas, Texas
Project: Beyond Borders
TEDx TAMU: "How Understanding Borders Helps Us Facilitate Positive Change"
Meet Ekansh Tambe who, at 13, convinced his father to take him to Brownsville, Texas where he could learn first-hand the reality of border issues affecting the public's perspectives on immigration and border security. He captured countless photographs and conducted hundreds of interviews with immigrants, border patrol agents and citizens living on both sides of the U.S-Mexico border.
This trip was the first in a multi-year, multi-continent photojournalism project called Beyond Borders that captures the stories of the borders of North and South Korea, Israel, Lebanon, Syria, Jordan, Egypt, Gaza, and Iraq. Ekansh concludes immigration crises require more human solutions than political ones. Said Tambe, "I was incredibly surprised by how the reality I witnessed contrasted with the divided public opinion. In actuality, borders are more than places of conflict; they're intersections of rich cultures and exchange of ideas, hubs for trade and commerce and even places of natural beauty."
Tambe is an accomplished public speaker and author of articles and a photo journal, The Great Divide—A Journey Across the US-Mexican Border. He will use his POCA grant to purchase and donate fire extinguishers to an Iraqi refugee camp and build a sports court or field for the children of a small town at the US-Mexico border.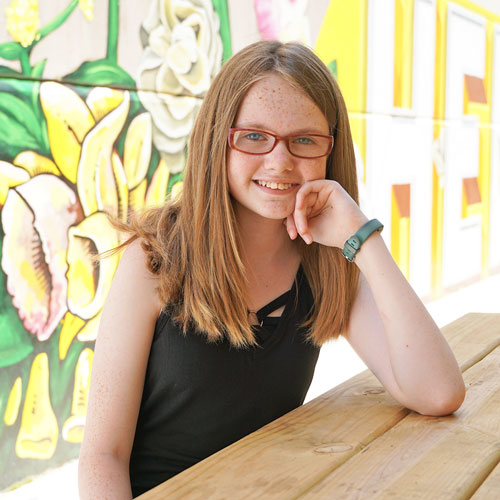 Samantha Vance
Grade 6
Hometown: Fort Wayne, Indiana
School: Blackhawk Middle School, Fort Wayne, Indiana
Project: Sammie's Buddy Bench Project
Website: https://sammiesbuddybenchproject.com/
Meet Sammie Vance who saw lonely kids at recess and sometimes was the lonely kid no one invited to play. Learning about the "buddy bench" concept, Vance created a plan to reduce playground loneliness and plastic pollution. Working with a company that makes benches out of plastic bottle caps, she launched a cap campaign, collecting 1,600 pounds of caps in just three months – enough to build three benches for her school. Her benches would signal to others that someone was feeling shy, lonely or bullied and in need of a friend.
To date, Sammie's Buddy Bench Project has helped put benches in more than 150 schools, 12 parks, and her local Boys and Girls Club. Her organization teaches other young people how to get their own benches built. "When you are kind, all of those around you benefit. I have inspired not only my community but groups all over the US and around the world," said Vance. "The project encourages community, kids and adults coming together for a great purpose."
Sammie will use her Power of Children Awards grant to get her book, Inspire the World: A Kid's Journey to Making a Difference, into the hands of kids that can't afford them as she delivers her inspirational message through school events, and to assist with the cost of adding buddy benches in communities that can't cover the entire cost of bench production and transportation.
Witness the Power of Children through Past Power of Children Award awardees' stories!